Five Easy Kananaskis Hikes with Great Rewards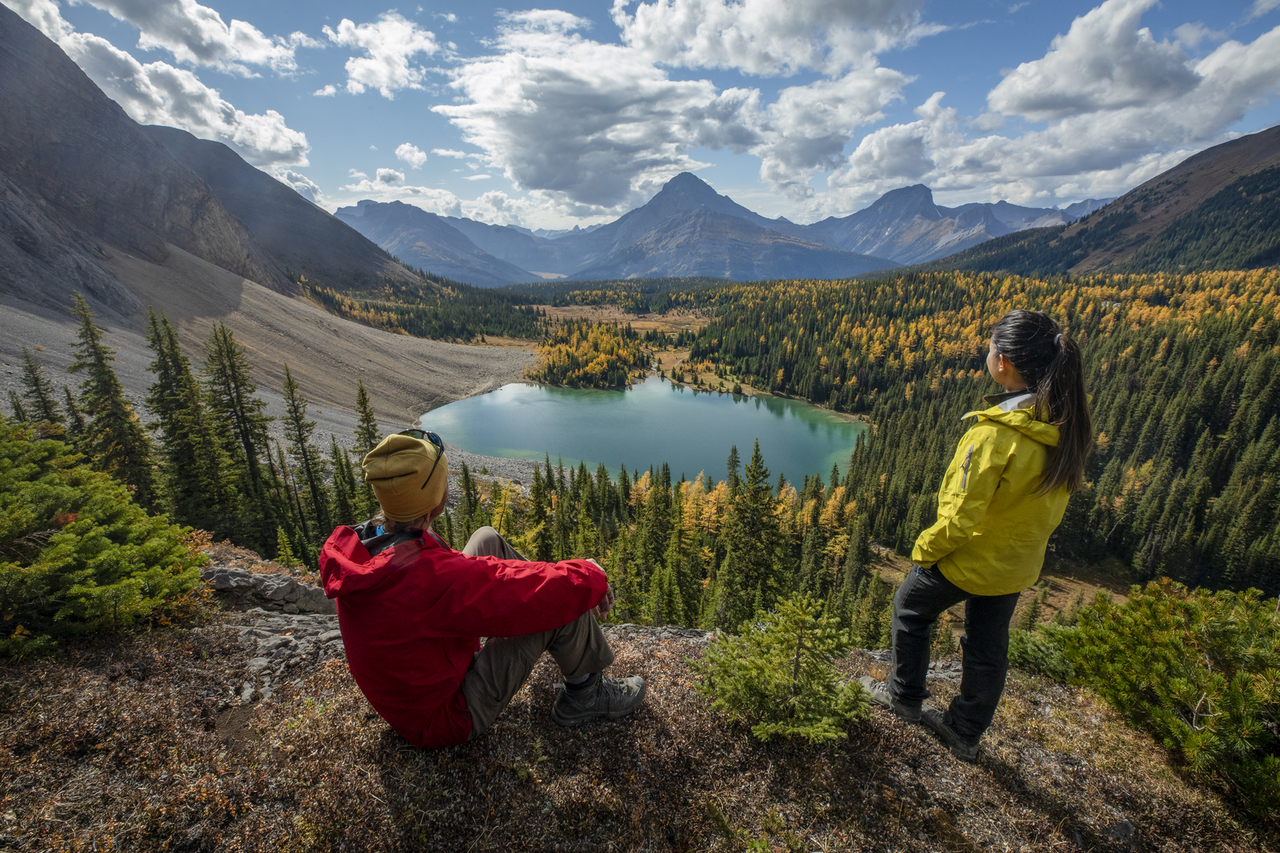 Travel Alberta | Paul Zizka
Are your in-laws visiting? Want to show off the beauty of the mountains but don't think they'll handle a full day hike? Don't worry, we've compiled five of the best, shorter hikes in Kananaskis Country that have some great rewards.
Troll Falls
Leaving near Kananaskis Village, this is a great starter hike with a good reward-for-effort finish with a fantastic waterfall, and an option to take a slightly steeper trail for even more waterfalls. The hike itself is pretty, and the trail is a wide, gently rising path that leaves from the parking lot and finishes at the falls. Being so close to Kananaskis Village means there are plenty of other activities to do as well.
Drivetime to Trailhead: 1 hr from Calgary, 40 min from Canmore
Hiking Time (approx.): 1 hr to lower falls and back. Add 30 min for the upper falls.
Difficulty: Easy
Reward: The waterfalls are beautiful at any time of year.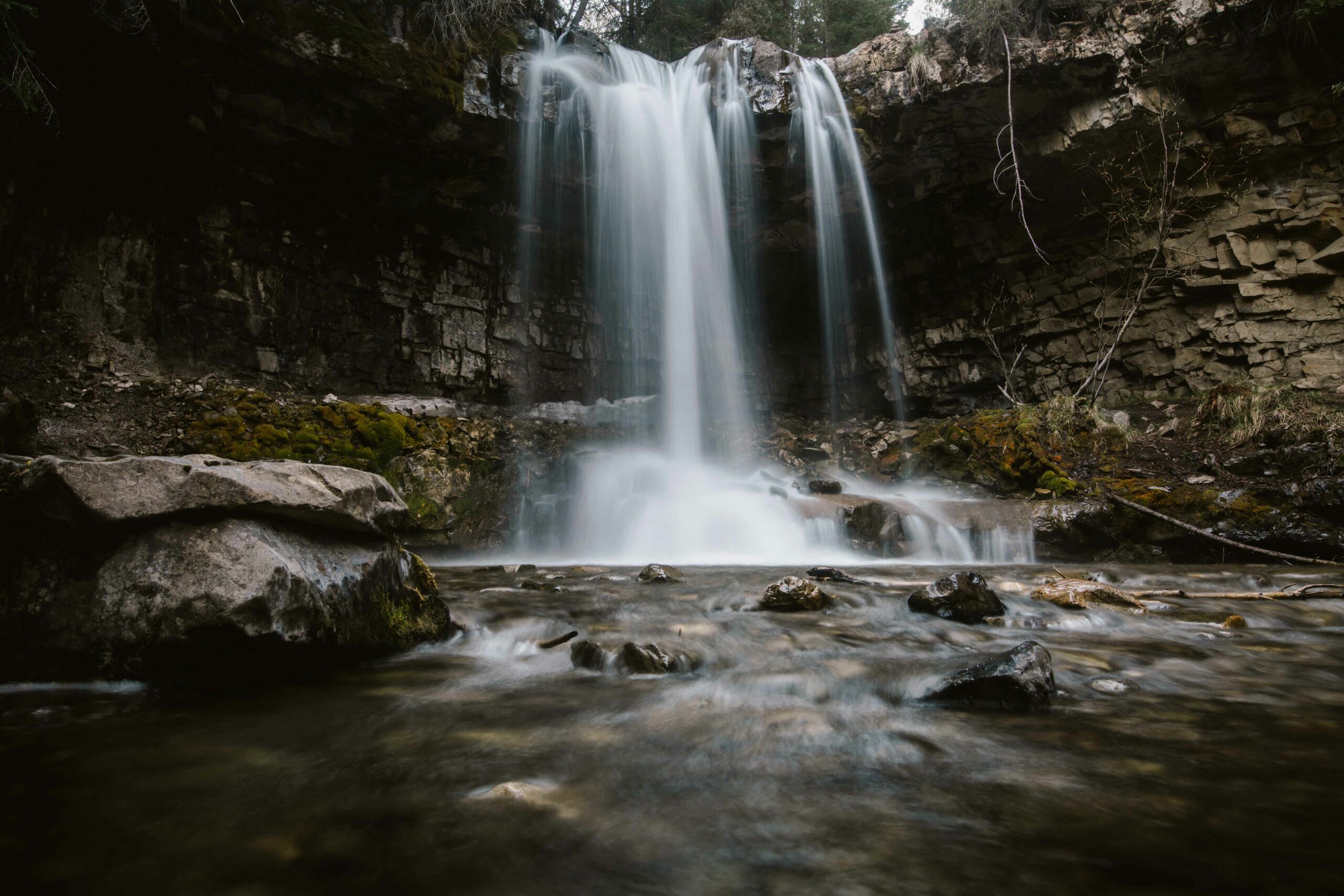 Blackshale Suspension Bridge
This hike is great for first timers, non-hikers, and even families. The trail is wide with a gradual, rolling incline and an iconic, Insta-famous suspension bridge that makes for some great photos. It's also fun to bounce along its length. We did this hike while reviewing some gear, and we enjoyed it so much, we even wrote about it.
Drivetime to Trailhead: 1 hr 10 min from Calgary, 1 hr from Canmore
Hiking Time (approx.): 1 hr 15 min
Difficulty: Easy
Reward: The suspension bridge is a fun feature with great photo ops.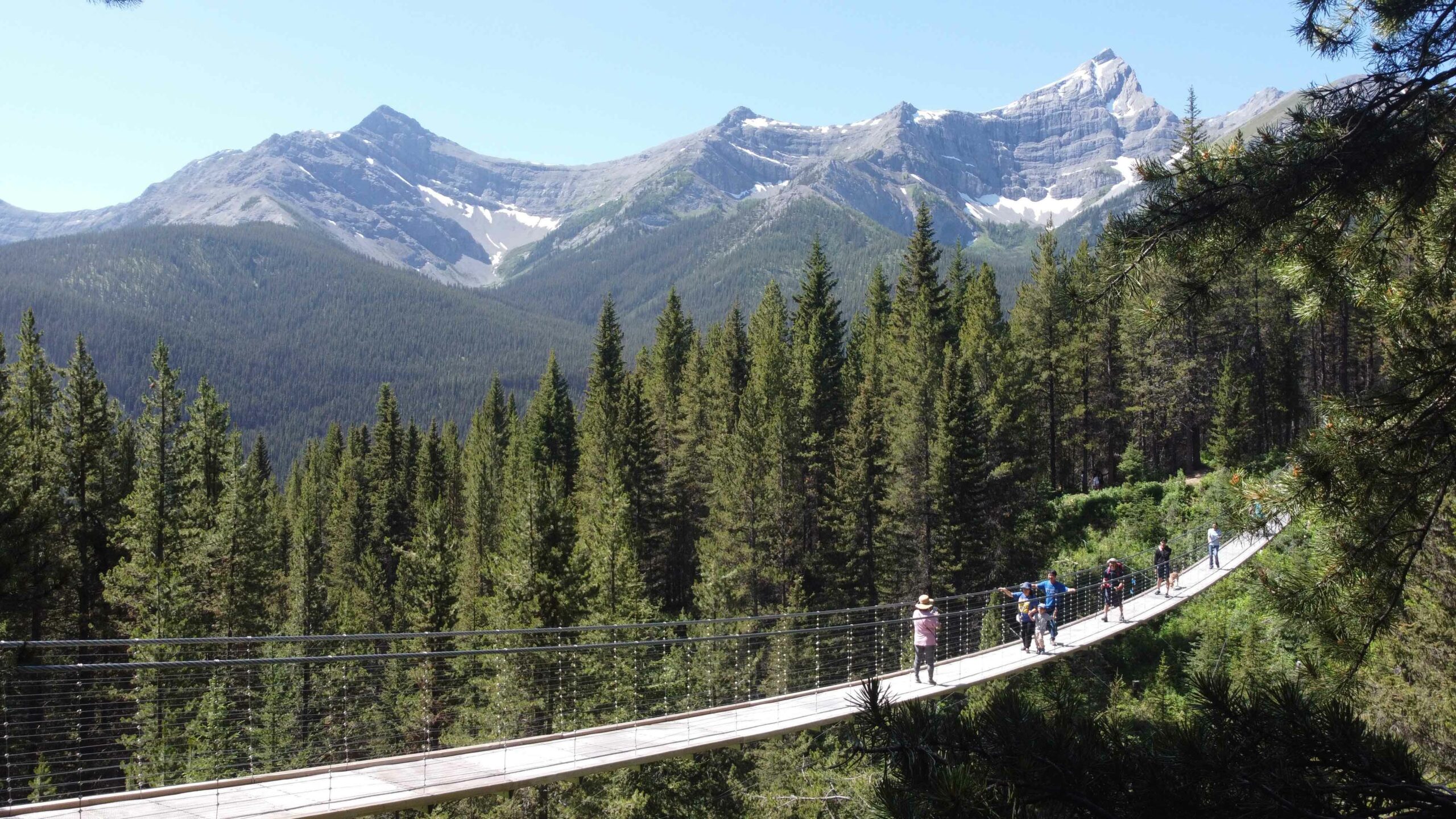 Grassi Lakes
This hike is very busy, so if it's on your list you'll want to hit the trailhead early. The trail leaves from close to Canmore, near the Canmore Nordic Centre Provincial Park, so it's perfect for those staying in the mountain town. The hike has an easy option and a more difficult option. Both take you to the fantastic turquoise lakes. The easy trail is wide and gently rolling, while the more difficult option has great views of the Bow Valley and a waterfall.
Drivetime to Trailhead: 1 hr, 20 min from Calgary, 15 min from downtown Canmore
Hiking Time (approx.): 1 hr
Difficulty: easy or moderate, depending on the route
Reward: The emerald colour lakes are stunning. So are the views on the more difficult route.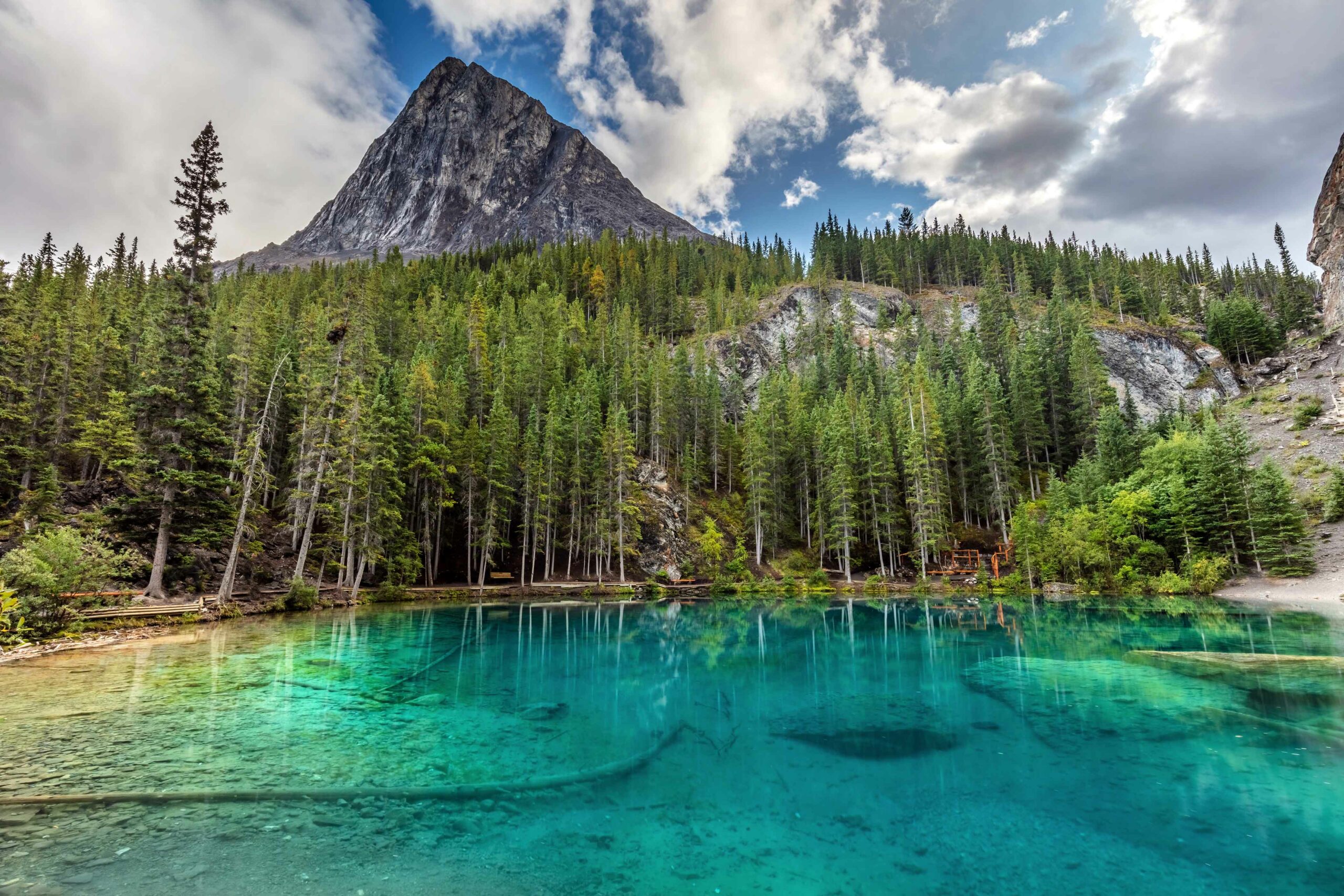 Chester Lake
This hike is probably the most difficult on the list because it gains the most elevation. But the rewards at the top of the beautiful, tree-ringed lake are worth it for those looking for something a little more exciting. Take the detour to the Elephant Rocks for some cool photos. This hike is best in the fall when the larches are a stunning gold colour.
Drivetime to Trailhead: 2 hrs from Calgary, 1 hr 15 min from Canmore
Hiking Time (approx.): 2 hrs
Difficulty: Moderate
Reward: The mountain-ringed lake is gorgeous on it's own, and it has golden larches in the fall.
Ptarmigan Cirque
This trail is a relatively short and easy way to reach an alpine meadow, which is a unique and harsh ecosystem that has brilliant summer wildflowers. The trailhead leaves from Highwood Meadows Day Use Area, which is near the top of Highwood Pass, the highest paved pass in Canada. Because of this elevated starting point, the short trail quickly climbs to the alpine. There's a free interpretative brochure from Alberta Parks that has more information about the area.
Drivetime to Trailhead: 2 hrs from Calgary, 1 hr from Canmore
Hiking Time (approx.): 1 hr 30 min
Difficulty: Moderate
Reward: A relatively short hike to an alpine meadow, with summer wildflowers and fall larches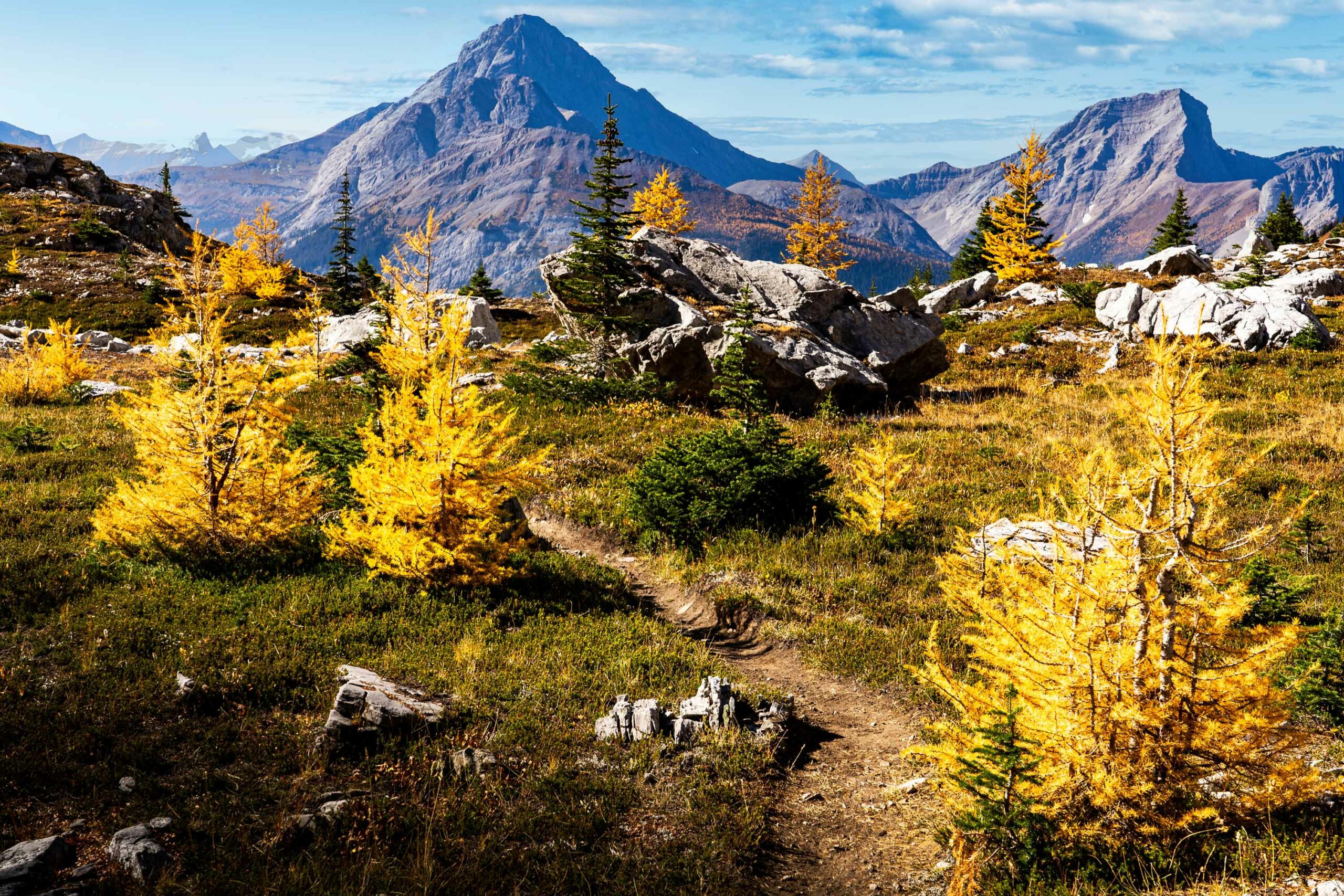 Some considerations when hiking in K-Country:
Bring bear spray and know how to use it. Kananaksis is bear country, and you never know what you might encounter. Learn how to be bear aware from local experts, here.
A Conservation Pass is required to park in Kananaskis Country. Learn more about the pass and purchase yours, here.
These hikes generally do not have cell service. Consider a satellite communication device for safety. Always let someone know where you are going and when you expect to return.