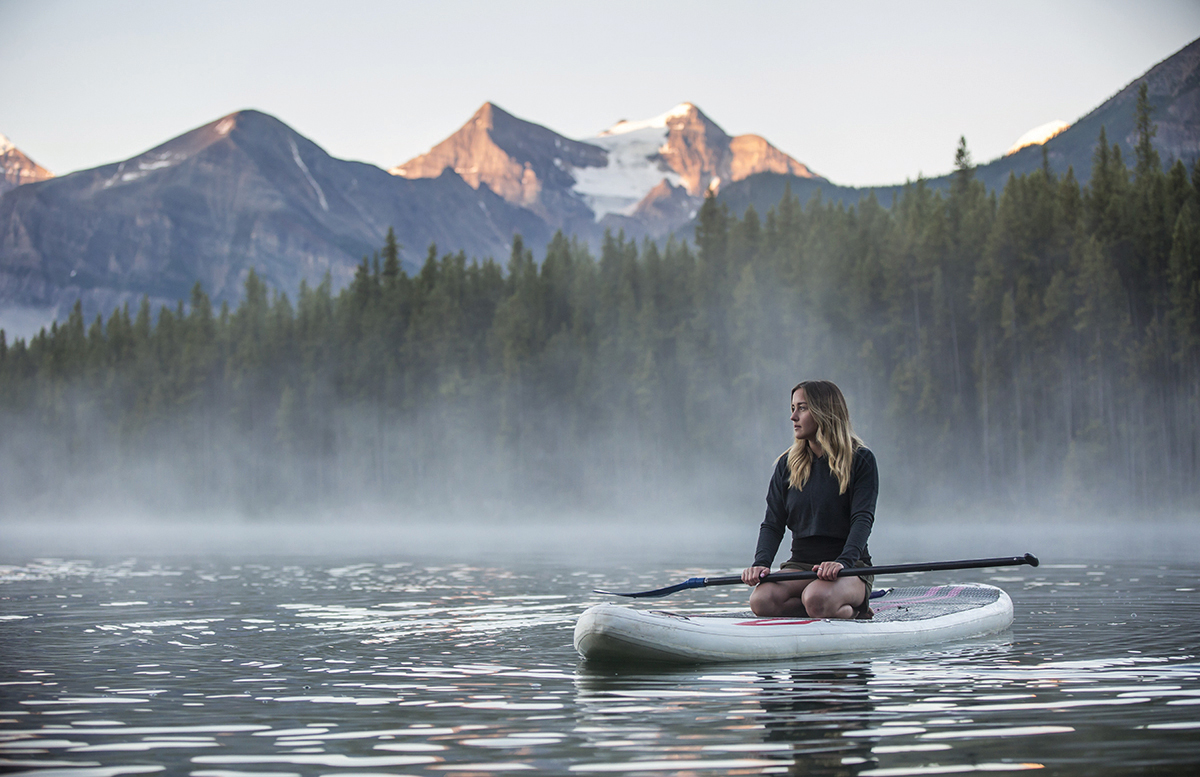 Banff & Lake Louise Tourism | Noel Hendrickson
In recent years, stand-up paddleboarding has exploded as an enjoyable summer activity on the water. It originated in Hawaii from surfing culture, and as such, has many variations from mild to extreme. While some SUP enthusiasts enjoy cruising down rivers or navigating whitewater, many people are coming to the sport simply looking for an enjoyable way to spend a hot summer day on the water. And when that water is surrounded by stunning mountain views, it makes this summer activity that much more enjoyable!
For those new to paddleboarding, and those looking to give it a try, there are a few things to consider. It's easier to balance on larger board, although a smaller board is more agile and easier to steer. Start with a long and wide board to learn your balance. If you have experience paddling on the water in a canoe or kayak, the principles of navigating on a paddleboard are the same. If you've never paddled before, you'll want to stick to calm water on a day with very little wind so you can learn how to steer your board.
Most people starting out paddleboarding don't necessarily stand up on the first try. You can paddle on your knees or sitting on the board like a kayak. If the weather or water conditions aren't ideal, this can be a great way to keep your balance, especially when you're learning. But once you've figured it out, you'll want to be out on the water! There are so many great places to paddleboard in the mountains, but here are some of our favourites. All of these places are close to town and great for families.
Quarry Lake
In Canmore, this lake has become a popular spot with tourists. It's small, but easy to navigate and generally has calm conditions. It's a deep, open-faced mine that was filled in as a lake with a surrounding park. You can often see people swimming, walking, jumping in the water off the cliffs, fishing, and on SUPs. The only downside to this area is it's extremely busy during the summer months. You'll also need to pay for parking if you're not a resident of Canmore.
Features: Easy to reach, calm water, generally not too windy, washrooms by the lake
The Reservoir
Perched above Canmore next to the Canmore Nordic Centre Provincial Park, the Rundle Forebay Reservoir, known by locals as "the reservoir", is another popular spot for SUPs, canoes, and kayaks. Another busy spot, this water features less swimmers than Quarry Lake, and it has a longer stretch to paddle. It's common to see people on SUPs with their dogs, families out enjoying the summer, first timers learning their skills, and more on this little body of water. The water levels can change depending on the dam output, so make sure you're comfortable with some current before launching here.
Features: Excellent scenery, popular spot, easy to launch your SUP
Gap Lake
Along the 1A east of Canmore, Gap Lake is another popular spot to enjoy summer on a SUP. The area also has a boat launch and day use area with picnic tables and fire pits, perfect for spending the day on the water. It can get busy here, but it's a somewhat less popular spot Quarry Lake or the reservoir. Something to note: it can get windy in this part of the valley, meaning there also could be some chop on the water.
Features: easy to access, day use area with firepits and picnic tables, washrooms, boat launch
Johnson Lake
This popular spot in Banff is one of the few lakes in the mountains that's warm enough to (comfortably) swim in. It's also a pretty spot with a small sandy beach, picnic areas, a great family-friendly trail around the lake, and great views. It's a great spot to learn how to paddleboard, since falling into the lake is pleasant with the warmer water! Since this lake is in Banff National Park, you'll need to fill out a permit before putting your board in the water.
Features: lots of parking, washrooms, warmer water, day use area, and trails
Vermilion Lakes
This stunning spot in Banff has an iconic view of Mount Rundle. There are docks to easily launch your board, and the calm waters often reflect the mountain scenery. If you don't have your own SUP, rent one from the Banff Canoe Club and paddle up Echo Creek to reach this spot. Much like Johnson Lake, you'll need to fill out a day permit to launch your SUP in this spot. If you're lucky enough to catch a sunrise or sunset on Vermillion Lakes, it'll be a memory you won't soon forget!
Features: docks, stunning views, easy access from Banff, rentals nearby
And there you have it! Five excellent spots to paddle that are close to town, family friendly, and great for beginners. A couple things to keep in mind when playing on the water in the Canadian Rockies:
The water is cold. REALLY cold. Even on the hottest days, hypothermia is a risk. Please wear a life jacket. Even for excellent swimmers, the body's response to hitting cold water is to tense up, making it difficult to get back on your board if you do fall in.
The wind is often calmest in the early morning and late evening. This is also when the temperatures are the coolest. If you're on the water in the morning, you'll likely want a fleece under your life jacket to keep you warm. Once the sun hits the water, it'll warm up quickly and you won't need those extra layers anymore.
Bring a change of clothes and keep them nearby in case you do fall in. With the mountain lakes being as cold as they are, you won't want to hang out in your cold, wet clothes once you're done on the water.
If you don't have the right equipment, rent it. Many places offer SUP rentals with all the equipment needed for a safe and fun day on the water.
Always clean and dry your equipment when taking it out of the water. This prevents the transfer of harmful diseases and parasites between bodies of water in the mountains. It also helps your equipment last longer, and it'll make setting up that much quicker next time you want to use your SUP.