Visiting Banff is as Easy as 1, 2, 3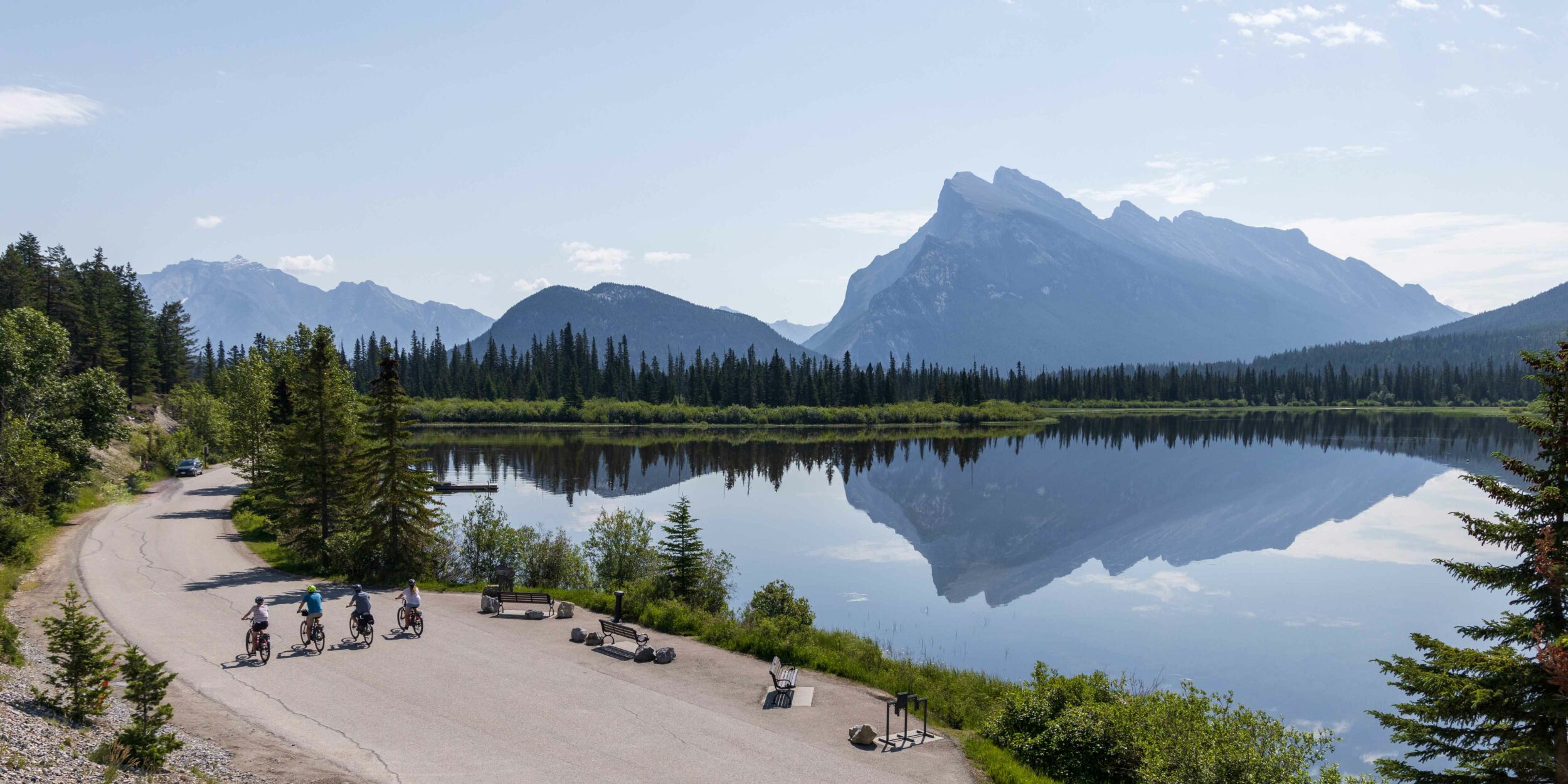 Image courtesy of Bike Banff
Do you love visiting Banff in the summer? So do about 4 million people who come to the mountains looking for that special feeling that you can only get surrounded by the majesty of nature. You want to spend your vacation soaking up those mountain views and breathing in the fresh air, but with the amount of traffic coming through the park gates, you may spend the day taking in the views from your vehicle… and no one wants that!
Luckily, visiting Banff doesn't have to be this way. You can find free parking and reduce congestion in the mountain town at the same time. Even better, you can rent an e-bike to get around town easily while still enjoying the fresh air. Here's how we like to visit this popular mountain town.
Step 1: Take Transit or Park for Free
Depending on where you're coming from, there are transit options to reach Banff. ROAM travels between Banff, Canmore, and Lake Louise regularly, or other charter busses are coming and going. But if you're coming in your own vehicle, don't bother taking it into town. Park instead at the train station. Take the Mount Norquay exit from the highway, pass the popular Banff sign (and don't forget to capture the iconic photo!) and turn left to the train station. Everything is clearly marked from there.
Step 2: Choose Your Active Transportation
Pick your favourite form of active transportation. You can walk into town and enjoy the pedestrian-only main street or take a stroll along the beautiful Bow River. It's about a 5-minute walk from the free parking to the heart of downtown, and it's gorgeous the entire way. If walking isn't your thing, stop at the train station and rent a scooter or e-bike. Scooters are a fun way to cruise around town, but e-bikes are super popular right now, and for good reason. These bikes allow everyone to pedal at their own comfort level while maintaining the same speed as everyone in the group. If you're looking for a workout, turn off the pedal assist and let your legs put in the effort. Want an easy ride? Let the pedal assist enhance your strength and cruise along without breaking a sweat. If you're not sure where to go, book a guided tour and let the experienced guides show you all the best places.
Step 3: Book Your Activities
There are so many great things to see and do in Banff. For a quintessential mountain experience, try the via ferrata at Mount Norquay. This safety-included, beginner-friendly climbing activity is a unique way to see the mountains, and it's an experience you won't soon forget. Book this at the train station and take the shuttle to the hill or enjoy the drive up the steep switchbacks. The train station also has representatives from Parks Canada and Banff & Lake Louise Tourism, so there is someone to answer any and all of your questions about the area and its activities. Grab a coffee or an ice cream (or both!) before starting your next adventure.
And that's it! Visiting this iconic and busy mountain town is as easy as 1, 2, 3. For this season's best advice, pick up a copy of WHERE Canadian Rockies and don't forget to tag us in your mountain adventures!