Gear Review: Testing Arc'teryx in the Wild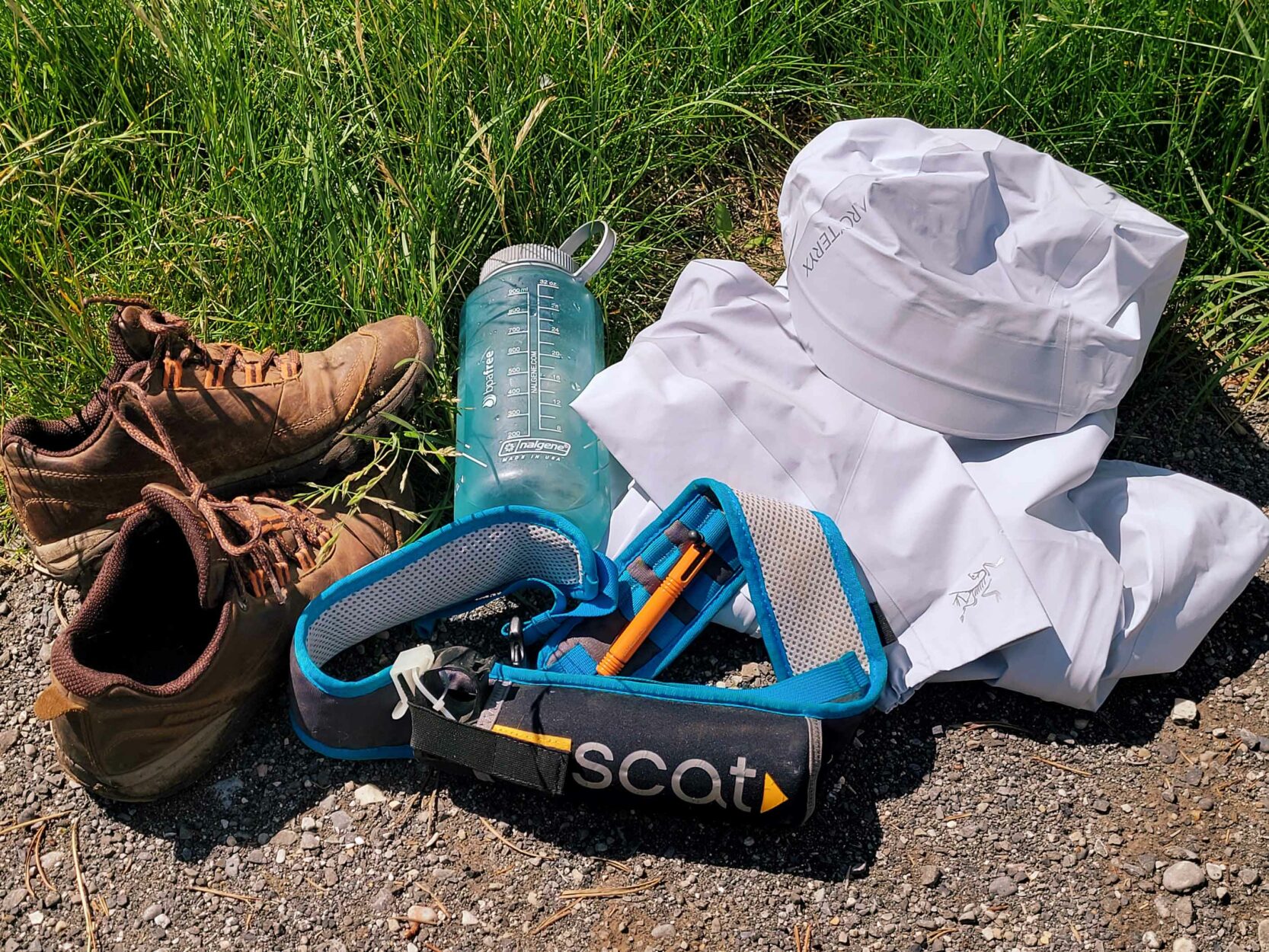 We don't always do gear reviews, but when the option came from Arc'teryx to give their new summer line a try, we couldn't turn it down. This company is known for their quality construction designed for the Coast Mountains of British Columbia. Headquartered in North Vancouver, Arc'teryx is practically our neighbour. How could we pass that up?
Armed with leggings, a pullover, a ½ zip, and a jacket, we were ready to hit the trail. Since the best way to test out hiking gear is to actually go hiking, we decided to tackle a relatively short hike to the Blackshale Suspension Bridge and further on the High Rockies Trail in Kananaskis. This bridge is Insta-famous, but not a place we'd visited before. The hike itself was pretty cool, and Mother Nature blessed us with typical mountain weather: sun, rain, hail, wind, and sun again… all within the same 3 hour hike! Here's how the gear held up.
Essent Legging 28
By this point, most of us have seen leggings with pockets, and most of us have spent the day hiking those leggings up as weighted pockets and gravity work against practicality. I'll admit I was sceptical about leggings with pockets that claim to stay in place and also claim to be comfortable while hiking all day. But here's the thing: those claims are true. Not only did the leggings fit comfortably and stay in place with both the car keys and a cell phone in the pockets, but they even stayed in place despite the multiple times throughout the day that I pulled out my phone and jammed it back in. I didn't have to yank up these leggings at all.
What's more, the Arc'teryx leggings fit like a second skin. They're comfortable, breathable, extremely lightweight, and they dry really fast. The seams are solidly constructed, and the leggings are meant to be tough and tear resistant. A few thunderstorms proved that while they're not waterproof, they're comfortable to wear in the rain, and they don't get sticky or bunchy when wet. They just dry in place so you can continue hiking comfortably for the rest of the day.
Coelle Shell Jacket
The first thing that struck us about this shell was how light it is. Weighing in at 230g / 8.1oz, you barely know it's there. Despite this, the jacket packs a punch. It withstood drizzle, pouring rain, hail, some wind, and sunshine, all while looking stylish on the trail. The jacket was light enough to be worn all day, even when the hot sun was shining down, which was more than convenient in the variable weather. Even if you wanted to take this off and get some rays, the jacket weighs next to nothing, so you wouldn't notice it in your pack or tied around your waist.
The jacket also looks nice. It would be a great piece to wear around town if the weather isn't stellar, and it effortlessly transitions from town to the trail with its hardy design. The pockets are big enough for a cell phone, keys, and anything else you might need. They're also a good spot to stuff your hands when the hail really comes down.
Covert Pullover Hoody
This hoody was a bit warm for most of the hike, but it was an excellent addition when the hail started falling. While it didn't feature strongly on this adventure, this is one of those pullovers that will be warn pretty much every day when the fall rolls around, and it's already become a staple for chilly mountain mornings. The hoody feels like wrapping yourself in a warm hug from an old friend. The fleecy lining is the perfect amount of insulation and comfort, and the design is stylish enough to wear anywhere: town, work, or the backcountry. This piece of clothing belongs everywhere.
This hoody is also fair trade certified. That means it was made in a facility that ensures fair working conditions and wages for all employees and the product is made with environmentally responsible methods. The garment was made with 100% recycled polyester, so it's good for you, good for the people making it, and good for the environment. It makes the hoody even more cozy when everybody wins.
Delta ½ Zip Neck Hoody
This fun little layer is lighter than the Covert Pullover Hoody, so it acted as the perfect mid layer for the hike. It was warm enough to be comfortable during the dreary weather, but light, soft, and breathable, so it stayed on in the sunshine as well. Worn under the Coelle Shell Jacket, it proved to be the perfect layer for a hike in K Country.
This style of hoody was originally designed for climbers, but don't let that deter you from wearing it for any and all outdoor activities. It fits tighter to the body and it's super soft, breathable, and stretchy. It's quite warm, especially for how lightweight it is. This layer will go the distance, no matter how you decide to get there.
This may have been our first official test of Arc'teryx summer gear, but it won't be the last. Stay tuned to see how the gear stands up to a summer of mountain adventure in the Canadian Rockies.