Wild Life Whisky Winning Hearts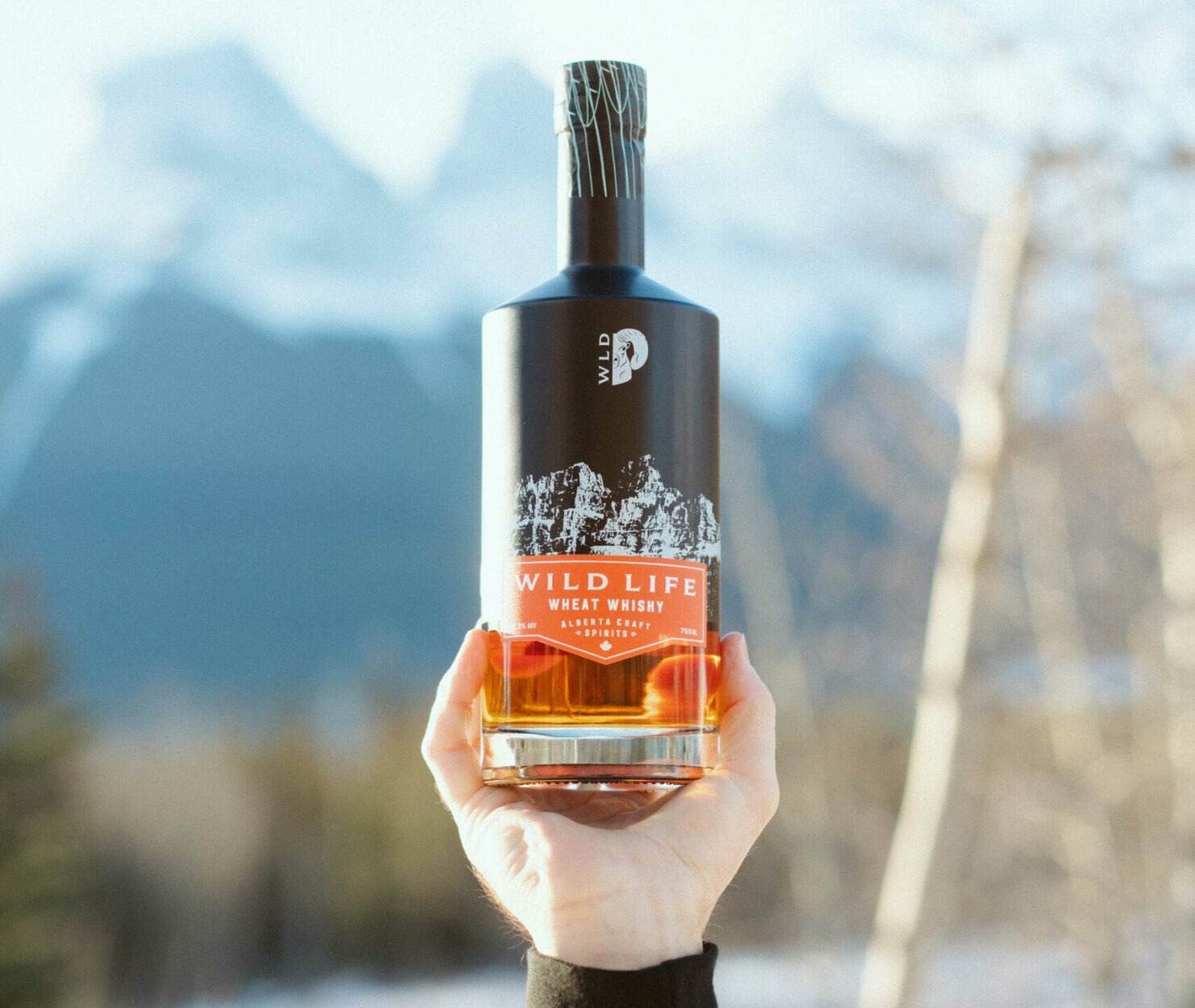 The Canadian Rockies are renowned for being the ultimate outdoor adventure playground, but that's just the beginning of what makes this area so special. It's also home to an excellent culinary scene and has enjoyed a boom of impressive craft beverages, including one of Canmore's local gems: Wild Life Distillery. This small distillery was a huge hit right from the get go with delicious gin and vodka creations including their award winning, colour-changing Rundle Gin (Alberta Beverage Awards Best in Class 2021) and some nifty flavours that are extremely popular amongst locals — Rhubarb Gin I'm lookin' at you.
What's even more exciting is their whisky. With their first batch selling out quickly when it was released this past fall, folks are eagerly awaiting the next batch due in March. I chatted with director and co-founder Matt Widmer to learn a bit more about this upcoming batch and all things Wild Life.
J: You have a whisky release coming up soon – what can you tell us about this batch? What can customers expect for a flavour profile and what makes this batch unique?
M: In March 2023, we will release our first ever Rye Whisky. The final mashbill make up is around 90% Alberta Grown Rye, and 10% Alberta Grown Malted Barley. This unique spirit was milled, mashed, distilled, aged, proofed, and bottled in Canmore, making it the first ever Canadian Rye Whisky produced in our mountain town. The long standing Canadian tradition of rye making, which extends as far back as the late 1700's, was built on a foundation of this quintessential Canadian grain. For us to be able to be the first distillery in Canmore to bottle such an iconic Canadian product is very special to us.
In terms of tasting profile, rye is renowned for its spice notes. This amber spirit shows aromas of clove, cherry, vanilla, nutmeg, and baking spice. The palate has a cereal bite, combined with sweet American oak notes. Finishing softer than expected, this whisky shows the classic rye spice at the end of the tasting experience. A bit more "in your face" than our recent Wheat Whisky release, this whisky is for the spirits connoisseur. We look forward to sharing it with you this spring.
This batch, along with all of our future whiskies will be unique releases. Due to our smaller size, the variation from oak barrels, different locations in our warehouse, and different distillation cycles combine to create a distinctly unique whisky every time. No two batches will ever be the same, and we think that's great.
When asked if he has any cocktail recommendations for what this new batch of whisky would mix well with Matt gave a nod to the Manhattan or Sazerac cocktails but noted it would also sip fine on its own. In addition to making and producing fantastic spirits, Wild Life has developed quite the reputation for their cocktails. If you're looking for a great spot to go for drinks that are unique, well crafted, and have delicious complexity, head over to Wild Life Distillery Tasting Room. You'll be so glad you did!
J: What has been one of the best parts about distilling whisky? Is it trickier to work with compared to other spirits like gin or vodka? 
M: We've been distilling whisky for over 4 years now, and it is definitely different from vodka or gin. The skill of distilling a product today that will mature into the product you want it to be in 3+ years time is the tricky part. We managed this in the early days by ensuring we were distilling multiple styles, with different grain bills, going into different barrels, and giving ourselves options as our aging inventory grew. Over the last 4 years we have honed our skills to a point where we are able to confidently produce something today that we can have a pretty good idea of where it's going in 4 years time. For the 15-30+ year whiskies, those we'll have to wait and see!
J: For folks less familiar with the distillation process, what creates the flavours of whisky?
M: Without getting too bogged down in the chemistry, whisky is essentially made up of 4 parts: grain, water, yeast, and oak. Each one of these elements is important and contributes to the flavour profiles of a whisky. Grain contributes your cereal, bready, sweet, spice notes. Water can give minerality or help mellow a whisk; yeast create esters, acids, aromas as well as various types of alcohol that can be manipulated during the distillation process. Oak can add a lot of tannin, vanillins, wood sugars, phenols etc. And of course your still/distillation methods play a large role in determining the final product and care must be taken to ensure you're highlighting the aromas, notes, esters etc., that you are after. So basically everything matters, and being a small distillery we have control over every step, which gives us multiple opportunities to quality control, rather than having an automated system making these decisions.
J: Early on you guys traveled to Scotland for an intensive whisky making course. How did this influence your whisky production?
M: We run the same still we worked on in Scotland here in Canmore, so this course was fundamental in forming our early whisky distillation methods.
J: Wild Life is such a great name for a distillery – how did you guys come up with it?
M:  I thought of it in my sleep one night! It's hard choosing a name and this one just resonated with us. We like the fact that it's two words - wild - life - it allows us to play up the animals (wildlife), or the fact that it's a wild life, as both Keith and myself are very lifestyle minded people.
J: Can you tell us a bit more about how you keep it local? Do you still work with the same farms for your grain?
M: 100% of the wheat we have used to date has come from the same family farm just east of Strathmore. We've supported this farmer as much as we're able to, and he is a great friend. In fact, to date, all of the grain we've used in our distillery in the past 6 years has been sourced from within Alberta, with the exception of some peated malt we used to distill a few batches of peated whisky.
J: You've had some pretty fun collaborations with some of your other spirits like your blue Rundle Gin with Fairmont Banff Springs Hotel. Do you have any upcoming local projects with your whisky?
M: Nothing planned yet, however we will look forward to working with some of the experts within the whisky industry in the coming years to potentially do some single cask bottlings, or private label small batch runs. But nothing planned yet.
J: To say that the past few years have been interesting would be an understatement. If 2023 goes easy on us, what are you most excited for as you continue to grow Wild Life?
M: Our whisky program! We are more and more excited with what we are tasting that is coming out of our barrels as the samples we pull get older and older. We've got lots of experimental stuff aging and can't wait to get creative in the whisky finishing and blending processes here at the distillery. Stay tuned!
Be sure to mark your calendar for the March release of their next whisky batch as it's sure to be very popular. In the meantime, do yourself a favour and head down to the distillery and try their spirit tasting flight, grab some fun merch, and say hello to the friendly Wild Life staff. Cheers!