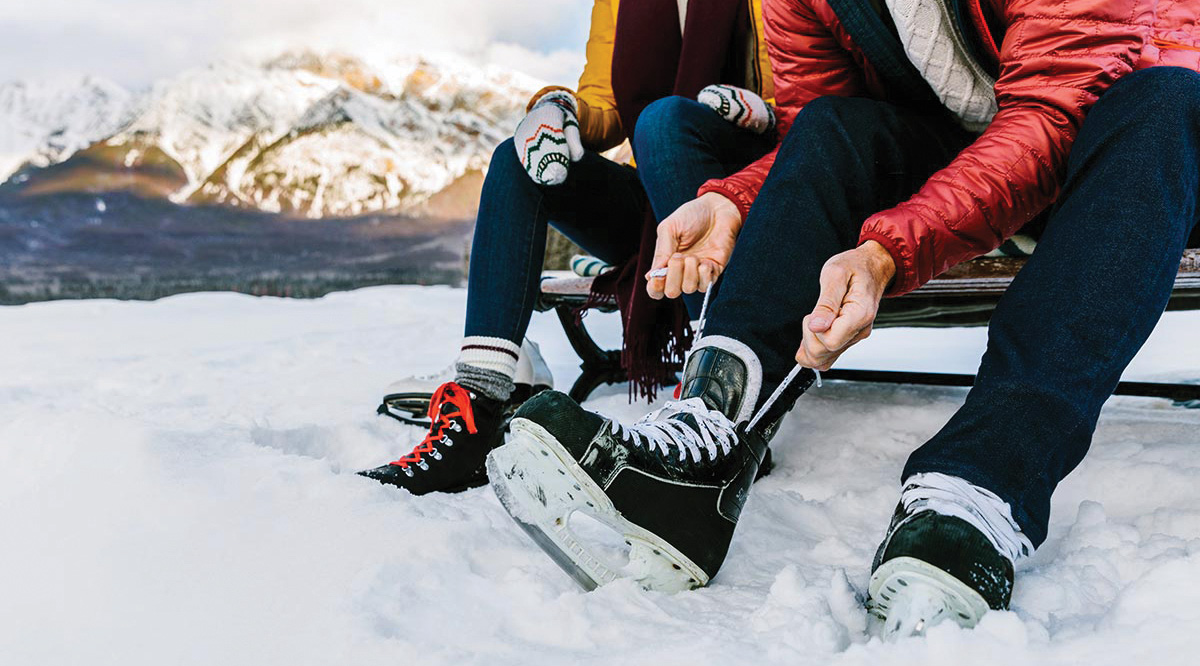 Tourism Jasper, Pursuit
Just because it's winter, doesn't mean you can't enjoy a day on the water! While you might want to leave your bathing suit behind, there are still plenty of winter activities that happen on the frozen lakes and rivers throughout Jasper. Here are some of our favourites.
Pyramid Lake
Pyramid Lake Resort has what you need for a no-fuss day of winter fun on the frozen lake. Try classic winter sports like snowshoeing or ice skating or take a fat bike and ride on the snow. Equipment rentals are available at the resort. Bring some cross country skis and glide across the frozen surface, or rent skis in town at Jasper Source for Sports. Sleigh rides are an accessible activity for everyone to enjoy in the winter, and a tour of the lake includes beautiful mountain vistas. 
Lake Mildred
The Fairmont Jasper Park Lodge maintains a 1 km/0.62 mi oval around Lake Mildred as well as 4 hockey rinks for a pick-up game with friends. Parts of the lake are also track set for an afternoon of cross-country skiing. Rent skates, helmets, hockey sticks, pucks, skis, and ski boots at the Winter Activity Centre at the Lodge and enjoy these classic Canadian winter pastimes.
Maligne Canyon
An Icewalk with SunDog Tours or Maligne Canyon Icewalks is a must-do winter activity in Jasper. Explore frozen waterfalls, ice caves, and incredible ice formations as you walk along the frozen canyon bottom and learn about Jasper's Maligne Valley, Karst topography, and the mystery of the disappearing Medicine Lake. Ice cleats and warm boots are provided, but make sure to dress warm!