10 Adventures with Kids in Banff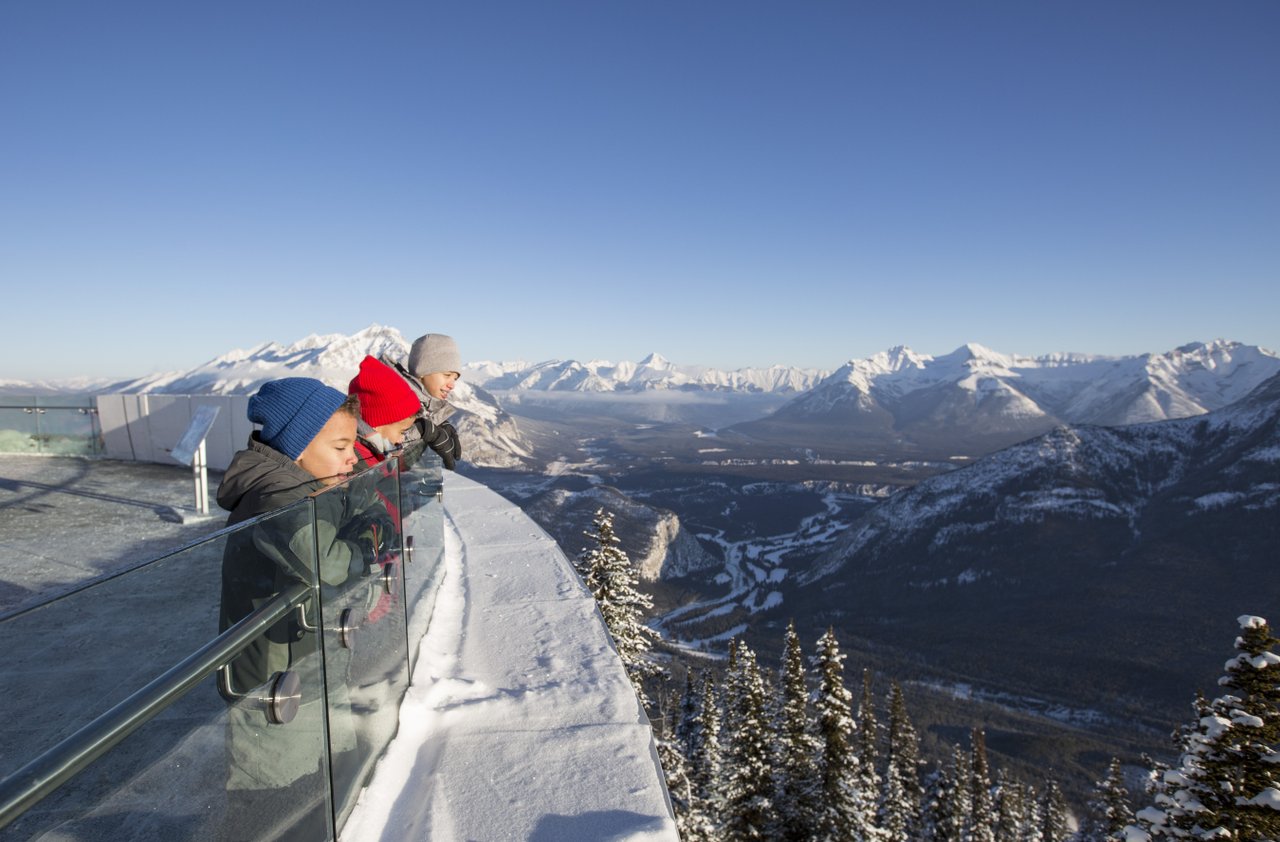 Photo by Banff & Lake Louise Tourism | Noel Hendrickson
When traveling with the whole family, you want to be sure there will be ample kid friendly activities, dining options, and fun accommodations when planning your itinerary. Choosing Banff as a kid friendly vacation will be your best travel decision this year – here's why.
Gondola
Take the kids on a gondola ride above the clouds and enjoy the breathtaking views of the surrounding area. Kids 5 and under ride free but still require a ticket so be sure to include them when booking. Once at the top of Sulphur Mountain, enjoy dinner with a view at award winning Northern Lights Alpine Kitchen. This buffet style restaurant will serve up plenty of kid friendly dishes including sliders, macaroni + cheese, and an assortment of fun desserts. Save on costs and book the Northern Lights Package to bundle your gondola ride with dinner.
Helpful tip: although this is a very kid friendly attraction, given the limited space in the gondola cars and the narrow walking paths at the summit, strollers are not recommended.
Take a Hike
For little ones who are enthusiastic about a big hike in the mountains but lack endurance for much of a climb, the Moraine Lake Rockpile is perfect. This trail is only 0.8 km with minimal elevation, but with all of the rocky steps to walk up + the views of Moraine Lake, they'll feel like they really climbed. If they've never seen a sunrise before, fill your thermos with an extra shot of espresso and take the kids up here to watch the sun say good morning – you'll undoubtedly have a few photographers for company but it'll be one of the best sunrises you've ever seen. For a longer hike, go explore Peyto Lake. The blue of this lake, which comes from the minerals flowing from Peyto Glacier, is like something out of a crayon box. Do yourself a favour and skip the first viewing area and continue on to the Upper Peyto Lake Viewpoint for less crowds.
Remember – to hike anywhere in Banff National Park is to hike in an area where wildlife abounds. Plenty of bears call this area home. Be safe by hiking in groups of at least 4, make lots of noise especially when rounding a corner on the trail, and carry bear spray — you can buy or rent it here.
Lake Agnes Tea House
If you have older kids who are up for more distance, or if you're looking for a workout with the littles in backpack carriers, trekking out to Lake Agnes Tea House is a really fun way to start the day. Plan to head out in the morning and treat yourself to a delicious lunch in the clouds along the shores of Lake Agnes. The 3.5 km hike up has enough going on to keep the kids engaged along the way including Mirror Lake with the 'Big Beehive' overlooking it and stairs towards the end of the hike with a waterfall viewing to look forward to. If you've spent the past few days hiking around the area, switch it up and head to lunch on horseback. Horses are available for hire at Timberline Stables near Lake Louise  for ages 5+ and include a guided 3 hour ride to the tea house. Once there, the kids will have worked up an appetite and will find plenty of snacks to choose from including PB+J, hot cocoa, apple crumble, and banana bread. This adventurous lunch outing will be a trip highlight for the kids.
Go Bowling
For an outing the whole family will enjoy, head on down to High Rollers for an evening of bowling and good food. Winner of an OpenTable 2022 Diner's Choice Award, this spot serves up delicious pizza and has over 40 craft beers for the parents to enjoy. Grab a pint, order a pizza, and enjoy a game of pins with the kids. The little ones will love the mocktail options served fishbowl style with fun names such as the Striking Shirley Temple made with orange juice, sprite and strawberry purée.
Helpful tip: this popular spot turns into more of a party scene later on and is closed to minors after 10pm. For a family atmosphere plan to head here around 4 or 5 and enjoy a game over supper.
Grab a Cone
Head on down to one of Canada's most iconic ice cream brands COWS and enjoy one of their many fun flavours with equally fun names such as Royal Cownadian Mint, Moo York Cheesecake, Gooey Mooey, and Fluff n Udder. While there, take a browse through their shop. The kids will be amused with the cow parody tee shirts — Cowtagonia, Dairy Potter, Game of Cones, etc. You'll also find an assortment of yummy snacks like Moo Crisps: baked cheddar crackers, or Moo Crunch: almond toffee crunch. You can pack these snacks to enjoy on mid hike breaks while in the area. With such a fun shop and so many ice cream flavours to try, you'll probably make a few stops to COWS on your family trip to Banff.
Stay + Splash
Do yourself a favour and book your accommodations at Douglas Fir Resort to take advantage of Banff's only waterpark. The kids will love getting their energy out in the pool and going down the slides. There's also a big playground for them to enjoy. If you happen to be traveling with your family pup, there are a handful of pet friendly rooms you can stay in as well.
Evening Wildlife Tour
Kids are always curious to learn more about wild animals and their habitats. Do so on this Evening Wildlife Safari from safety of a bus and with knowledgeable guides . While not guaranteed, they know where to look so you have the highest chance (95% chance) of seeing wildlife. Keep your eyes open for grizzly bears, big horn sheep, or elk in their natural habitat and learn more about their home and efforts the park is taking to protect them. With the convenient pickup/dropoff from your hotel in Banff, this is a perfect and easy to plan after dinner activity for the whole family to enjoy.
View from Above
Though not for the feint of heart, if you can stomach looking down from great heights, Helicopter Flights in nearby Canmore guarantee an unforgettable experience. The tours are kid friendly so long as the minors are accompanied by a parent, and there are 25, 35, and 45 minute options available. For the not too short but not too long Goldilocks option, book the Mt Assiniboine + Glaciers your. Here you'll see the Three Sisters Peaks, and many glacial lakes with their stunning aqua turquoise colour and ice falls. As well, you'll get a fantastic view of Mt Assiniboine, the ''Matterhorn of the Canadian Rockies' which rises over 11,000 feet into the sky along the Great Divide. The kids (and you!) will be talking about this thrill for weeks after your trip.
Dogsled
The kids will be fascinated by this experience and will enjoy trying to remember the names of all of the sled dogs. Suitable for kids 2+ accompanied by a parent, this is an exhilarating way to experience Banff and its surrounding area in the wintertime. The experienced mushers can answer any questions you and the kids have about dog sledding history, techniques, and challenges. If your kids would like, there are opportunities to be hands on and help the musher harness the dogs, hook up the team to the sled, and reward the dogs with treats at the end. Be sure to dress very warmly with sturdy boots, a heavy coat, toque and mittens. Helpful tip- tuck some hand warmers into those gloves as the wind from the sled ride will make those little hands get chilly very quickly. Choose from a handful of available rides in the area including Howling Dog Tours' popular Unleash the Musher Tour - a 2 hour ride through nearby Spray Lakes Provincial Park. For a shorter trip that can fit into an otherwise packed schedule, opt for Kingmik's Narnia Tour – a 30 minute ride through woodsy trails that end with a view of Mt Temple. Whichever option you choose, the kids will love spending time with the dogs and getting a firsthand experience of this unique sport.
Go Tubing
If visiting Banff in the winter months and your little ones want some downhill fun that doesn't involve skiing or snowboarding, check out one of the tubing spots options available in the area. Mt Norquay offers Alberta's longest tubing lanes and has morning, afternoon, and evening sessions available for kids 4+. Or check out  where you can bundle your tube pass with a sightseeing gondola ride.
Helpful tip: in an effort to minimize long lines and to ensure tubing safety, there's a ticket cap for each session. Do yourself a favour and plan ahead with reserved tickets before your trip.
Whether you visit in spring, summer, winter or fall, Banff is a fantastic destination to explore with the kids.