It's Time for Banff Pride!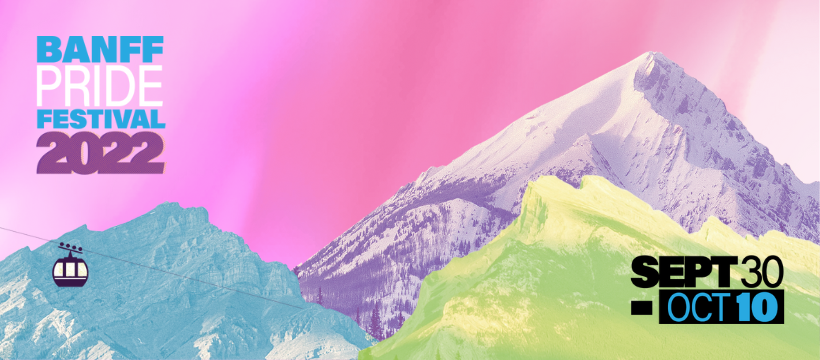 Banff Pride
On June 28th 1969, a riot broke out at the Stonewall Inn in NYC as the LGBTQ community took to the streets in a multi-day battle to fight for their equality. That moment is why June is recognized far and wide as Pride Month. 
But throughout the year, many different Pride weeks are celebrated in different destinations around the world at times that mark special advancements in freedoms and rights; while others are timed to showcase a beautiful time of year in a destination.
Kicking off on September 30, Banff will celebrate the colours of Fall and the colours of Pride with eleven consecutive days of events during their 9th Annual Pride celebration. 
Each weekend will see the festival's top billed events while the weekdays will invite the community and its allies to come together in a more intimate way.
From an all-inclusive Yoga Class, free to Banff Pride Members, to an Open Mic Night which creates a safe space for "folx to tell their stories, speak their truths and share their talents". 
And if you're looking to end the work week with a good laugh, you won't want to miss a night with the award winning duo Ryan Steele and Amy Goodmurphy on October 6th. 
When it comes to the weekend itineraries, it will be: "No Sleep, Bus, Club, Another Club, Another Club…"
Beginning Friday, October 1st with a night of music and dancing at Warner Stables, the Pride Hoe-Down will see a number of notable musicians perform. Award-winning Alberta Country Music Artist Robert Adams, D'Orjay the Singing Shaman and recording artist Amy Hef will play late into the night.
On Saturday, October 2nd, and again on October 8th, the highest elevation drag show in Canada will take to the mountain tops. After enjoying a stunning gondola ride to the summit of Sulphur Mountain, event goers will enjoy not only some of Alberta's top billed drag queens, but also take in six stunning mountain ranges and sweeping views of the twinkling town of Banff down below.
Then it's time to gondola back down to reality and embrace your inner Hot Mess during an epic dance party of the same name. For its first time, the iconic Hot Mess – which has just celebrated its 10th anniversary – will see DJ Lively Blake bringing this night of beats and heat from Calgary to Banff. 
On Sunday, October 2nd, get ready to Rock & Roll Bowl as The Corey Hotline, a celebratory garage rock trio, takes over Bowl Valley for a night of "breaking rules and breaking hearts". 
With weekend one in the memory bank, weekend two is ready to give you the ol' razzle dazzle with one of the most polished queens in the world! Contestant from RPDR US Season 11, Plastique Tiara will slay the house down boots over two days as part of WERK x TFD Saturday night's dance party and Sunday's 4th annual Drag Brunch at the Fairmont Banff Springs which was just named the best luxury hotel in the world by Travel Awaits. 
Since 'more is more', each event will also see a plethora of performances by Canada's Drag Race stars: Kendall Gender, Synthia Kiss, and Calgary's very own Stephanie Prince.
With additional events and activities like climbing, markets, movie and improv nights all spanning nearly two weeks, this year Banff's Pride is sure to celebrate bigger and brighter than ever.