Rockies With the Kids: 10 Reasons Why You Should Venture to Jasper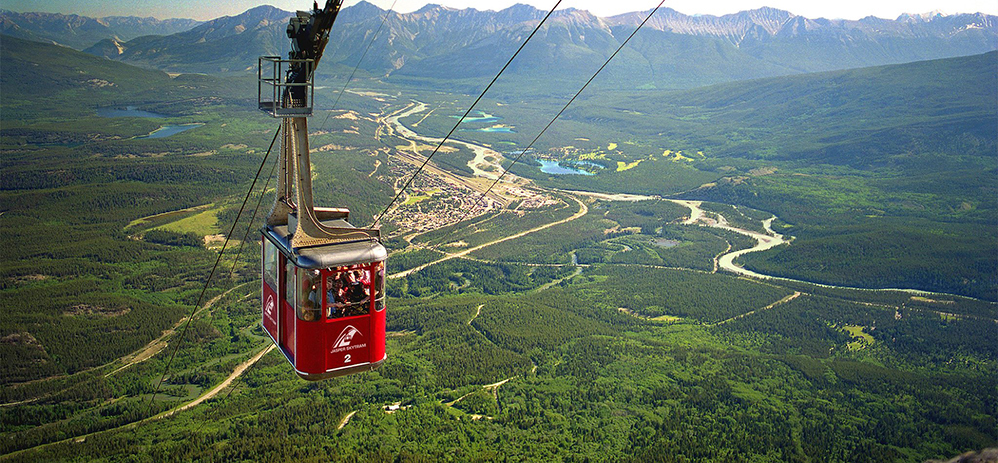 Tourism Jasper | Jasper SkyTram
Travelling with the whole family? Visiting the Canadian Rockies is a great choice! Here are 10 ways you can experience Jasper with kids!
1. Live Theatre: From Jasper with Love
At the start of your trip, book tickets for the family to see the live theatre performance From Jasper with Love at the Lobstick Lodge. This adorable and funny show will entertain the whole family while teaching you about Jasper and what you can see and do. There is an outdoor patio where you can enjoy food and drink before the show. The play starts at 8pm and is offered every Tuesday-Saturday night. This wonderful evening makes for a perfect start to your trip with the little ones.
2. Jasper Raft Tours
Enjoy a comfortable ~2.5-hour rafting trip led by experienced guides who will take care of all the rowing. They also keep the group entertained with interesting anecdotes about Jasper National Park, a UNESCO World Heritage Site. During the calmer stretches you'll have a chance to see wildlife. If you look closely you may spot elk, osprey, moose, and bears. There are also a few easy rapids to give the little ones a thrill. If you have a friendly pup who is up for adventure, bring them along for the ride on one of the dog friendly trips. Canine life jackets are included in the $10 ticket.
3. SkyTram
Located just a quick 10 minutes outside of town, head the base of Whistlers Mountain to catch the SkyTram. Venture up to 2,263 m/7,500 ft above sea level on Canada's longest aerial tramway. Catch breathtaking views of the surrounding area including glacial lakes, wildlife, and Mt. Robson, the highest peak in the Canadian Rockies. Temps drop quite a bit at the higher altitude. Be sure to dress in layers including a windbreaker and/or rain jacket just in case. Once at the top, you can stroll along the interpretive boardwalk to learn more about the area or tackle the hiking trails to reach the summit. You'll have worked up an appetite by now, so check out the Summit Café for a delicious meal with panoramic views before heading back down. Interested in doing both the SkyTram and raft tour? Book a bundle and save 10%. And again, if you're travelling with a friendly pup, feel free to bring them along for the ride! Packages like this are a great way to save money while visiting Jasper with kids!
4. Alpine Stargazing
Do you have a little one who enjoys learning about the solar system or simply stargazing? During the months of September and October join astronomy guides from Jasper Planetarium for an evening under the stars. You'll be oriented to the night sky in the planetarium dome followed by a trip in the SkyTram to Upper Station for pitch black skies away from light pollution. Enjoy unparalleled views of the night sky with powerful telescopes and learn about constellations, planets, and what makes a "shooting star." Dinner is included in this package to round out an unforgettable evening in the mountains.
5. Miette Hot Springs
For less than $25, book a family pass to Miette Hot Springs and enjoy a thermal swim experience like no other! Located about an hour outside of town, pack a picnic and make a day trip out of it. The hot springs water is around 54°C but is cooled to 40°C for a safe and enjoyable pool. There is an easy, stroller-friendly hike along Source of the Springs Trail that you can take before or after your swim. There are signs along the trail about hot springs and how they're created. See the hot water flowing from the side of the mountain and watch the kids wrinkle their noses when they catch a whiff of that eggy sulfur smell.
6. Family Friendly Accommodations
Jasper is awash with accommodation options including many that are well suited for families. If you're hoping to keep a bit of your at home routine while travelling, Tekarra Lodge offers spacious cabins with kitchens to save costs on dining out, and separate bedrooms and/or alcoves to make settling kids in bed easier. They do a great job of catering to young families with craft nights, magic shows, s'mores, lawn games like Jenga and Connect 4, bike rentals, and an onsite playground. If you prefer a resort, the newly renovated Forest Park Hotel will impress you with its family (and pet!) friendly room options, multiple on site restaurants with ample kid menu items, and a pool for family swims. On the more luxurious side there's the iconic Fairmont Jasper Park Lodge. Book the Bed and Breakfast package for the parents and kids under 5 will eat free. With an abundance of family friendly activities including a board game library, recreation room, trivia nights, audio guided tours of the area, canoe rentals, and a massive outdoor heated pool, the kids will absolutely love it here and it will be worth every cent.
7. Hiking
You don't have to pack gear for a multi-day excursion or scale steep cliffs to enjoy the breathtaking views of this area. There are plenty of relatively easy trails the whole family can enjoy. Lower Sunwapta Falls is an easy 2.4 km out-and-back trail that provides multiple viewing opportunities to experience the power of the falls. There are also restrooms available and a few picnic areas. Be sure to head here early in the morning however to beat the crowds. There are also a few paved, stroller-friendly walking trails around Athabasca Falls. Located about 30 minutes from downtown, the kids can view how the falls carved canyons into the surrounding limestone. The Toe of the Athabasca Glacier Hike is one of the few trails that provides glacier views while being accessible to the novice hiker. Be sure to stay on the roped trails as the nearby crevasses are very dangerous.
8. Maligne Valley
Do yourself a favour and book the Maligne Sightseeing Tour which provides transportation to and from your hotel and a professional guide who will show you breathtaking views of Maligne Canyon, Maligne Lake, and the mysterious, seemingly vanishing Medicine Lake. Learn about the unique geological history of the area, enjoy multiple photo op sites, and choose from a guided hike or a boat ride around Maligne Lake at the end of the day. Be sure to pack some snacks or a light lunch as this tour lasts about 6 hours and does not include meals. Keep an eye out for the chance to see bears or bighorn sheep as you explore this magnificent area!
9. Horseback Riding
Whether it's your little one's first time in the saddle or if they've been riding for years, the crew at Jasper Stables will match a horse with the rider's ability for an enjoyable trip. Shorter 1-hour easy trail rides are available for the younger riders. Try either Happy Trails or River Valley Ride, departing from Pyramid Lake Stables and Jasper Park Lodge respectively. For families looking to enjoy steep mountain climbs and stunning views, 2–3-hour routes are also available from each location. Even on the warmer days you'll want to wear pants for a more comfortable ride. Bring a windbreaker and/or rain jacket in case of sudden weather changes in the mountains. Helmets are provided at no additional cost and are required for all kids. Pack a water bottle and a light snack or pick up a few treats at the concession stand before heading out on your ride.
10. Boating
For an active day out on the water, head on down to The Boathouse at Fairmont Jasper Lodge where you can rent stand up paddle boards, canoes, kayaks, or pedal boats. You'll find an option for everyone in your group! Explore glacier-fed Lac Beauvert, known for its spectacular turquoise colour and being crystal clear. Paddle to the shore to cool off with a quick swim in the frigid water. Pack a picnic and enjoy stunning reflections of the surrounding mountain ranges and forests in the water.
For these reasons and more, be sure to take the kids to Jasper for a trip they will talk about for years to come.