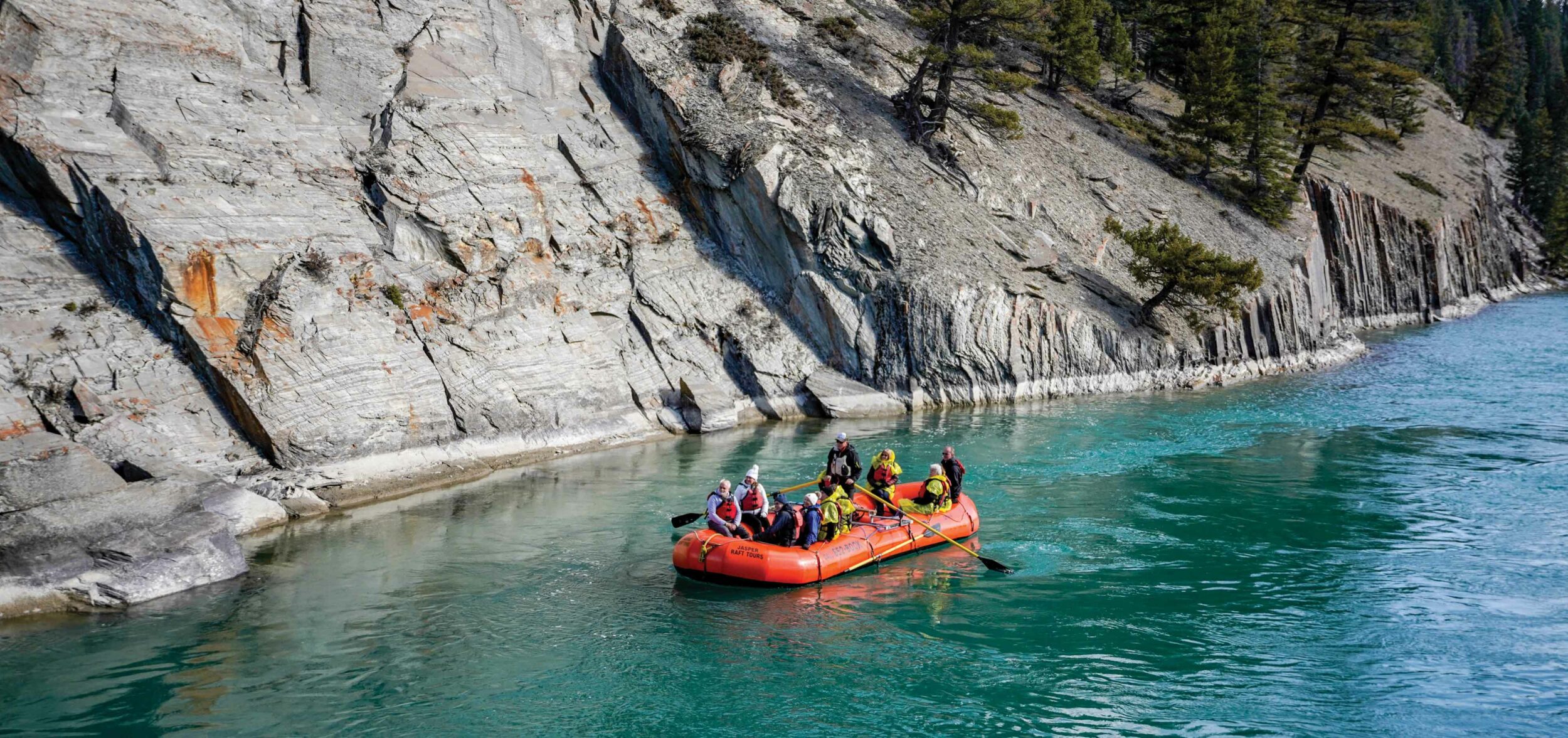 Toursim Jasper | Jasper Raft Tours
Rafting in Jasper can be anything from mild to wild. There's a tour for everyone, from a gentle float through stunning scenery to crashing through whitewater and getting soaked along the way. 
For a scenic float or an introduction to rafting, the Athabasca River has gentle turns and some Class II rapids. Below the falls, the Athabasca Canyon's rugged walls tower above as you gently drift along.
For a thrill, experience the Class III rapids of the Sunwapta River. Derived from the Îyârhe Nakoda word for "Turbulent River", the Sunwapta has consistent whitewater that's sure to get your adrenaline pumping! 
For gentle floats or thrilling rapids, Jasper Rafting Adventures has guides who safely navigate and explain the area's geology, wildlife, and First Nation's history. 
Jasper Raft Tours provides scenic float trips the entire family can enjoy. Sit back and relax while your guide paddles down the Athabasca River. Travelling with your furry family member? Try a dog-friendly float! 
For trips down the Athabasca, Sunwapta, and the thrilling Fraser River, with turbulent Class III rapids and exceptional scenery in the shadow of Mount Robson, book at Maligne Rafting Adventures. 
Enjoy over 50 years of experience on the water with Jasper's Whitewater Rafting Company. Bring the whole family and choose gentle rafts on the Athabasca or thrilling waves on the Sunwapta. 
Experience the water with a family-friendly trip with Rocky Mountain River Guides. Choose the level that's right for you, and get ready to enjoy a day on the water in stunning Jasper National Park!