Top Ten Things to Do in Canmore with Kids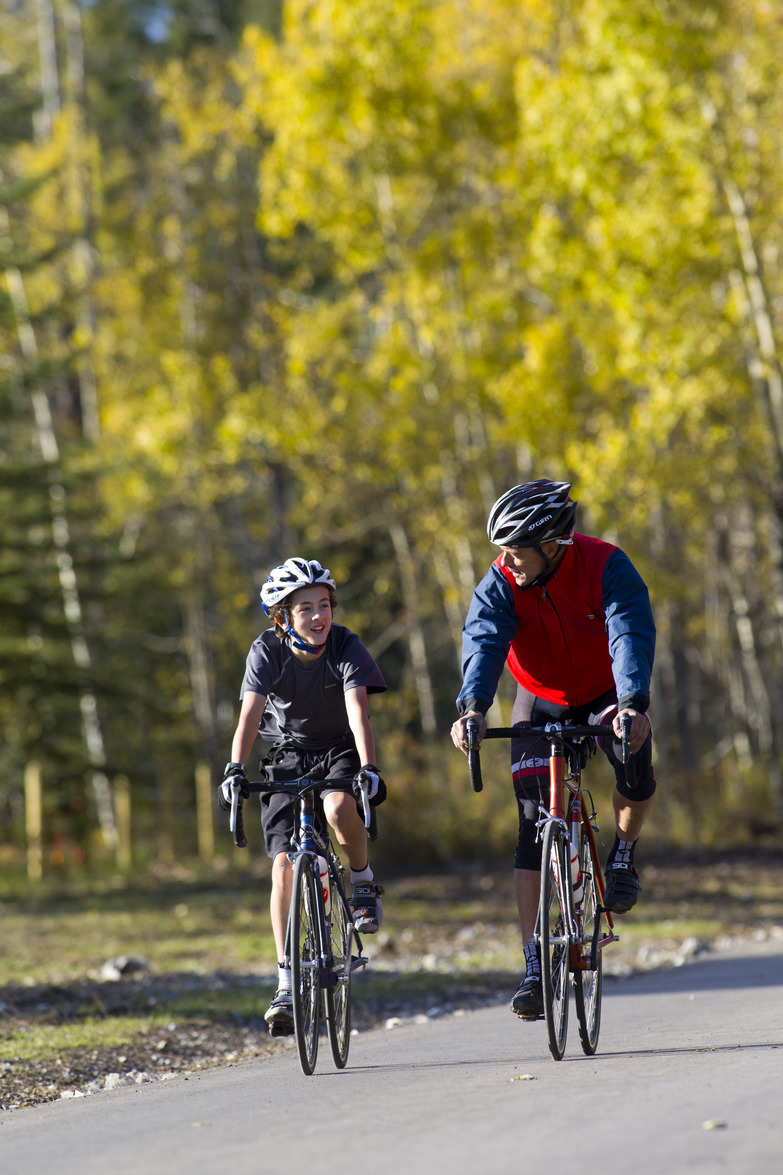 When planning your family trip through the Canadian Rockies this summer, you'll undoubtedly have Banff on your list as a must-see. Do yourself a favour and make the beautiful mountain town of Canmore your home base for visiting the area. Located just outside of Banff National Park, you can easily take day trips into the park, or you can explore adventures around this popular mountain town. With ample family friendly activities, easy day hikes for young ones, and plenty of restaurants to please even the pickiest of eaters, Canmore is an ideal spot for families. To help plan your itinerary, here are the top ten things to do with kids in Canmore this summer.
TAKE A STROLL DOWN MAIN STREET
Canmore's Main Street is filled with quaint shops and cafes the whole family will love. Take a walk down this pedestrian-only street and swing by Olde Tyme Candy Shoppe for a wide variety of sweets including classics from when you were a kid! Down the road you'll find Café Books, dubbed one of Canada's dreamiest bookstores by Chatelaine. Venture in on a rainy day and curl up with a new book, or visit their used bookroom for something previously loved. If you've travelled from afar, Hijinx is a great toy shop for kids to find a fun new toy to keep them entertained on the flight or road trip back home.
RAINY DAY GAME RENTAL
If you find yourself stuck indoors on a rainy day in the Rockies, head on down to Armadillo Games where they have a huge selection of board games available to rent. Their knowledgeable staff will steer you in the right direction to find a new game the whole family will enjoy. Its's great opportunity to try out a few new games on your trip or play one of your family favourites. Upon returning the rental, they'll discount you 10% if you want to buy the game.
ICE CREAM SAMPLING
For ice cream lovers, Canmore is the place to be. On 10 St, amuse the kids by ordering ice cream from The Old School Bus Ice Cream – choose from over 25 flavours of ice cream, sorbets, and shaved ice at this Canmore classic. For impressive flavours made from both dairy and plant based options, try Blake's Scratch Rare Ice Cream with popular options such as the Farmer's Crumble, strawberry rhubarb compote and oatmeal crumble in vanilla ice cream, or the non-dairy Black Bear: cardamom and dark chocolate plant based "nice"cream with blueberries. If you want a place to grab lunch before ice cream, Cacao 70 offers both sweet and salty menus. Try one of their delicious milkshakes or enjoy ice cream served with waffles and crepes- their Illegal Waffle with crispy caramelized bananas, vanilla ice cream, and melted chocolate is a local favourite!
CAVE TOUR
Caving – also known as spelunking – while not for the faint of heart, is an unforgettable experience available through Canmore Cave Tours. Listed as a Signature Canadian Experience by Destination Canada, these cave tours are sure to excite thrill seekers ages 10 and up. Led by experienced guides, fasten your harness and rappel 6 stories underground to experience crystal clear pools and icicle-like mineral deposits stalactites and stalagmites. Wiggle and crawl through water worn narrow passageways and learn about cave formation, fossils, and the geographical history of the area.
BIKE TOUR
Exploring Canmore via bicycle is a must in the warmer months of the year but save room when packing by planning to rent bikes for the family at Rebound Cycle. Here you will find a bike for the whole family including a Thule Coaster XT bike trailer that you can use to pull up to two little ones behind you. Be sure to check out the Pedal for Pints Ice Cream Loop. Find 6 hidden cones which parents can scan along the nearly 7 km loop and win a free ice cream after the ride at The Old School Bus Ice Cream.
ROCK CLIMBING LESSONS
While travelling through the Rockies, your kids may be inspired by the many rock climbers in the area often seen defying gravity and ascending the many pitches the mountains have to offer. Canmore is in the heart of Southern Alberta's climbing paradise and is home to crags, multi-pitch ascents, and sport climb routes, providing climbs suitable for beginners and experts.  Take the kids to Elevation Place's climbing gym where affordable equipment rentals and climbing lessons are available for kids ages 4 and up. With over 11,000 sq ft of climbing terrain and colour-coded routes to guide climbers up their ascent, the kids will learn to climb and get a great workout! If you're feeling adventurous and want to try climbing outdoors on one of the many available peaks, give Yamnuska Mountain Adventures a call to book your full or half day group lesson for the family.
EXPLORE THE ARTS
artsPLACE in downtown Canmore offers a wide range of art workshops for kids and families including ceramics, textiles, and visual arts. It's also the place where you can pop in for live music in the evenings, or check out their calendar for upcoming theatre, dance, spoken word, or comedy performances. Be sure to take a walk down Spur Line Trail and experience a recent local arts project featuring nearly 200 art pieces done directly onto wood from fallen trees along the trail. Larch Island Interpretive Trail Story Walk is another fun stroll just a few minutes from downtown Canmore. This digital story tour presented by Curbside Museum will guide you along the 1.5 km trail and share the interesting history of Larch Island. For kids who have an interest in fossils, check out Canmore's Ammonite Factory. Here they can view a collection of Alberta's provincial gemstone, ammolite – a colourful fossilized shell of an extinct mollusk group from the age of dinosaurs. And, if you happen to be in Canmore the weekend of July 30, grab tickets for Folk Fest. In addition to live music, this festival has a Family Area where kids will be entertained by clowns, jugglers, and storytellers.
GRAB A BITE
Canmore is filled with restaurants to please all palates and offers plenty of kid menu options. Head over to Rocky Mountain Flatbread on a Tuesday evening for Kids Night where they can help make their own pizzas. They also have an extensive kids' menu with options other than pizza including chicken noodle soup, macaroni and cheese, and veggies and hummus, as well as Shirley Temples and other fun beverages. Another spot with a kid's menu is Crazyweed where parents can enjoy interesting dishes such as Massaman Curry Lamb or Ahi Tuna Poke. For a spot with crayons and toys to entertain younger ones, Summit Café has you covered. They also offer boxed lunches to order if you're heading out on the trails for the day with the family.
GO RAFTING
The Horseshoe Canyon Adventure Tour at White Wolf Rafting is a ride through some of the biggest rapids (grade 3-4) in the Kananaskis River. Basic swimming skills are required for this exhilarating tour and is great for kids 12 and up. If you have younger ones or don't quite feel up for whitewater rafting, try either The Townie or The Explorer scenic floats from Canmore Raft Tours. These relaxing floats depart in the evenings and are a perfect way to end the day. Your guides will teach the family about the surrounding area's history, and you'll often get to view wildlife along the riverbanks.
TAKE A HIKE
If trekking out with little ones, don't be discouraged thinking you'll miss the breathtaking views on easier routes. You don't have to scale a 4,000 footer to glimpse some of the stunning surroundings in Canmore. Located a short drive out of town is Troll Falls, a 3.4 km out-and-back trail with less than 100m elevation gain that ends at a beautiful waterfall. The Benchland Ridge Trail and Canmore Hoodoos is another short out-and-back trail that offers panoramic views of Canmore and a chance to see Hoodoos up close. The kids will love looking at the Hoodoos – tall, thin peaks of rock formed by erosion and playfully known as "Fairy Chimneys." The Grotto Canyon Trail is another great hike offering a bit more distance (7.1 km) with a 395 ft elevation gain. Located about a 10-minute drive from Canmore, this hike will excite the kids with its waterfall, caves, and tall canyon walls where pictographs can be seen if you look carefully. Many of the trails in the Canmore area are quite popular, especially on the weekends, so plan to head out early in the morning to beat the crowds.
If travelling through the Canadian ­­Rockies this summer with kids, Canmore is a spot you don't want to miss!