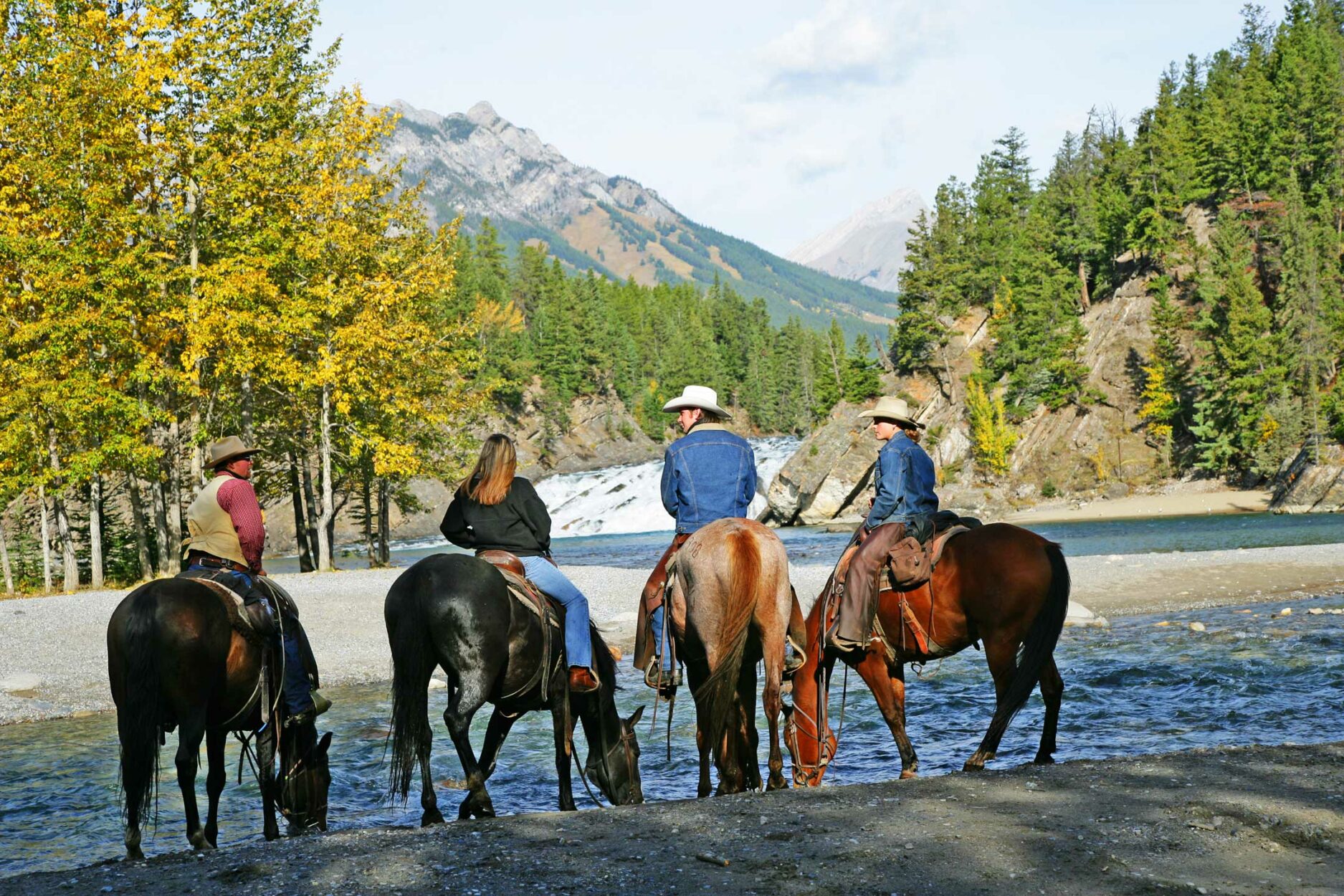 Watering the horses at Bow Falls with Banff Trail Riders. Photo credit: Travel Alberta | Discover Banff Tours
Horses have a long history in the Canadian Rockies. From their original role as transportation when the First Nations introduced this place to European travellers, to their long and involved use in outfitting to reach untold areas of the backcountry, it's no wonder that the horse still has an important role to play in the modern day mountains.
While we are a long way from needing horses for transportation in our day to day lives, accessing select areas of Banff's backcountry is still spectacular between the ears of a horse. And with those far-reaching expanses of wilderness, sometimes horseback is the best way to reach your destination.
Quotas on commercial and private horse use have been established to protect wilderness areas from overuse, so reservations are required for the DIY adventurer. Make sure you know before you go, since horses are prohibited on certain trails to protect the landscape. 
There are still wild and wonderful places to ride in the mountains, far from motorized vehicles and out of cell phone range. Grazing permits, backcountry camping permits, and trail suggestions are available from Parks Canada information centres or online. 
"Within the National Park, we're a bit different. There's no better place to ride a horse. There are no motorized vehicles in the backcountry, so riding horses along the same trails we've used for over a century is a truly unique experience. Here in Banff, the pristine authenticity of the backcountry is still intact." -Julie Canning, owner and operator of Banff Trail Riders
For those with zero horse experience, or those just looking to experience the beauty of Banff National Park with the comfort of an experienced outfitter, there are several options to explore. 
Banff Trail Riders has everything from 1 hr to 6 day rides, and they access historic cabins and tent sites that have been used since outfitting was established in the park.
Brewster Stables offers rides in stunning Lake Louise, visiting iconic landmarks like Plain of Six Glaciers, Lake Agnes Tea House, Paradise Valley, and the Giant Steps. They also offer backcountry tent trips.
Timberline Tours has trips for everyone, from short trails that take less than an hour to multi-day excursions with hearty home cooked meals and other activities like fishing, photography, hiking, or relaxing.
Whether you're an experienced rider, a weekend warrior, or you've never even touched a horse, there's a ride of a lifetime waiting for you in Banff National Park!