Bigger & Prouder than Ever!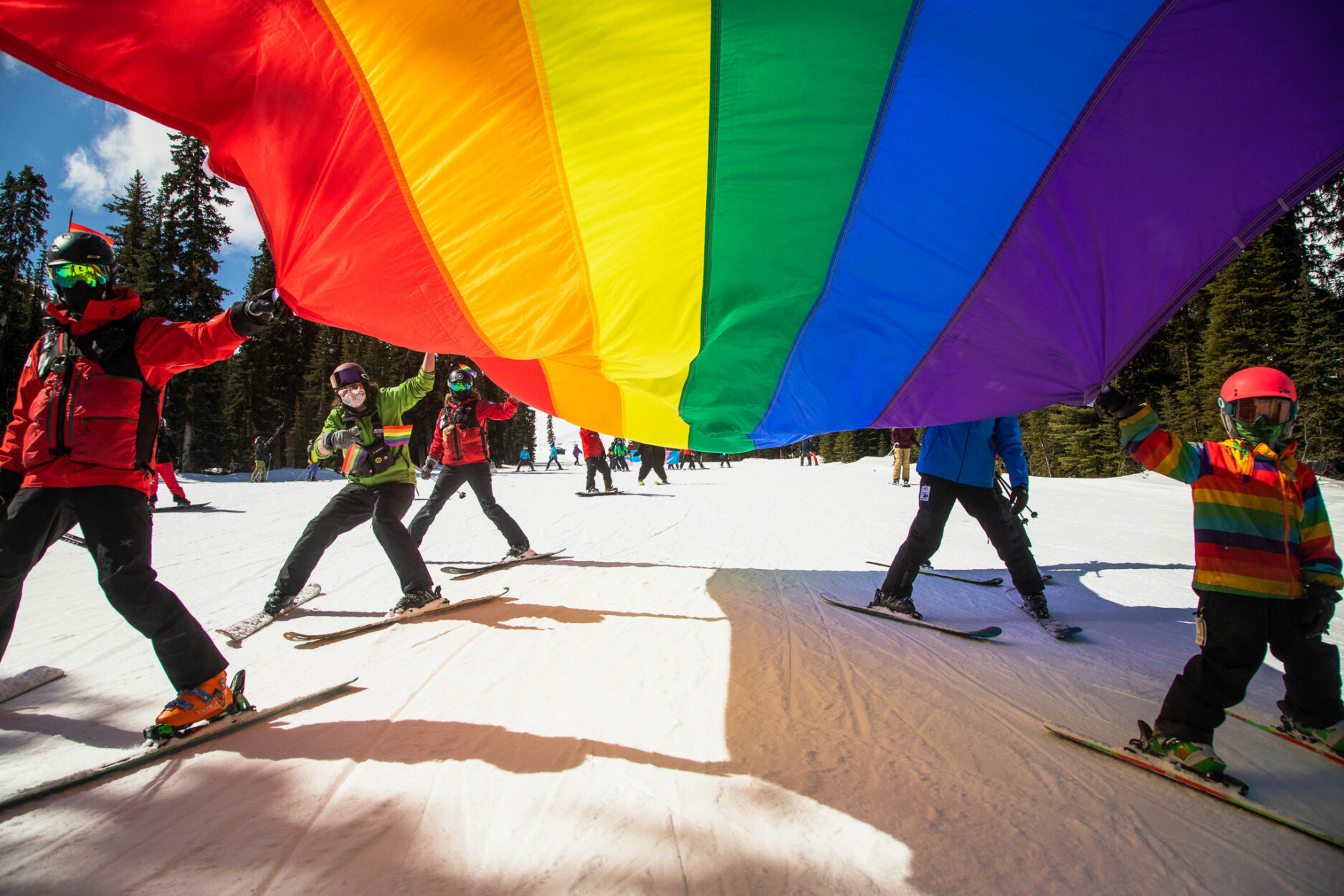 Tourism Jasper
After two years, Jasper's Pride Festival is back! "Bigger & Prouder than Ever!"
Proud and Free is the mantra behind Jasper's 13th annual Mountainous Pride, which will see the community come together from Main Street to the mountain tops and celebrate over the ten days of festivities that commence with the annual flag raising on April 1, 2022.
Touted as the only gay ski week in the Canadian Rockies, your days will be filled with some of the most picturesque skiing along the trails of Marmot Basin - which has hosted skiers since the 1920's - and when the sun sets the party will continue on with a variety of events scattered through town.
Throughout the festival (April 1-10) you'll be able to score some great discounts: save on lift tickets and rentals by downloading Jasper's Free Pride Pass, save up to 25% on accommodations using select promo codes, and save some money by purchasing event tickets in advance.
Kicking off the festivities on April 1st, Jasper Brewing Company will launch their 8th annual community brew, the Kiwifruit Kolsch, created to honour Jasper Pride and Ski Festival which donates its proceeds to support the Jasper Pride Festival Society. As night one continues, you'll want to pop into Whistle Stop Pub which will transform its space for a magical night filled with a variety of guest drag performances to be hosted by Jasper's own Toni Lester Van Blam.
On night two, a truly unique Canadian 'TakeOver' will happen at Forest Park Hotel with Sâkihitowin: Indigi-Hauz, a high energy Indigenous drag show that celebrates the Two-Spirited community. Led by Co-FemCees Cedar T and Ladonna Cree, the event features Indigi-Hauz of Beaver Hills—a collective of six drag performers and a mesmerizing hoop dancer that will share their communities' history and talents.
Winding down Jasper Pride's first weekend, Sunday will host an awards ceremony celebrating some of the community's top allies and supporters during a brunch-time affair recognizing Person of the Year, Youth of the Year, Proud Business of the Year and LGBTQ2S+ Community Organization of the Year.
During the week and leading up to the grand finale weekend, a plethora of activities and events will be held including daytime yoga, a paint night and even a youth Pride Pizza Party to ensure EVERYBODY can be included. On Thursday, Pride goers can head back to Jasper Brewing Company to sip the special pride brew and listen for O-69 during a sassy night of Drag Bingo.
For those looking for the ultimate in R&R before the main event, Fairmont Jasper Park Lodge will be offering "The Chocolate–Brown Sugar Scrub Ritual"; A 60-minute invigorating brown sugar and chocolate body polish treatment which begins with a full body scrub, followed by a body wrap, a scalp massage and the gift of a JPL chocolate bar to sashay away with.
For its final weekend, Jasper's Pride will see its most colourful events.
On Saturday, April 9th be sure to wear your brightest and boldest looks (and don't be shy to accessorize) as you join the community for a one of a kind 'parade' on the slopes of Marmot Basin as you wind your way from top to mid-mountain skiing behind a giant Pride Flag.
Then change your skis and poles in for a pair of cowboy boots and head to the Jasper Legion for a free lesson in Queer Country Line Dancing; a workshop taught by an instructor having earned themselves two first place world titles at the 2018 World's Line Dance Competition.
Now that your two left feet have been all sorted out, get ready for a night of proud Canadiana as the community gathers at the Jasper Park Lodge for their Pride Party titled "Welcome Back, Eh!". Don your gay apparel in true Canadian style, think flannel shirts, denim tuxedos or even a HBC styled jock, and get ready for a night of drag kings, queens, duelling pianos, DJs, drinks and non-stop dancing until 2am.
It's been all too long since we've been able to gather, and Jasper Pride intends on making this year's coming together better than ever.
So, round up your Mo's and Judy's and let's celebrate being Proud and Free together!