The Magical World of Snow & Ice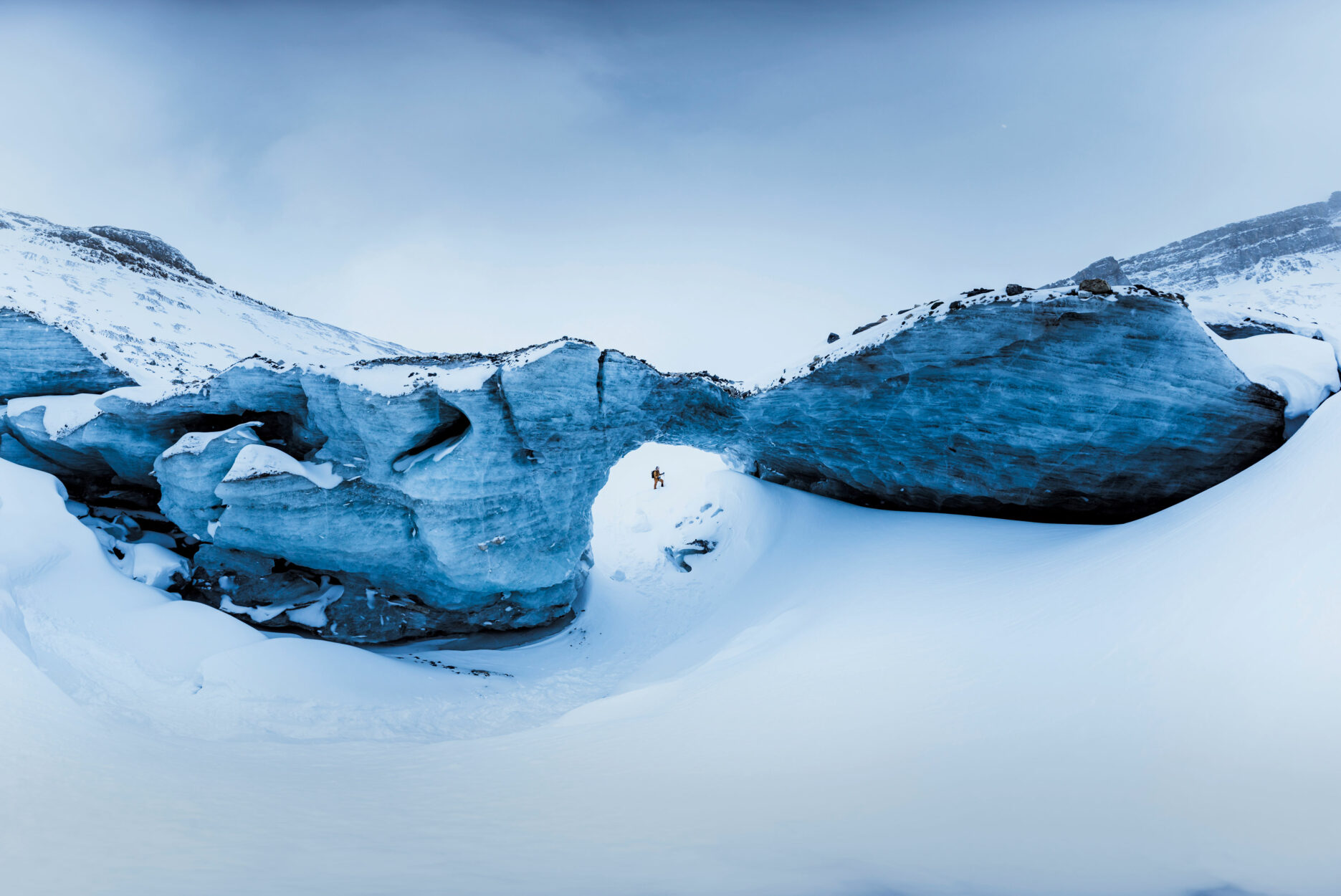 Photography & Story By Jenna Dixon & Peter O'Hara
The Canadian Rockies feature impressive glaciers. There's no telling what you'll discover in this magical world of snow and ice.
The Canadian Rockies feature some of the world's most impressive glaciers. Every winter, intricate formations are carved and constructed by nature's hand, presenting an otherworldly experience amongst thousand year old ice. With research, preparation, and a curiosity to explore, there's no telling what you can discover in this magical world of snow and ice.
Intrigued? Want to increase your backcountry awareness? Let's dive in!
Safety is always at the forefront when exploring in the backcountry. Avalanche training (as well as beginner through advanced mountaineer courses that dive into safe glacier traverse and rescue) is offered through a variety of outfitters in the Canadian Rockies. Education is knowledge and the best investment one can make when exploring in the mountains.
Just as important as education is having the right gear and knowing how to use it. Snowshoes, or backcountry skis, ice cleats, helmet, ice axe, shovel, probe, avalanche beacons, harness, and rope are some of the essentials for backcountry expeditions. Proper clothing and footwear can make or break a mountain adventure.
When planning any winter excursion, make sure to check the Avalanche Canada and Parks Canada websites or download the app to keep up-to-date with information on snow conditions for the day.
Pack out what you pack in and leave no trace.
Always tell someone where you're going and when you expect to return. We carry a Garmin In-Reach as an additional layer of security for its SOS emergency feature. Be prepared for variable weather and don't hesitate to turn back for any reason.
As both photographers and adventurers, we feel an affinity to our natural landscapes and an inspiration to document our findings. It's no secret that our glaciers are receding at an alarming rate. The landscapes that we know and love are changing, and what we see today may no longer exist in the future.
So go explore, because our Canadian Rockies are truly a treasure to be discovered. Bring your camera on your next adventure, in case you find your own glacier treasure. The texture and richness of our glacier fields are mesmerizing and you'll want to capture these moments in time. Try your hand at focus stacking to showcase intricate details within the ice. Or perhaps create a panoramic image that captures the entirety of the scene. If you're traveling with a group, use a person within the landscape to add a sense of scale to showcase the enormity of these ice features.
There's no question that both the photographer and the adventurer will find endless inspiration in these incredible landscapes.
The possibilities are endless.