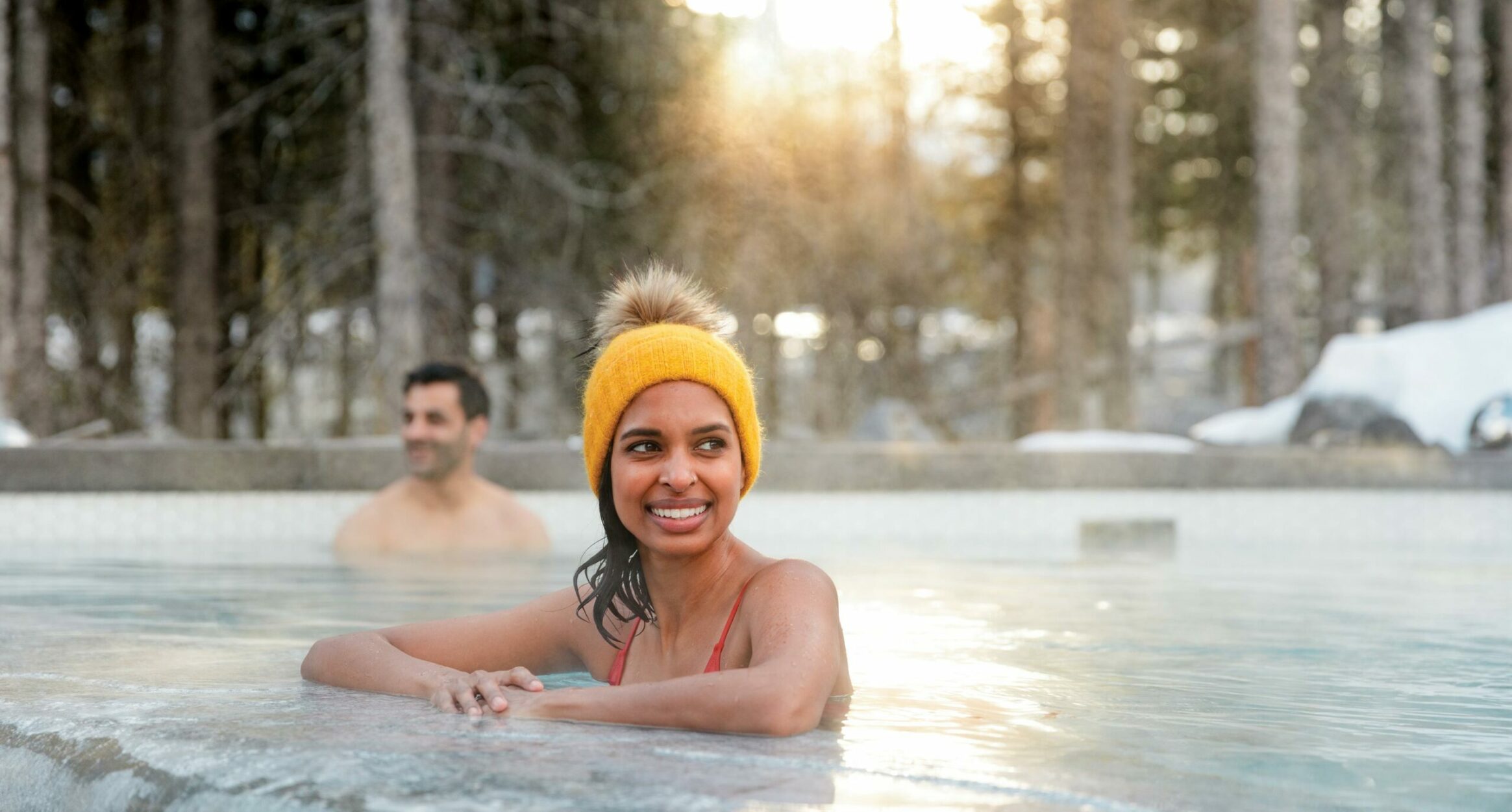 Travel Alberta | Mike Seehagel
Warm up from winter's chill with a soothing soak in a hot pool. Whether you're looking for the mineral benefits of natural spring water, or you're just looking to warm up after a day outside, here are some of the best hot pools and springs in the area.
Banff Upper Hot Springs
The natural Upper Hot Springs flowing from beneath Sulphur Mountain are the hottest in the winter, reaching temperatures as high as 47°C. The water is cooled before hitting the pool, but it's generally kept at a toasty temperature of 40°C. Visiting the hot springs after dark is also a great way to sit back and admire the stars!
Kananaskis Nordic Spa
The hydrotherapy pools at Kananaskis Nordic Spa progress from hot, to medium, to cold water, with time to rest in between. This progression promotes circulation and relaxation, and it feels great after spending a day adventuring. Pair your time in the pools with a massage or a meal at onsite Two Trees Bistro to complete your experience.
Meadow Spa + Pools
The private hot pool at Meadow Spa + Pools is sure to warm all those winter chills away. This rooftop pool boasts stunning views, and it's the perfect place to relax and take in Banff from a unique perspective. Pair your pool time with a service from the spa and you'll forget all about Jack Frost. 
Red Earth Spa + Pools
The serene hot pool at Red Earth Spa + Pools will transport you from the winter wonderland of Banff to a relaxing tropical oasis where you can sit back and soothe your sore muscles away. Hitting the slopes again tomorrow? The expert team at Red Earth Spa will have you feeling like yourself in no time.