Mountain Insights: Local Secrets in the Canadian Rockies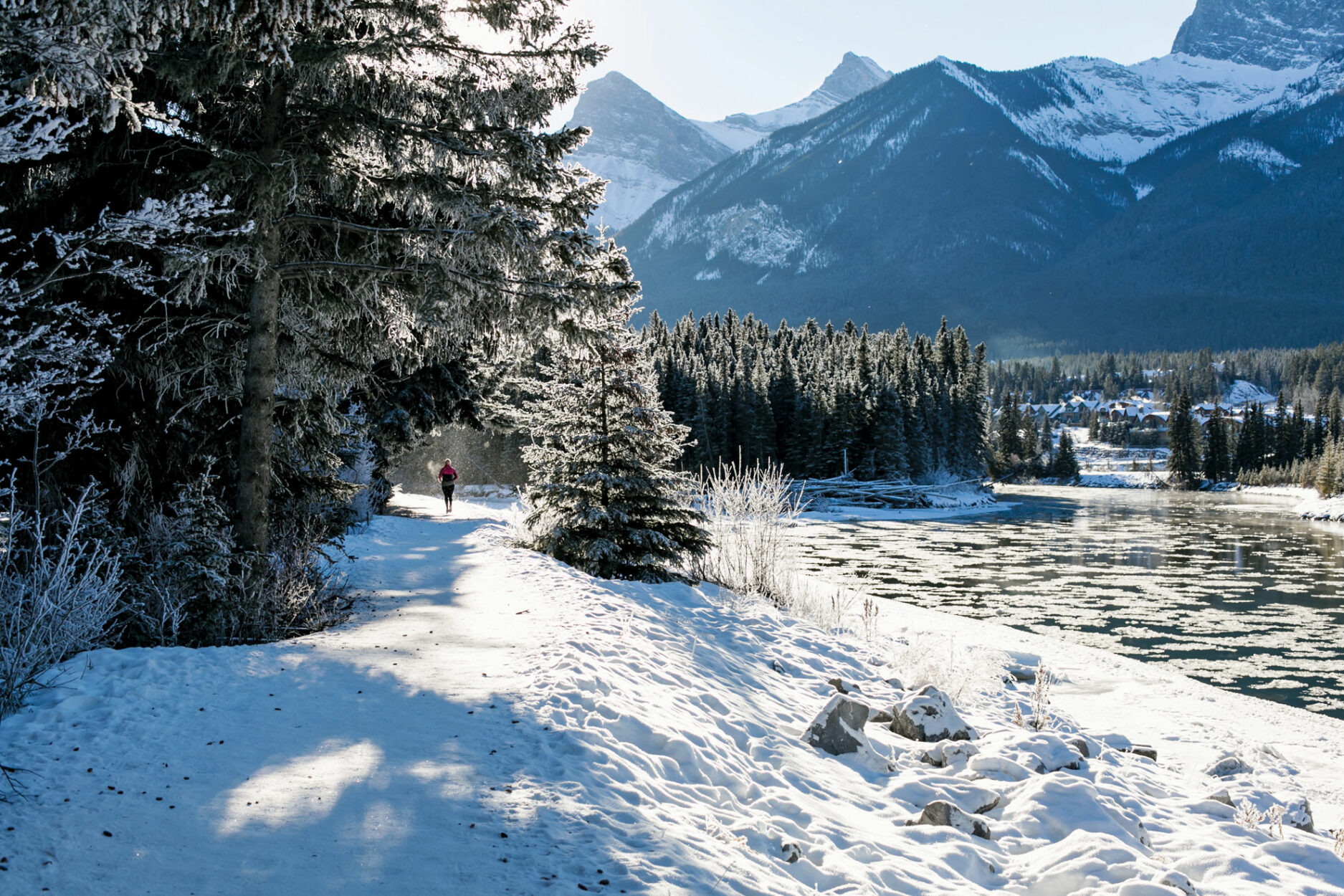 Travel Alberta // Ashley Drody @ashleydrody
The Canadian Rockies are beautiful to visit, but have you ever wondered what the locals do all winter? You may be surprised to hear it's not all about the slopes! Here are four key players for this magazine discussing our local secrets and what we love to do during the winter months.
Kate Barker, Editor
The ideal winter day: I love to see the world blanketed in a fresh layer of snow! There's nothing like making new tracks and realizing you're the first person to cross this area on a given day. When the snow is fresh and the sun is shining, you'll find me outside. I'll likely be with my horses, enjoying a snowy trail ride or dragging my friends behind me on skis as we try skijoring. A lot of people think of horses as a summer activity, but winter is a special time to enjoy long, fuzzy coats and warm snuggles. I'd highly recommend a sleigh ride to get your horse fix this winter. Check out Banff Trail Riders, Brewster Adventures, or Pyramid Lake Resort.
If I'm not riding, I'm either snowshoeing to my favourite ice fishing spot or out for a brisk winter run. Both of these sports can be fairly high intensity, so dressing appropriately is key. I get all my winter running gear from Strides. They have excellent staff who are always willing to help out. If you don't have your own snowshoe gear, there are tons of places to rent it.
When it's really cold: If it's just too cold to spend hours on end outside, I like to curl up with a good book and a warm cup of tea. I love looking at the new and used books at the local bookstore downtown, enjoying a tea from Beamers in the Shops of Canmore, Good Earth, or Communitea and just reading the afternoon away.
Something new to try: I've always wanted to try dogsledding. I love animals and the outdoors, so I think this would be a perfect fit. Howling Dog has a great reputation and puts a lot of effort into taking care of their dogs. Their dogsled tours on stunning Spray Lakes look like so much fun!
Damian Lamartine, Art Director
The ideal winter day: I love to get up early for a stunning mountain sunrise photoshoot. There are a lot of great locations, but I've always found success at Policeman's Creek for a classic shot of Three Sisters. I also might venture up to the reservoir or Quarry Lake. This usually involves standing out in the cold and freezing for about an hour, but the results are worth it!
Afterwards, I like to warm up with a latte at Eclipse Coffee Roasters downtown. This is my time to relax. I might read or edit my photos here. On an ideal day, I also love going on a flight with my brother, who's a pilot. Flights are available to the public from Alpine Helicopters or Rockies Heli Canada, and both companies offer adventure packages as well. After that, I'd have a late lunch at Kain Tayo. They're new in town, and they have excellent selections including vegetarian options, homemade naan, and great curries.
I also like tobogganing with a group of friends. We usually go at night, and one of our favourite spots is the hill on Eagle Terrace by the graveyard. It's a really fun hill to toboggan if we have a lot of snow! There are also great spots at the Canmore Nordic Centre or the playground at Eagle Terrace.
When it's really cold: When it's really cold, I'll be in a coffee shop either reading or drawing in my sketchbook. I especially love Café Books for their reading room coffee shop. It has such a great atmosphere.
Insider tips: Check out the Whyte Museum of the Canadian Rockies for contemporary art exhibits as well as a general history of the area. You could also catch a show or visit the gallery at the Banff Centre. They have a lot of new work and avant-guard art that might surprise you.
Warren Mackie, General Manager
The ideal winter day: In the early winter we like to skate on Spray Lake in Kananaskis. There is a picnic area at the Driftwood parking lot, and we bring a propane fire pit and have appies and a hot beverage before heading home.
As we get snow, we enjoy backcountry skiing in Kananaskis with afternoon tea at Mount Engadine Lodge or the Icefields Parkway with a stop at Laggan's for a Chia Latte and a Hazelnut Bar or two. We might do a long x-country ski day at Pipestone in Lake Louise or Peter Lougheed Provincial Park in Kananaskis. Both areas are track set and have beautiful trails. We also enjoy downhill skiing at Lake Louise Ski Resort in the new West Bowl area.
Winter evenings: On a full moon we drive to Lake Minnewanka and ski up the Cascade Fire Road to the campground. There is a large fire pit where you can cook dinner and stay warm. The entire route is track set. Often it's so bright with the moon reflecting off the snow that you don't even need your headlamps.
We also enjoy skate skiing on the night loop at the Canmore Nordic Centre. This is one of the few places in the Canadian Rockies that is groomed for skate skiing and has lit trails.
Mountain recommendations: Wild Orchid is an Asian bistro that's 100% gluten-free. It makes ordering simple, and the food is wonderful. One of the really unique winter activities in the Canadian Rockies is an icewalk. I think it is more fun to do these hikes in the winter because you can get into parts of the canyon and wander along the frozen water. For the best places to go, check out Discover Banff Tours or SunDog Tours.
Kyle Kerpan, Publisher
The ideal winter day: My ideal day would be spending time with my 5-year-old daughter. Living in Calgary, a city in the foothills, there are lots of great places to take the kids sledding when there's a fresh snowfall. We love to go to Signal Hill, but there are other great parks throughout the city with excellent sliding hills. We also like to go skating at Bowness Park. There is an excellent playground for the kids and the whole place is very child friendly.
We also love visiting the Calgary Zoo for their Penguin Walk. This is a fun way to learn about the natural habitats of wild animals as well as conservation.
This year, we'd like to visit WinSport for skiing. We had a great time last year learning to ski at Lake Louise Ski Resort, so we plan to put those new skills into action.
We'd finish our ideal day with dinner at Allora. This Italian restaurant has excellent food and a great atmosphere, and we find ourselves returning often.
When it's really cold: We spend time at the libraries. We're so excited they're open again! With kids, they're a great source of entertainment. We also like to visit the farmers' market. There's an indoor playground so the kids can play without risking the extreme cold. We also like to enjoy dinner out. I love Murrieta's for their excellent food.
City recommendations: I was really impressed with The Hangar Museum. It has a great selection of WWII airplanes and I want to take my daughter there. The Esker Foundation has excellent artwork with some unique pieces that draw you into the art scene. It's free, which makes it a great, affordable activity for the whole family.