A Very Short History of Fairmont Hot Springs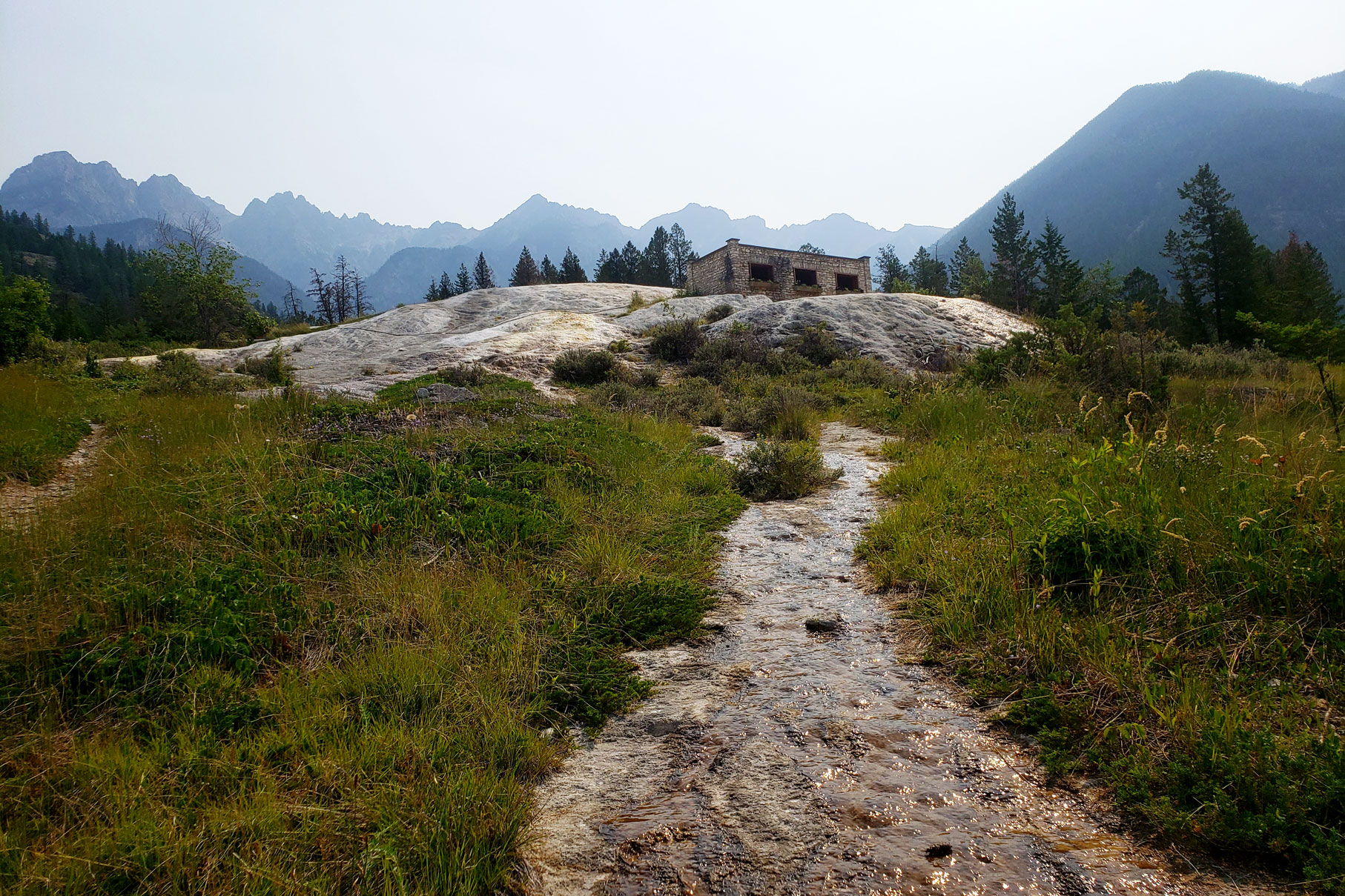 The bathhouse was built in the 1920's on a deposit of travertine, a mineral deposited by the hot springs water.
The history of Fairmont Hot Springs begins 80 to 55 million years ago with the formation of the Rocky Mountains. As the mineral-rich limestone was thrust into the sky, large fissures were formed in the rock. Water collected high in the mountain peaks, in the form of rain or snow, and entered these fissures, which travelled deep beneath the surface. The deeper the water travelled, the warmer it became.
As water warms in temperature, it expands. When water confined within rock expands, it creates pressure. Under this pressure, the water is forced back up to the surface through fractures in the rock. The now-hot water, which has absorbed many minerals from the limestone along its journey, reaches the surface in what we call a hot spring. As this water reaches the spring, more water is drawn from surrounding rock, rainfall and snowmelt to replace it, creating a continuous flow of hot, mineralized water.
People have long been drawn to hot springs, seeking comfort in the warmth and touting healing properties of the rich minerals. There is evidence that people have been relaxing at Fairmont Hot Springs for over 7000 years, and both the Ktunaxa and Shuswap First Nations lived in this area. They dug out baths and sought the waters for many of the same reasons people are drawn to this area today.
Fast-forward to the 1800's, when the history of this area was recorded by Europeans travelling west across the continent. While a few settled in this region, it wasn't until the completion of the stagecoach road through Kootenay National Park that visitors started travelling through the area with frequency, and they often stopped at the hot springs. The bath houses were built in the 1920's to accommodate these visitors, and the development of a resort to celebrate the healing waters truly began.
The resort expanded from a rest stop for stagecoaches to a ranch and resort with a swimming pool, barn, restaurant, campground, and bungalows. The 1960's saw further expansion of the area with the development of pools and the hotel, a golf course, the airport and the ski hill. The RV Park and second golf course were added in the early 2000's.
Today, the resort is a cozy getaway with plenty of family fun and excellent activities like golf, skiing, kayaking, ziplining, horseback riding, a full-service spa, weddings, and so much more. Of course, it's all connected by the healing mineral waters of the natural hot springs. This hidden gem is just off the highway, so it's often overlooked by the un-savvy traveller.
To enjoy a true mountain experience, with rustic style and modern comfort, make the short drive to Fairmont Hot Springs Resort. You'll be glad you did.