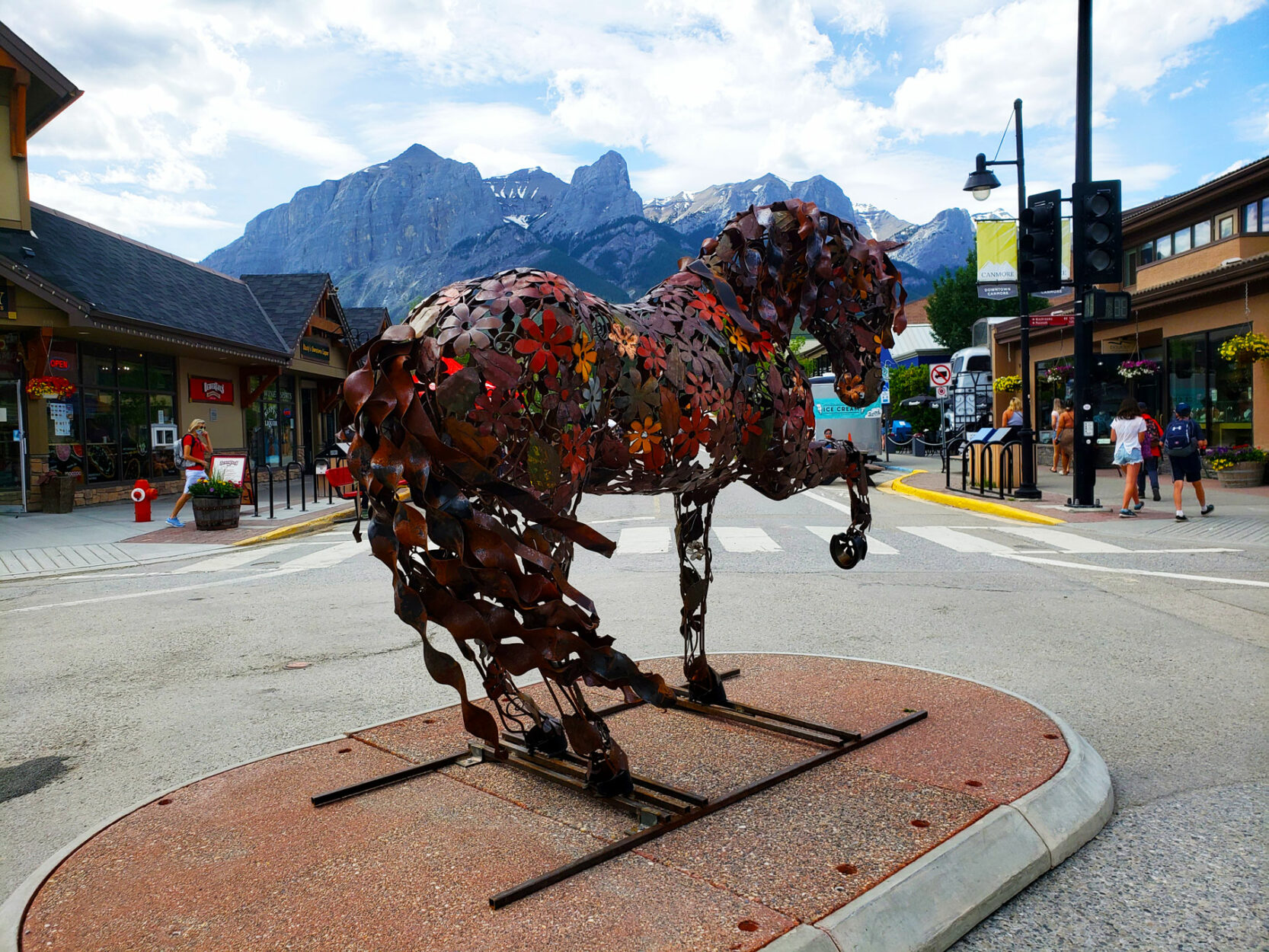 Ferdinand looks over Main Street. Sculpture by Cedar Muellar.
Last year, during the grips of the pandemic, the Town of Canmore made the decision to close Main Street to vehicle use to allow for proper social distancing and give the local shops a chance to open and attract customers. The closure saw pedestrians and cyclists take over the road in a relaxed, outdoor shopping and dining environment.
The pedestrian only Main Street was a success, and it will once again be a vehicle-free zone for the summer months. Like the multi-use paths throughout the town, pedestrians will have the right of way and bikes will be allowed on the blocks of the main thoroughfare from 6th Ave to 8th Ave. The street will remain pedestrian only until October 15. So take a stroll! And discover the best that Canmore has to offer.
Start at the bottom and work your way up. Grab a coffee and a homemade, New York style bagel from Rocky Mountain Bagel Co. and start your day on the right foot. Book a trip with Canmore Raft Tours from their downtown kiosk and experience some local adventure! Continue to Café Books for local and popular reads or find a unique used book in the reading room. Next door, discover local, Alberta artisans from Alberta's Own Marketplace or find stunning, ethical wildlife photography from the Brandon T. Brown Wilderness Gallery.
Find your style from Charisma Collections or Bolder Menswear. Grab some unique grub from the double decker bus-turned-restaurant PD3 or try some interesting ice cream from Scratch Rare Ice Cream. Enjoy tacos and tequila from Cabeza Grande, a new locally owned restaurant. If you're looking for art, try The Ken Hoehn Gallery, Jeff Walker Gallery or find a variety of artists at Art Country Canada. Contribute to the Jason Leo Bantle's conservation fund and purchase iconic wildlife photography at All in the Wild Gallery.
Get ready for whatever adventure comes your way at Valhalla Pure Outfitters. Bring your well-behaved dog into the store for a snack and some love! Get everything you need for the young and young at heart from Hijinx and find every game you can imagine at Armadillo.
Further up the street, cross Canmore's own rainbow crosswalk and find unique, sustainable comfort fashion at Liberty Clothing or taste a locally brewed beer or soda on the patio at Grizzly Paw.
So whether you're looking for food, fashion, or just a good day downtown, it's time to take a walk down Canmore's pedestrian only Main Street!