Sustainable Fashion in Canmore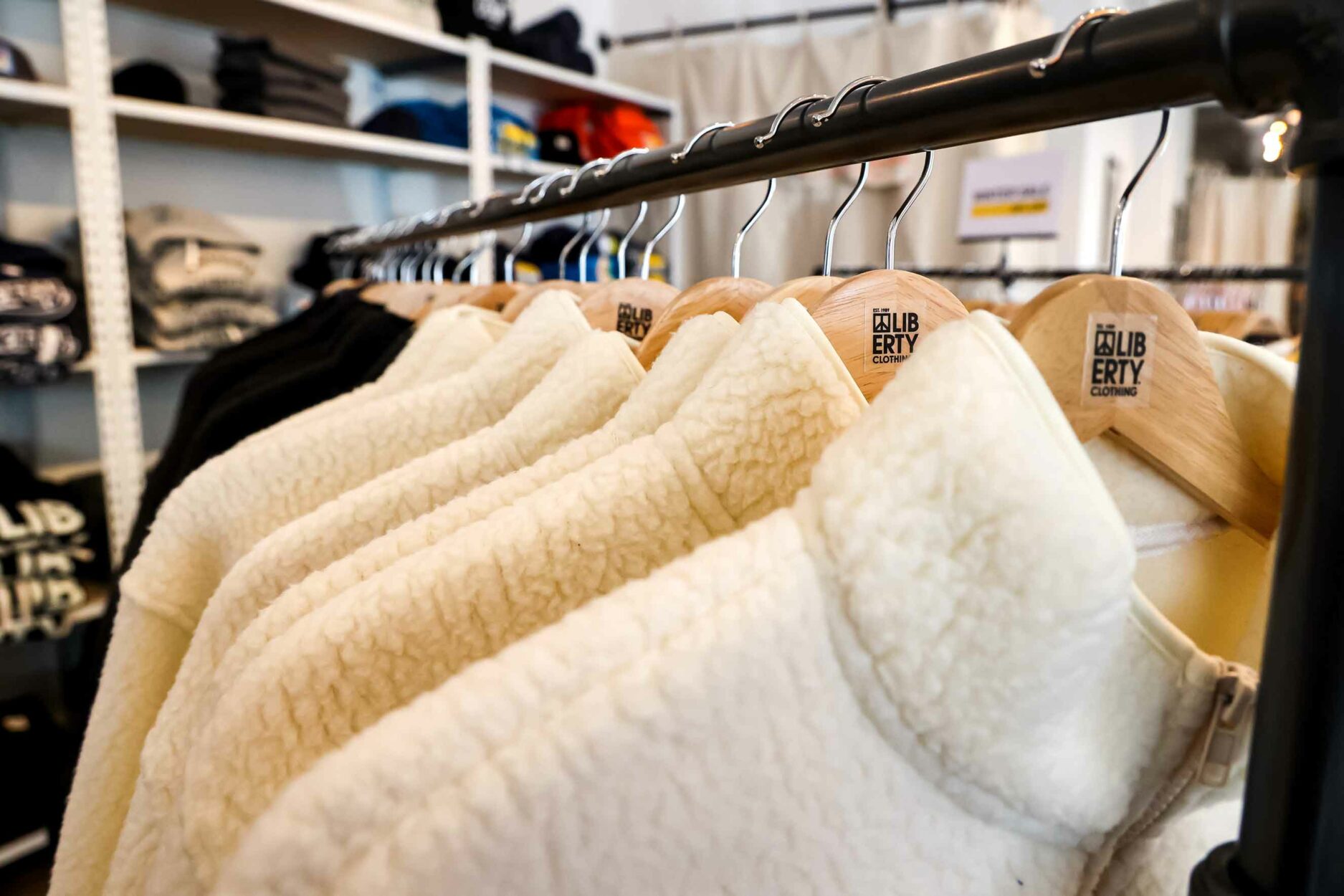 Katharyn Sotvedt
There's a great vibe the moment you walk into Liberty Clothing, Canmore's newest clothing store on Main Street. The space incorporates recycled rugs, display cases and countertops as well as local flair like antlers from the fall rut.
The decor mirrors the brand's focus on sustainable materials and upcycled fabrics. This new store is dedicated to promoting quality and eco-friendly fashion items that last, combating the harmful practices of today's fast fashion industry. The combination of the company's purpose and the store's uniqueness creates an invigorating blend of supporting local while maintaining a global conscious.
Liberty Clothing was founded in 1989 as a wholesaler that provided sustainable and quality clothing to children's camps across North America. Now with their first brick-and-mortar store in Canmore, the company is looking to sell directly to consumers in an effort to combat the negative carbon footprint of the fashion industry and to show that clothing can be sustainable, comfortable and durable. They sell a wide selection of items for casual and outdoor wear, all of which are perfect for the mountain lifestyle.
Liberty Clothing has several fashion lines, including their High Line Collection, which focuses on organic cotton and hemp clothing. The hemp is grown in a solar powered facility, and the product requires 30% less water to grow than traditional cotton. It gets softer with wear, it's anti-microbial and it's a hardier fibre, meaning it will last a lot longer. What's more, the fabric is coloured with natural dyes, including avocado, indigo, eggplant, and turmeric. This high-quality clothing has a low environmental impact, making it perfect for the conscious consumer.
The Redux Collection also promotes sustainability in fashion. It uses repurposed materials to make modern and stylish clothes. From repurposed kimonos, scarves, Gortex and more, this line features local suppliers who produce quality products to withstand Canadian weather. With pieces like outdoor vests and comfortable loungewear, repurposed clothing never looked so good.
Liberty Clothing focuses on seed to sale transparency, and they work closely with their suppliers to ensure fairness to people and the planet over profits. In addition to their sustainable clothing lines, Liberty Clothing believes in giving back to the community. That's why 1% of all profits are donated to camp charities serving underprivileged kids. It's all part of their campaign to make every day count.
So whether it's your first time visiting the mountains, or you're a Canmore local, it's time to check out the new and exciting Liberty Clothing!
Thanks to BlueRose Photography for all imagery in this blog.