Bringing the Kids for a Ski Lesson at Lake Louise Ski Resort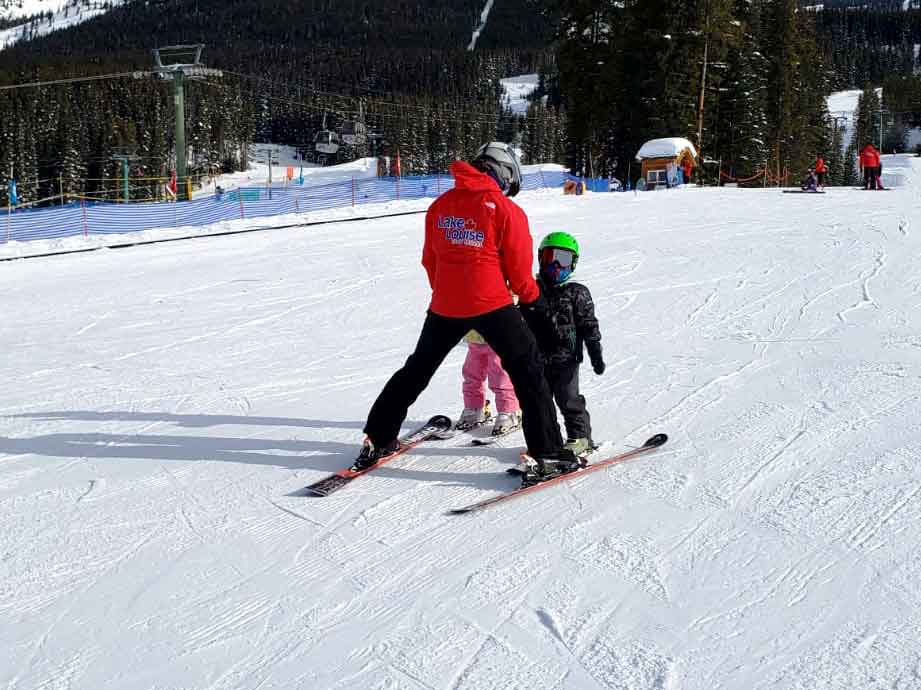 It started as a sunny but chilly morning after a spell of extreme cold that had closed the ski hills for almost a week. As we set up in the parking lot at the Lake Louise Ski Resort, we felt the chill of the morning and bundled up for the day. We were meeting Tyler Provost, Marketing Supervisor at Lake Louise Ski Resort, who would introduce us to our instructor for the morning. Armed with two four-year-olds – Cadence and Oliver – three adults, snacks, cameras, extra layers and appropriately sized ski gear for everyone, we were ready for the ski lesson, and whatever else the day had in store.
Tyler was waiting for us with Jessica, our instructor for the day, at the meeting place in front of the main lodge. They had our lift tickets ready and they offered rental gear for the little ones, but we came prepared with our own gear. After some quick introductions, we all got our lift tickets strapped to us and then headed off to the gentle training slope on the mountain. It was all very easy.
We booked a 2-hr ski lesson. At first, we were a little worried about the time and the attention spans of the little ones, but Jessica was an exceptional instructor who put our minds at ease. She was very attentive to the kids the entire time and she made the lessons easy to understand. She was a professional kid wrangler and ski instructor. To be able to control both high energy four-year-olds and keep them literally on the straight and narrow between her skis while keeping an eye on everything going on around her was a magic trick and a half!
The first thing she had the kids do was put one ski on to teach them to move and turn around. She was prepared with a number of basic drills to teach the kids how to stand up and really start navigating on their skis. On one ski, they learned to do a little glide to get the sense of moving on the snow. They could brace with their other foot if they needed to. The kids were both very rambunctious as their confidence grew. They wanted to get on both skis and GO!
Jessica helped the kids up the magic carpet, teaching them how to use the lift and helping them with their skis. For the first time, she carried their skis so they could get a feel for the lift and how to step on and off safely. Her ability to carry 3 sets of skis and manage the two little kids without missing a beat was another magic trick from the expert instructor!
The first time down the hill on both skis, Jessica used a bamboo pole and had the kids grab either side of it. This way, she could control them as they glided down the slope. It gave the kids a sense of moving on both skis. At this point, she didn't worry about teaching them "pizza" or "snowplow" or anything like that. She said it was very important for kids of this age to learn how to stand up and glide before learning more technical skills. That way, they could build their confidence and enjoyment of the sport.
Parents aren't usually allowed at the kids' ski lesson, but the resort made an exception for us. Jessica had to reset my expectations as an overly-eager parent who was trying to help out: "At this stage of the game, standing up and gliding is more important than stopping. That's something that's unnatural and very hard for a four-year-old to master. The fact that they can glide down the mountain without falling down every three seconds is a pretty big win." She had a point.
Only when they were confident with gliding did she start teaching them "pizza" stopping and the basics of getting down the hill safely. She tried different things to see what worked best for the kids. She was very aware that every child learns differently, and she was well equipped to handle different skills and learning styles. She would let them explore what they learned, and she was there to help but not interfere. She gave them the confidence to want to try things for themselves. While she taught them the basics, she was ultimately focused on them having fun and maintaining their balance.
Jessica would ski backwards and catch the kids as they glided down the hill towards her. I'd never seen that technique used before, but it was a very effective way to teach them balance as they learned how to glide down the hill. It allowed her to keep her eyes on the kids and keep them engaged without them getting too fast and falling down. She was very perceptive about the kids' age and abilities. She noticed which leg was stronger and worked to teach them balance in easy and fun ways they could understand.
As the lesson progressed, Jessica introduced them to more skills that developed their feel. She would use techniques like pulling gently on their coat to introduce them to the weight transfer needed for turning. With one gentle pull, they could feel their foot plant and feel how that started their turn. These gentle manual manipulations allowed them to get a feel for turns and stops as they glided down the gentle slope.
When the lesson was over, both kids were pretty hungry and worn out. We pulled out some snacks to tie them over. Once Cadence had a little bit of food in her stomach, she was eager to get going. "Dad! It's time for another run!" Oliver was pooped, but he was excited to tell his grandparents how he skied all by himself. By the time he reached the parking lot, he was already asking when he could come back.
Even though Jessica had already finished the ski lesson, she happily went up a couple more times with Cadence. She really went the extra mile and did a couple more runs with her. On these runs, Jessica backed off, so Cadence really got a feel for skiing by herself, without holding onto anything. She was still nearby in case Cadence got into trouble, but it really helped build her confidence to be able to feel skiing on her own.
We went back to the lodge area and broke out our lunch. We brought food from home, but the restaurants were open for take away service with some Covid-friendly seating options. Wanting to take in some of beautiful mountain scenery, we found a picnic table in the sunshine and enjoyed a quick bite. The weather had really warmed up since the morning, and it was great to sit in the sunshine and enjoy some family time before continuing on with our afternoon of more skiing.
Overall, bringing the kids to a ski lesson at Lake Louise was a wonderful experience for the whole family. The instruction was fantastic, the ski hill was a welcoming host, and everything was focused on having fun while staying safe. As an added bonus to an already exceptional experience, Lake Louise is a beautiful backdrop with plenty of family-friendly activities both on and off the hill. Their competitive prices and the unbeatable views and facilities make the drive from Calgary more than worth it. The kids progressed amazingly fast in their lesson. With a few more lessons from Jessica, we should be in the back bowls and exploring Lake Louise's new terrain expansion with the kids in no time! We can't wait to bring the kids back to Lake Louise Ski Resort!