15 Things to do in the Mountains this Winter Without Skis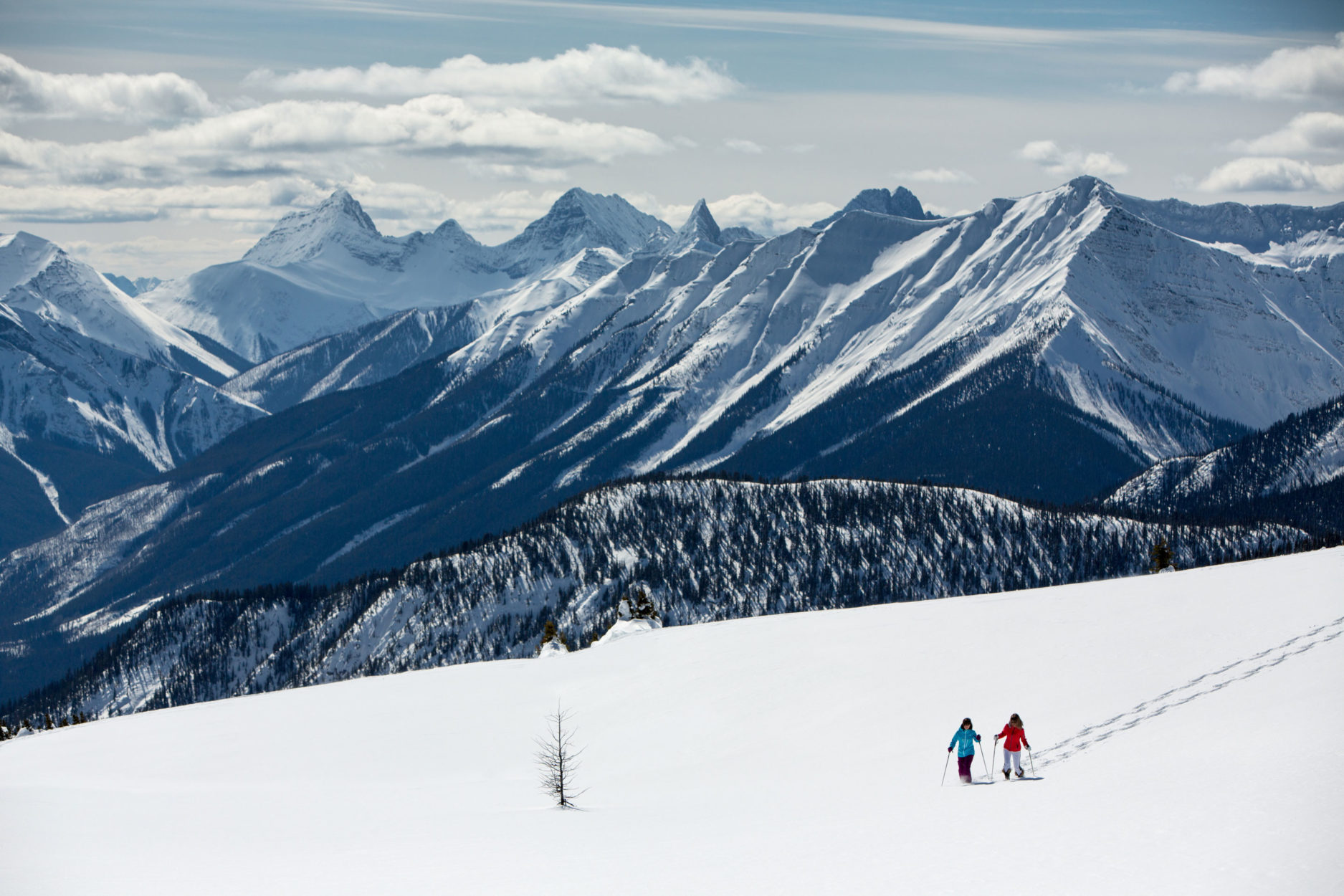 Banff Lake Louise Tourism // Paul Zizka
Everyone knows the Canadian Rockies have world-class skiing. But if you're not looking to hit the slopes, or you want to try something else this weekend, here are 15 of our other favourite winter activities. There is so much to do in the mountains this winter!
1. Try Tubing
You don't have to go down the slopes on your skis! Tubing is fast, it's fun, and it's a family friendly activity that everyone can enjoy. Check out the tube parks at Lake Louise, Mount Norquay, Kicking Horse Mountain Resort and Nakiska.
 2. Ride in an Open Sleigh
There is nothing quite as majestic as a team of heavy horses pulling a sleigh through the pristine snow surrounded by mountains. Sleigh rides are perfect for everyone of all abilities. Try a sleigh ride with Brewster Adventures, Banff Trail Riders or Jasper Riding Stables and just hear those sleigh bells jingling!
 3.  Learn to Mush
Learn about the area and make some new furry friends with a dog sledding tour. Drive  the team or relax in the sled. Try dog sledding in Kananaskis with Mad Dogs and Englishmen, Howling Dogs or Snowy Owl. In Lake Louise, Kingmik has dogsledding tours within the national park. Just outside of Jasper, Cold Fire Creek offers trips from one hour to overnights.
 4. Walk on Water
Icewalks are an excellent way to learn about the history of the National Parks and experience some of the most unique scenery that simply isn't accessible in the summer. Explore Banff's Johnston Canyon with Discover Banff Tours or Jasper's Maligne Canyon with Sundog.
 5. Hurry Hard
While curling is not technically Canada's national sport, there are few things more quintessentially Canadian than the polite game of curling. Take some lessons at The Fenlands or learn some skills with a workshop at Canmore Golf & Curling Club. At the Jasper Activity Centre, try a clinic or drop-in night with the Jasper Curling Club.
  6. Get Snowed In
Fresh powder isn't just for the slopes! Hit up the trails and go the distance in snowshoes. For the best experience, try a guided tour at the top of the mountains with Lake Louise Ski Resort, or join White Mountain Adventures at the top of Banff Sunshine Village. In BC, try snowshoeing on or off the mountain at Kicking Horse Mountain Resort.
 7. Chase the Waterfall
Ice climbing is fun, exhilarating, and an excellent way to get the most unique views of the surrounding mountains. Even if you've never climbed before, there are guides and programs to show you the ropes! Try ice climbing with Rockaboo in Jasper or Yamnuska in Kananaskis.
 8. Fatten Up
Biking isn't just a summer activity! With wide tires, a hefty frame, and the features of a well-tuned mountain bike, fat bikes are designed to handle the snow. Rent your fat bike from Snowtips in Banff, Rebound Cycle in Canmore, Kananaskis Outfitters or the Fairmont Jasper Park Lodge, and Jasper Source for Sports.
 9. Reach New Heights
Chairlifts aren't just for skiers! Catch a ride to the mountaintop for sightseeing, dining, cross-country skiing and snowshoeing. The Banff Gondola has panoramic views of Banff and beyond, with interpretation and mountaintop dining. Banff Sunshine Village offers sightseeing, 360° views, snowshoeing and more. Mount Norquay and Lake Louise Ski Resort also offer sightseeing from their lifts.
 10. Learn the History
The mountains are full of stories, from the resident wildlife to the First Nations guides who showed this place to the early European explorers. Learn about these stories from the Whyte Museum of the Canadian Rockies, Canmore Museum, Jasper-Yellowhead Museum or the Golden Museum and Archives. Many museums also offer virtual exhibits during this time.
 11. Curl up with a Good Book
Discover the best trails in the mountains or get carried away with a good story. Find something to tickle your funny bone at The Tin Box. Bacchus Books in Golden has new and used books with an upstairs café. Café Books in Canmore has local authors, kids' books and used books in their tearoom.
  12. Shop 'til you Drop
The mountain towns in the Canadian Rockies have excellent shopping to satisfy all of your needs! Find your style at Lolë in Banff or Jasper, Qiviuk, and Bolder Menswear. Get glamourous with Pandora, Stratton's Jewellery or Jasper Rock & Jade.
 13. Fuel the Fire
The Canadian Rockies have some of the best dining around. Refine your dining experience at the new Rundle Bar at the Fairmont Banff Springs or Orso Trattoria at the Fairmont Jasper Park Lodge. Enjoy local's favourites like Grizzly House, Mountain Restaurant, Famous Chinese, Eleven22 or Whistle Stop Pub. While many places may be temporarily closed over the holidays, many are offering takeout and delivery of all your favourites!
 14. Get Cultured
The mountains have a long and deep connection with the arts. From local to internationally renowned artists, the Rockies have it all! Find contemporary Canadian artwork at the iconic Canada House Gallery or discover Wild and Sacred Places at Mountain Galleries in Banff and Jasper.
 15. Relax and Unwind
Take advantage of the award-winning spas throughout the Canadian Rockies! The Willow Stream Spa provides luxurious treatments in their recently expanded salon and spa. Work out those tensions with a massage from Meadow Spa. Rejuvenate at The Spa at the Fairmont Jasper Park Lodge. The holiday spa closures are temporary, and these places can't wait to welcome you back this winter!
No matter how you like to spend your winter days, the Canadian Rockies are waiting!