Open Top Touring in Banff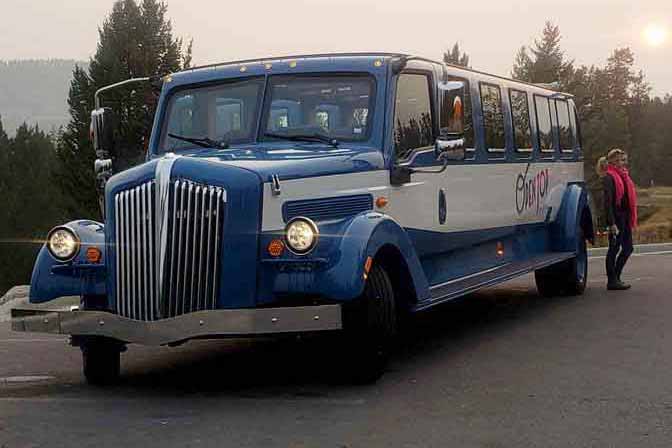 If you're looking for a new and exciting way to experience Banff and the Canadian Rockies, look no further than Pursuit's new Open Top Touring busses. These busses are large, luxurious and custom built to provide the best views of the grandeur of the mountains. You've never seen the Rockies like this before!
The busses harken back to the automobiles of the1930's. The original automobile tour was conceived by the Brewster brothers who were looking for a new and exciting way to show visitors – many of whom arrived by train – around the spectacular scenery of Banff. Pursuit still has one of the original Brewster vehicles, named Old White, and the 1938 restored vehicle makes an appearance for parades and special events.
The Open Top busses mimic Old White in design and purpose, but they are custom built to meet today's standards of safety. Each bus is impeccable, from the stylish grille to the leather and suede interior. Much like the original busses, Pursuit's Open Top busses have a removable roof, for the maximum effect on warm summer days! Feel the breeze in your hair and get a full view of the mountains through large windows and nothing but the sky above you.
To complete the experience, skilled guides dress in era-inspired clothing, and they pepper their stories with words and expressions of the time. They play jazz and electro-swing, furthering the immersion into the experience. The stories range from early First Nations naming traditions to stories about some of Banff's early characters, including Bill Peyto and Norman Luxton. They have great stories about local wildlife and the various attractions around town. "It was a time when stories were told and legends were made," says Pursuit's VP of Operations, Stuart Back, "We decided to recreate that period."
The busses take a scenic tour of Banff, exploring the best sights including the Bow River, Tunnel Mountain, the Banff Centre, Mt Norquay and more. They stop for photographs at the best lookouts, and there are opportunities to stand up (when the bus is stopped, of course!) to take in the scenery through the open top.
These tours are available throughout the fall, as a sneak peek into what's available next spring and summer. With the crisp mornings but warm sunshine, and all the beautiful fall colours, this is the perfect time to try an open top touring experience with Pursuit!
Insider tip: Try an evening tour to take advantage of the warm sunlight but still get those amazing golden hour photographs. Finish your tour with a spectacular dinner at Pursuit's newest restaurant, Farm & Fire!