A Day on the Water: From Mild to Wild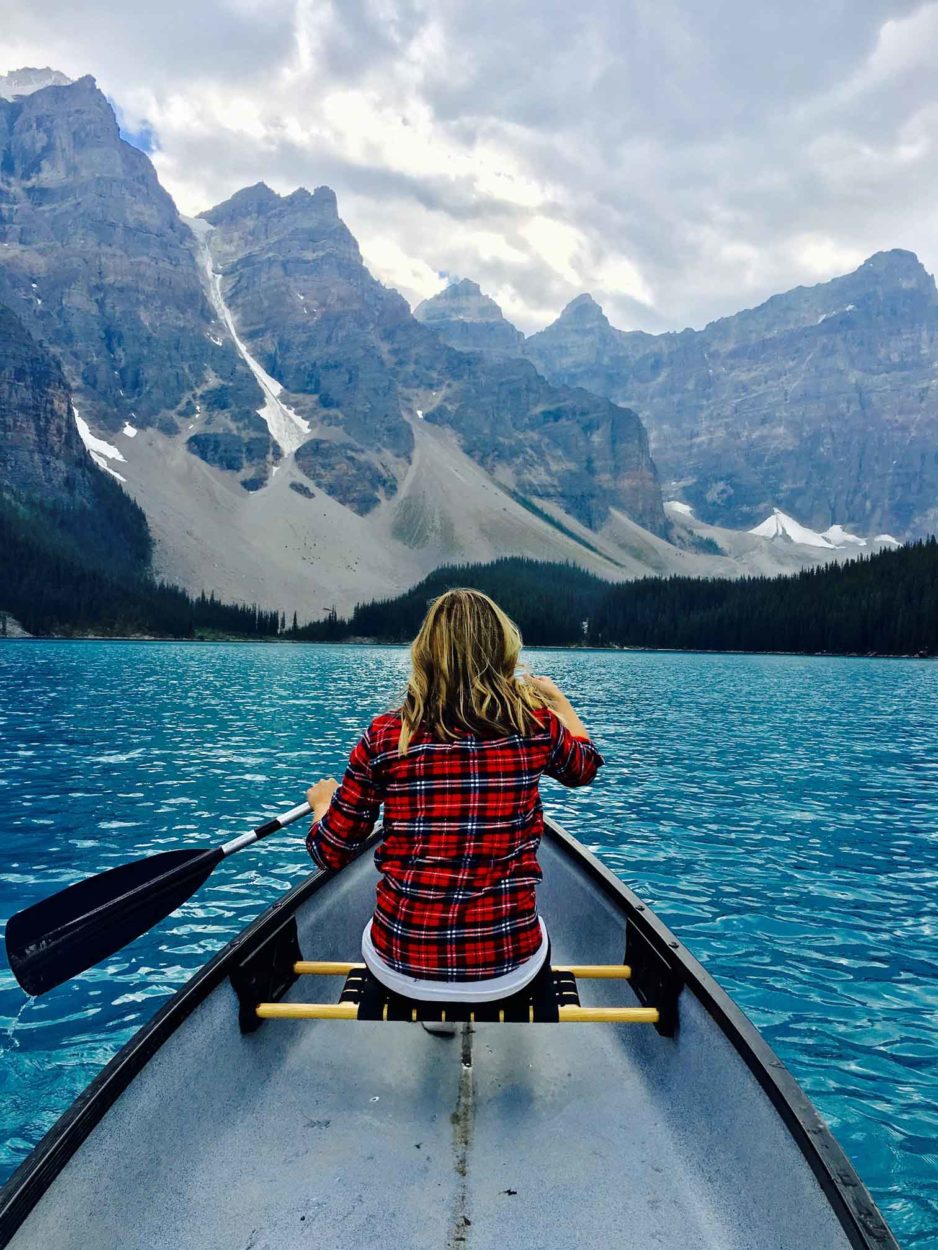 From perfect paddles to roaring rapids, the Canadian Rockies have it all for the perfect day on the water.
Wake up your wild side with an adrenaline-soaked white-water adventure, journey across turquoise lakes to explore faraway shores, or serenely drift along a peaceful river and take in the views. Whatever your preference, getting out on the water allows you to experience the mountains in a totally unique way. Ready to unleash your sense of adventure?
Peaceful Paddles
There's nothing better than paddling across the calm, crystal-clear waters of the iconic lakes in the Canadian Rockies, whilst being surrounded by spectacular forests, incredible wildlife and rugged mountains. Canoes, kayaks and stand-up paddleboards (SUP) are a fantastic way to explore nature. Don't worry if you don't have your own canoe, kayak or board, there are plenty of places where you can rent equipment.
The Banff Canoe Club is located just five minutes from downtown Banff and has everything you need for a peaceful trip on the Bow River or nearby Vermillion Lakes. Every rental begins with useful tips and directions from the staff at the docks. You can also rent equipment from the boathouse at Lake Minnewanka, and paddle across the famous Lake of Spirits. Minnewanka is the only lake in Banff National Park where power boats are permitted. Rent boats at the dock or learn more about the area with a guided tour on Pursuit's Lake Minnewanka Cruise. In town, rent boats or book a tour on the Bow River with Banff Adventures. If you have your own vessel, try Two Jack Lake or Johnson Lake. To buy your own gear, visit Atmosphere in Banff or Canadian Tire in Canmore.
In the Lake Louise area, you can rent canoes, kayaks and paddle boards on Moraine Lake and Lake Louise, two of the most stunning lakes in the park. Along the Icefields Parkway, Herbert Lake, Hector Lake, Bow Lake and Waterfowl Lakes are also great spots to explore and take in the jaw-dropping scenery.
Heading to Jasper? There are plenty of amazing spots to paddle, including the pristine, blue waters of Maligne Lake. Originally built by Donald "Curly" Philips, the historic boathouse at Maligne Lake has everything you need including kayaks, rowboats and canoes. If you're planning an overnight trip, rent kayaks, dry bags, life jackets and more from Pure Outdoors. If you are looking for something less strenuous, book a Maligne Lake Cruise with Pursuit. Closer to town, you can also rent kayaks, canoes, paddle boats and more at the serene Pyramid Lake or Lac Beauvert.
If you're travelling through BC, visit Golden Canoe Rentals and explore the Columbia River, the wilder Kicking Horse River, the Columbia Wetlands or one of the many lakes in the area. Book canoe and SUP tours with Golden Paddle Adventures and enjoy a backcountry paddle through the Columbia Valley. To rent a SUP to go on your own adventure, visit Higher Ground Sports. Equipment is also available from Emerald Lake Lodge, for an extremely calm paddle across the glass-like surface of Emerald Lake.
Mild to Wild
Take an unforgettable journey through towering canyons, cascading rapids and glacial white-water to kick start your day. The Rocky Mountain rivers are natural playgrounds. If you are looking for excitement while immersing yourself in nature this summer, white-water rafting is the perfect day on the water for you. You can book exhilarating trips anywhere in the Canadian Rockies, ranging from gentle, scenic floats to adrenaline-pumping rapids.
Whether you're a white-water veteran or an unseasoned newbie, Banff is home to a number of rivers that offer a mix of family-friendly waves and roaring rapids. regardless of your level of experience, the outfitters in the area can cater to the type of ride you want. Rocky Mountain Raft Tours offers scenic, guided one-hour tours that start below Bow Falls. Chinook Rafting has led rafting trips for over 30 years. Choose a novice-level trip on the Kananaskis River, exciting thrills in Horseshoe Canyon, or a full day of soaking waves on the nearby Kicking Horse River.
In Canmore and Kananaskis, choose between a number of friendly rafting companies such as Canmore Raft Tours, Canmore River Adventures or Kananaskis Whitewater Rafting. For something totally different, try Kananaskis riverboarding, an experience only offered at Canadian Rockies Rafting.
In Jasper you'll be spoiled for choice, as you can choose between the Sunwapta, Fraser or Athabasca rivers. Take the plunge and experience the breathtaking scenery that just cannot be accessed on foot. Enjoy towering cliffs of limestone on the Athabasca River or the exciting and turbulent waters of Sunwapta with Jasper Rafting Adventures or Jasper's Whitewater Rafting. Join Maligne Rafting Adventures to launch from the shadow of Mt Robson on the class 3+ Fraser River, with thrilling rapids and swirling eddies, guaranteed to drench everyone in the boat. Explore a route used by fur traders centuries ago with Jasper Raft Tours or get a SkyTram package deal with Rocky Mountain River Guides.
Golden, BC is home to the Kicking Horse River, a haven for white-water rafting and a premier destination for anyone into white-water sports. Hydra River Guides have adventures for everyone, from age 5 to 85. Pick from a serene 1-hour float, or mighty class 4 rapids. Wild Water Adventures, located 40 minutes west of Lake Louise, has been operating for 29 years. They cater to everyone from "reluctant rafters" looking for a gentle trip, to adrenaline junkies seeking the rush of big rapids. For a unique experience, try white-water paddle-boarding at Wapta Falls, the most photographed waterfall in the Rockies with the guides from Golden River Adventures.
If regular paddling just isn't enough to quench your thirst for adventure, try adding a helicopter into the mix. Heli-adventures take you to hidden valleys, incredible gorges and remote, seldom-explored scenery. Join Alpine Raft Company or Glacier Raft Company on an intense journey to the famous Lower Canyon of Kicking Horse River, known for its 4km stretch of class 4 white-water.
With towering pillars of rock, rugged mountain peaks and lush forests complimenting the serene turquoise lakes and rushing, untamed rivers, the Canadian Rockies provide unparalleled water sport experiences. Whether you're looking for a tranquil trip or an exhilarating thrill ride, the Canadian Rockies are the place to find your perfect day on the water.