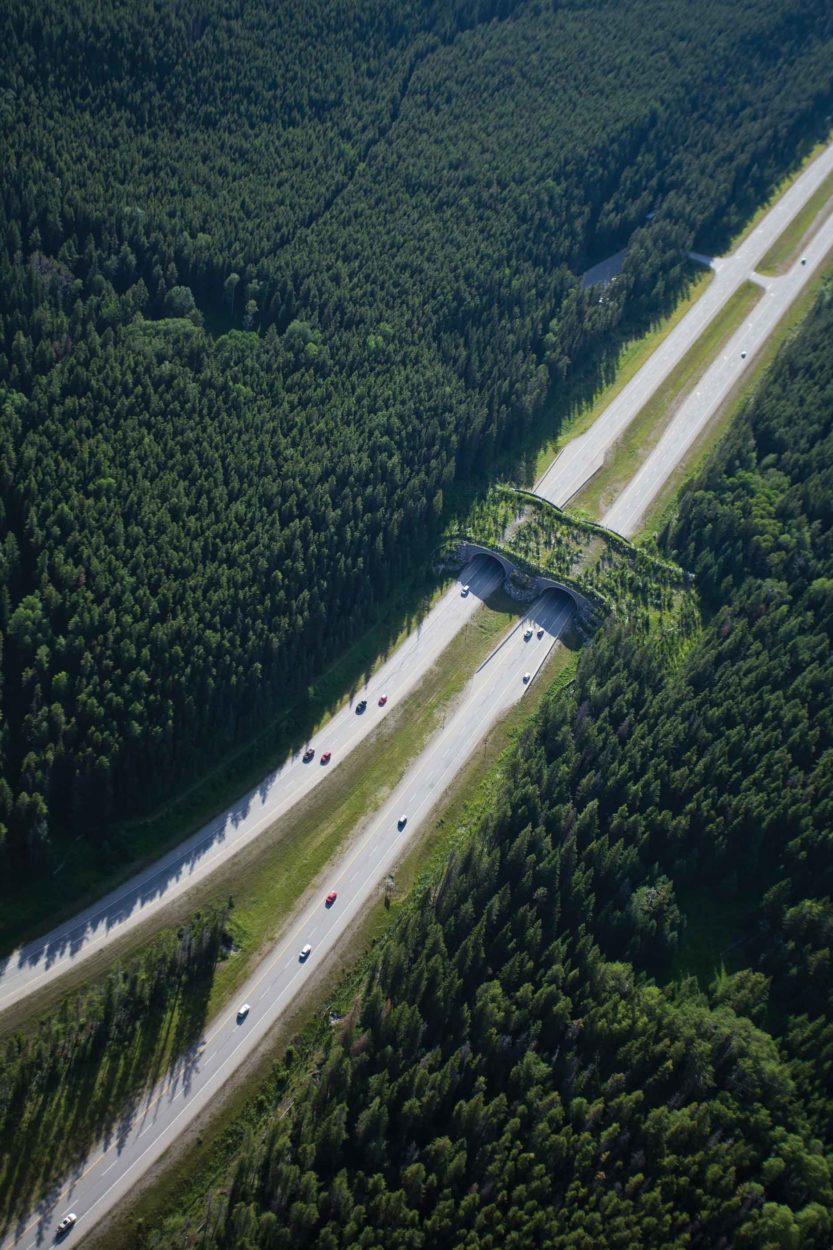 The experience of visiting and playing in the Canadian Rockies is a unique one. That's why people like you come from all over the world to enjoy what these beautiful, wild landscapes have to offer. Summer is a great time to visit, whether it's your first or twentieth time. Wildflowers cover the mountain meadows, aquamarine lakes reflect blue skies, and numerous outdoor activities immerse you in nature.
Wild animals also love the warm weather! From spring into autumn, wildlife are very active as they feed and breed. Often, they're wandering about in the same places as people, whether you see them or not. In the Rockies, it's not uncommon to see elk, deer, bighorn sheep, birds, ground squirrels and even bears. This amazing region is also home to many other animals: wolverines, cougars and bison, to name a few. They're all important parts of a much larger mountain ecosystem called the Yellowstone to Yukon region.
Most animals instinctively stay away from humans, but that's starting to become more of a challenge as places like Banff and Jasper host more and more people — even off the beaten path. The highway that winds you through the Rockies, the hike you plan to conquer and even where you spend the night are home to wildlife. Just as you made the journey here, animals make long journeys to find food, mate and migrate. Wildlife need room to roam!
Wildlife Make the Rockies Wild
The list of wildlife that can be found in and outside of park boundaries is a long one. They may be deep in the backcountry, or perhaps, just out-of-sight.
Bears are iconic to the Rockies. From the rolling foothills to the forest-covered mountains, grizzly and black bears are around. This is good news! The presence of healthy bear populations indicates a healthy community of living creatures, including many plants and animals. To share space with these majestic animals, be sure to carry bear spray and keep your dog on a leash.
"If you're lucky enough to see wildlife on the side of the road, slow down (don't stop) and stay in your vehicle."
Elk are more commonly seen around mountain towns. It's best to keep at least two bus lengths' distance between you and an elk. With huge, easily recognizable antlers, male elk are quite defensive during August to October, when they're in mate-finding mode. Similarly, May to July is calving time when mama-elk are ultra-protective of their babies.
Another creature that roams the Rockies is the wolverine. It's unlikely that you'll see one during your time here, but wolverines are still an important part of the mountain landscape. They are quite the long-distance travelers, occupying territories as big as 1,000 square kilometres (that's like combining 200 Banff-sized towns!) Most importantly, wolverines need secure and undisturbed habitat to move and raise their babies.
Species such as these ones not only require space to stay healthy, safe and thriving, they also need their populations to stay connected. The question is, how, as humans, can we make sure we're helping and not harming those connections?
Wildlife Crossing!
Did you know in some parks including Banff and Yoho, wild animals have access to their very own bridges and pathways that help them get across highways safely? Crossings under and over roads are one helpful way that people keep wildlife connected. Plus, they also make driving much safer for people!
Species such as bears, elk, deer, cougars and wolves have all been recorded using these crossings. And years of research has shown the fencing you see lining the sides of the highway in the parks helps guide animals to the crossing structures safely. That is why conservation groups and nearby communities are working to get more crossings and fences built outside of parks.
Thanks to hidden wildlife cameras and other tools, we know that even if we don't always see them, wild animals are nearby and relying on these structures to survive and thrive.
Our cover image shows a wildlife crossing over the busy Trans Canada Highway (photo by Banff & Lake Louise Tourism / Paul Zizka).
You are Protecting Nature
Growing up, most of us are taught to be considerate guests when we visit someone's home. The same goes for a visit to the wild Rockies! Your actions can have a lasting impact — good or bad — on wildlife and their homes, during and after your visit. Coexistence is a term often used in science. It describes how we can occupy the same places as wild animals in a way that causes the least harm. In other words, let's all be the best neighbours that we can.
You are an essential part of the solution to keep the future of the Canadian Rockies and its wildlife healthy, regardless of where you call home. Happy exploring!
6 things you can do before, during and after your visit that will make a difference for wildlife:
Before
Make sure you've purchased bear spray and have a way to carry it accessibly (not in your bag!). If you're taking a plane to get here, research places to rent bear spray in the area before your trip.
Look up laws for your destination. For example, national parks don't allow drones or off-leash dogs.
During
If you spot local wildlife, give them space. It's tempting to try and get close for a photo, but that puts you and the animal in danger.
Dispose of trash properly. Around town or by trails, you'll find trash bins with special latches that keep bears out.
After
Did you learn something new and cool about the local landscape and its wildlife? Share a story with your friends and family!
Take a moment to reflect on how nature made your trip to the Rockies special. Wherever you're from, think of ways you can support organizations that are working to protect nature.
About Y2Y
Yellowstone to Yukon Conservation Initiative is all about connection, collaboration and protecting wild places. That's why our mission is to connect and protect habitat from Yellowstone to Yukon so that people and nature can thrive.
In 1993, a group of scientists, conservationists and engaged community members realized the importance of connected habitats. A wolf's travels showed wildlife move on large scales, inspiring a conservation collaborative covering the Rockies from the Greater Yellowstone Ecosystem to Canada's Yukon Territory: the Yellowstone to Yukon region.
Learn more: y2y.net.