Driving through the Canadian Rockies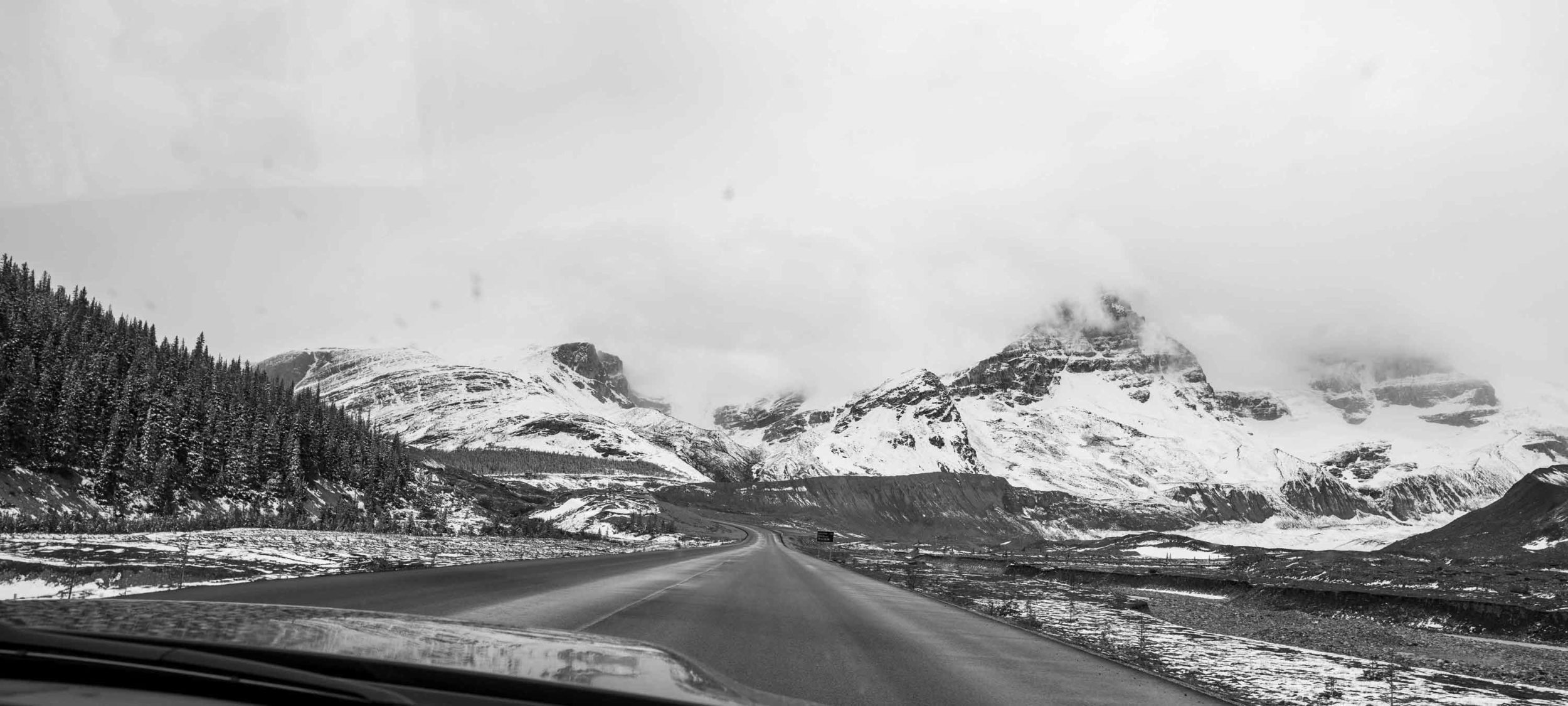 Driving through the Canadian Rockies is an experience that I think everyone should have. It opens your eyes to a world that you were aware existed, having seen photographs of the area, but to actually see it for yourself is another experience entirely.
A friend and I drove the Icefields Parkway, Highway 93A, from Jasper to Canmore on my birthday last summer, it was one of the best birthday presents I could ever have hoped for. We left Jasper at around 10am, having had a pancake breakfast at Papa George's Restaurant, located just next to the Whistler's Inn on Connaught Drive. It was a delicious, relatively inexpensive goodbye to a town that I had fallen in love with over the last four days. I took one last gaze at Whistler Mountain and remembered being up there not two days prior.
It was with a heavy heart that I said goodbye to Jasper and set off for a new adventure: Canmore, with my new friend Cynthia, who I'd met two days prior in the Jasper Downtown Hostel, where we were both staying. After hitting the road, our first stop was a small lay by leading down to a short hiking trail -- the name escapes me, but it was a gorgeous view (this is a staple of Highway 93, for future reference).
Our next stop on our journey driving through the Canadian Rockies was the first well-signposted one: Athabasca Falls. This large waterfall is located about thirty kilometres south of Jasper and is where the Athabasca River narrows to create a gargantuan waterfall, where the churning water cascading down the falls is so loud that you can barely hear yourself think, let alone speak.
A brief jaunt down one of the many trails that surrounds the Falls lead us to the riverside where once again, crystal clear glacier water greeted us, as well as serene views. On a nice summer day, one could almost take a short dip in the waters of the Athabasca River -- though, given that the river is glacial, that is probably not advisable, as you know, hypothermia is a thing… Still, a man can dream.
Moving on from Athabasca Falls, we found ourselves stopping every so often as the Athabasca River rushed alongside us. Music blaring, mountains on all sides, the awesome power of nature careening its way towards Lake Athabasca, it was turning out to be the perfect birthday.
Distance seemed to fly by, despite the multitude of stops! I think Cynthia and I were too awestruck by the scenery to pay much attention to the time. Before long, we had reached the first major stop on our way toward Canmore: The Columbia Icefield.
Though Cynthia had been here on her way to Jasper, I hadn't! She'd had a chance to explore the Columbia Icefield properly, including the Skywalk! I am not a jealous person, but on this occasion, I was quite jealous. Unfortunately, we didn't have time to take in any of the experiences offered by PURSUIT. Though next time, I plan to do the glacier tour on the Brewster Ice Explorer, and hopefully the Skywalk.
Still, the views of the glacier from the road were, well, staggering.
It's hard to imagine the size of the Columbia Icefield, so here are some numbers: 325 square kilometres, 100-365 metres deep  and receives up to 700 centimetres (that's 23 feet in 'old money') of snowfall per year. It is the largest icefield in the Rocky Mountains and feeds six major glaciers, including the Athabasca Glacier, which is the one we could see from the highway.
A stop in the Columbia Icefield Centre made it the perfect time to have lunch! Chili was in order, as the temperature had dropped significantly, as the weather -- which hadn't started overly promising, gave way to cloud and snow (yes, snow in June!). It definitely for more atmospheric photographs, though.
After being filled with chili, Cynthia and I hit the road again, bound for Canmore, but with stops now cemented, we'd hit Lake Louise and Moraine Lake in one day! I tell you, my 25th birthday will be one that will live long in the memory. As we had reservations at the newly-opened Downtown Hostel in Canmore, we couldn't stop as much after lunch, though I did remark that I'd love to see a bear for the first time…
Ask, and ye shall receive.
We first spotted the line of traffic from a distance -- there were a number of people pulled over by the roadside, nobody was out of their vehicles, nobody appeared to be in any obvious distress, so we slowed down and then Cynthia shouted, "Look! It's a bear!" I grabbed my camera, already equipped with a 70-200 zoom and climbed up through the sunroof -- though I never left the car -- and shot around 20 images successively, zooming in and out, not wanting to miss a moment as this massive black bear lumbered along beside the car, getting closer and closer with every passing second. And then he (I'm guessing it's a male, judging by the size), was gone. Past the car and off into the woods. My heart was still beating out of my chest as I climbed down into my seat, "Wow." I said. And then went about frantically reviewing my images from the back of the LCD screen. Checking focus and whatnot, you know, photographer OCD.
With a buzz in the air, we pressed on, past more mountains and rivers and endless forests. We stopped a handful of times but our minds were now focused on Lakes Louise and Moraine and getting to Canmore, as it was getting later and later in the afternoon.
Finally, we arrived at Lake Louise. I had never been and I have to say, though obviously visually stunning, I wasn't that impressed. Far too many people. Perhaps it was the Chateau Lake Louise in the background that added to the throng, but I honestly preferred Moraine Lake. We grabbed the normal selfies and I grabbed a few tripod shots before heading off to Moraine Lake, about 20 minutes away.
Moraine Lake is every bit as spectacular as you might imagine. It's just like you've seen it in those photos on the internet. Yet, for something so stunning, there is a calmness and a peace that I did not personally experience at Lake Louise. It's a different feeling altogether.
After our visit to Moraine Lake and Lake Louise, we were now entering our final push to Canmore. Another hour on the road or so and we'd arrived at the Downtown Hostel. Cynthia and I had just driven through the Canadian Rockies, one of the most beautiful places on earth, in eight hours, seeing just about everything that there is to see on that drive, and had made it to our hostel with time to spare before check-in. We grabbed a pizza for our efforts and finished off one of the greatest days of my life with a drink, in the shadow of the mountains of Canmore, which is a story for another day.