7 Ways to Enjoy the Canadian Rockies from Home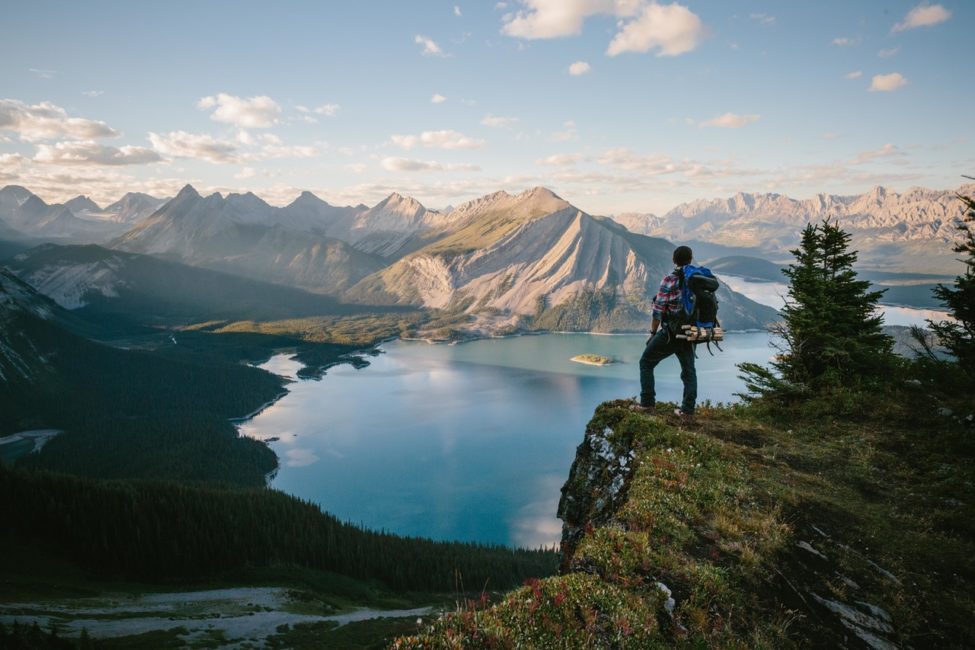 We're all at home, and it looks like we'll be here for a while. We miss the hustle and bustle of our little tourist town, and we miss travelling to new places! Even though we're all stuck inside, there are still ways to enjoy the beauty of the Canadian Rockies. We've come up with 7 ways you can experience the mountains, from wherever you call home.
1. Look at Photos
If you've been here before, no doubt you have tons of photos to go through! If not, there are so many places to enjoy Canadian Rockies photography. We're always posting mountain photos on our Instagram, or you can check out some local photographers. We recently caught up with Kahli April, Brandon T. Brown, Tyler Weber and John E. Marriott. We also have some great tips on how to take better photos from your phone (We've been practicing on our pets!).
2. Get a Gift Certificate
Just because you can't shop in the charming downtowns of the Banff, Canmore or Jasper right now, doesn't mean you can't visit when things open up later. Get a gift certificate to ensure your favourite local shop will still be here the next time you visit. A lot of stores are pivoting their focus during this time to offer products you can use now. Check out the new hand sanitizer from award-winning Wild Life Distillery, or the carnivore kits from Valbella Gourmet Foods.
3. Connect Virtually
You don't have to be in the mountains to connect with the mountain community. Many local studios are offering online classes to keep their clients fit and connected during this time. Strides Canmore has a Virtual Challenge with prizes from local businesses, while places like The Yoga Lounge and Bow Valley Crossfit are offering online classes. We tried a class from Wildheart and loved it!
4. Discover the Stories
Connect with the mountain history and culture with virtual exhibits from the Whyte Museum of the Canadian Rockies or through online programs with artsPlace. If you're looking for some reading material, check out these historical articles about Johnston Canyon, Maligne Lake and the geology of the mountain parks. Read the tall tales of the mountains or discover these historical heroines.
5. Learn about the Locals
A wide variety of wildlife have called these mountains home long before we discovered their beauty. Take a moment to learn about the wild inhabitants of these mountain ranges from local organizations like WildSmart and Y2Y. Learn how to be safe around wildlife so you'll have the basics before your next visit. If you want to keep tabs on the locals, follow Boo the Bear on social media or learn about wolves from Northern Lights Wolf Centre and wolfdogs from Yamnuska Wolfdog Sanctuary.
6. Organize your Gear
You're at home anyway, so why not organize your camping and outdoor adventure gear before your next trip? Does your bike need a tune up before hitting the trails? Is your tent still waterproof? Do your hiking boots need new soles? This is a great opportunity to make sure everything is in working order, and that you're prepared for your next mountain vacation. It will also be fun remembering past trips as you get yourself ready to explore when it's safe to do so.
7. Plan your Next Trip
This spring may feel like it's 3758 years long, but we will get through this. And when we do, the mountains will be calling! So start to plan ahead. Looking for inspiration? This site is full of adventures from wild to mild. Whether you'd like to plan for your next big trip, or you're more of a DIY adventurer, we've got you covered with ideas from hiking to ATVing to via ferratas, whitewater rafting and heli-tours. Summer, winter, shoulder season – we've got it all! And if you have any questions about what to do, where to eat or where to shop in the Canadian Rockies, just give us a shout. We'd love to point you in the right direction.
So wherever you are, and wherever you call home, we hear you. We're all in this together. Stay home. Stay safe. We'll see you when this is over.