The Fearless Photographer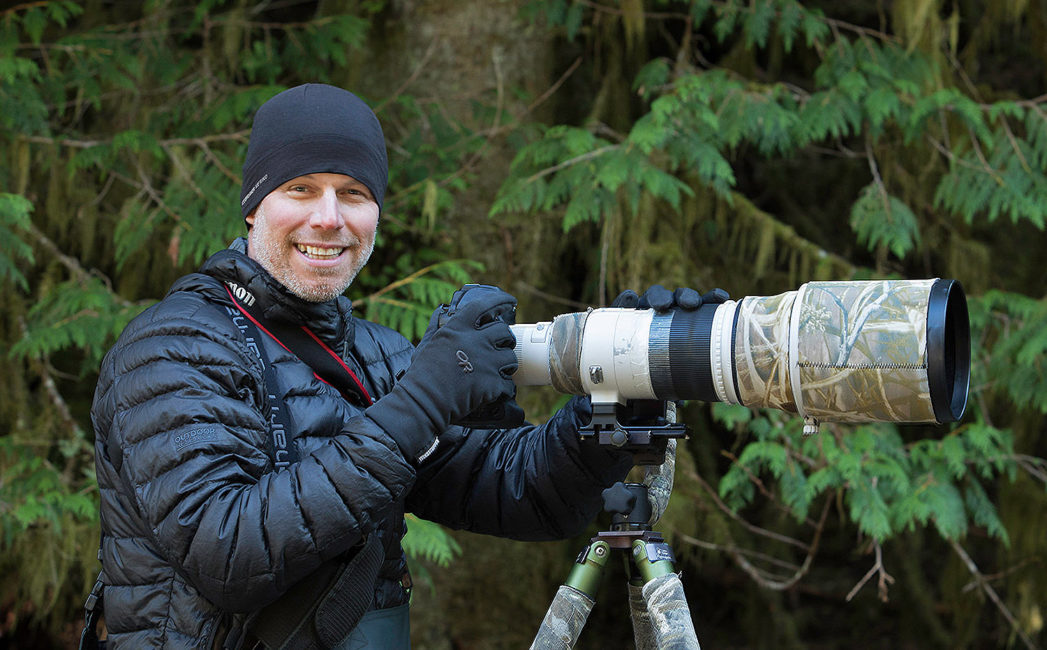 John E Marriott is one of Canada's premier wildlife photographers based in Canmore, Alberta. He is best known for his iconic images of wild animals displaying natural behaviour in the wilderness of the Canadian Rockies. From humble beginnings in 1996, Marriott's photos have since been published internationally by National Geographic, BBC Wildlife, Reader's Digest, Backpacker, Photolife, Ranger Rick, OWL and more. You may have also seen his photography on highway billboards and transit buses. A master storyteller, Marriott is also a contributing editor for Outdoor Photography Canada magazine and is the author of three Canadian bestsellers.
Q. How would you describe your connection to the local landscape and the impact it's had on your career?
A. The local landscape was the driving force of me moving here in the first place. You're able to step out of your back door and almost immediately be immersed in wilderness. Living in the Rocky Mountains provides an opportunity to get to know some of the wildlife and tell the kind of stories that I wouldn't get to tell if I lived anywhere else. There's a particular draw to knowing wolves or grizzly bears personally and those are the two species I focus on the most because of the lure they have with having those fearsome reputations, yet at the same time there's so much about them that we love and think is magical.
Q. What is your favourite animal to shoot and why?
A. I would say wolves are my favourite to shoot, partly because they remind me of dogs, and partly because wolves are so elusive. It's not like you can just step out and go find a wolf, sometimes you have to put in 2 months to get a sighting and for me it's the thrill of the chase. Grizzly bears are very similar. They're not that easy to find, they're particularly dangerous, and you've got to be careful with them. You can't go following grizzly bears around in the forest. It adds to the allure of them and makes telling their story that much harder and more gratifying.
Q. What are some of the ethical issues you consider while photographing wildlife and do you make an effort to minimise your impact on the environment and animals?
A. It's impossible to completely minimise your effect on wildlife and it's something that I have to always keep in mind. Wildlife always know you're there to some degree or another; maybe they can smell or hear you, or can just sense it, but they always know when there's a human around. To pretend that we don't have an impact as a photographer is being naïve, but at the same time I think telling stories of wildlife is very important, so there's some ethical considerations I always try to implement into my work. I always put the welfare of the animal ahead of my desire to get the shot. If there's no way I can get that shot, then I abandon it. No shot is that important to cause harm to an animal or cause it to disrupt its routine or behaviour. Although if I ever see a sasquatch, I'll do whatever it takes to get a photo!
Q. How do you recommend people access wild spaces and photograph wild animals?
A. People come to the Canadian Rockies because we've got beautiful giant mountains, but all this wilderness and wildlife inhabits this space as well. Usually I tell people if you're going to view wildlife, especially the bigger animals, use your vehicle. Pull over, turn your engine off, sit there quietly and let the animal approach you if it decides to.
Q. How can visitors and tourists help us to preserve and protect the wildlife and wilderness?
A. Get informed. Pick up books about local wildlife and conservation issues. A lot of people come to the Rockies for the first time and are just blown away by how spectacular and amazing it is, and they get home and start doing a little bit of research, and all of a sudden, they're emotionally invested. I think one of the easiest ways to get involved in that is to support some of the local environment groups. It's a really neat way for people to stay involved and still stay invested in this area so then they can come back 10 or 20 years later and go wow look at that, we still have wolves and grizzly bears.
Q. In terms of conservation, what is currently being done and what still needs to be done?
A. There's some amazing conservation work being done locally, from Yellowstone to Yukon to smaller community-based ones like Bow Valley WildSmart. On a larger scale, I think that wildlife and habitat has been pushed to the backburner. Caribou are a threatened species in Alberta and are soon to be listed as an endangered species if things continue as they are, yet it's still not at the forefront in the news. Wildlife needs a voice behind them helping them out. We think of our national parks as being so huge but when you actually look at it, they are just a tiny drop of protected area among huge swaths of development and tourism. We need more protected areas and I think that resonates with people living in Banff and Canmore too as a lot of us make a living off of these protected areas. We know there is a balance between tourism and wildlife while still protecting the habitat.