Trailblazing Women of the Mountains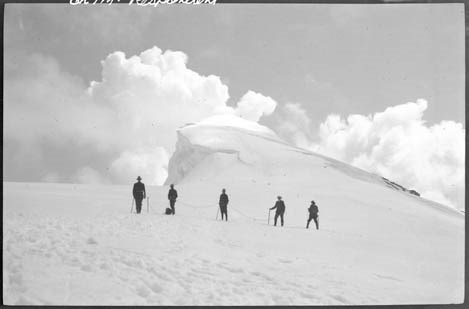 On Mt. Resplendent : [Resplendent Mountain] - A. H. MacCarthy, Beth MacCarthy, Caroline Hinman, Conrad Kain and unidentified boy - Alpine Club of Canada camp at Mount Robson (1913), Byron Harmon/photographer, Whyte Museum of the Canadian Rockies, Byron Harmon fonds (V263/I/A/i/a/na-937)
The Canadian Rockies have long captured the imaginations of visitors and explorers alike. The First Nations people had a spiritual connection to the area, and many of their place names reflected the reverence they held for the landscape. Europeans were also drawn to the mountains for their beauty and the challenge of climbing their peaks. Here, we look at five trailblazing women, who not only broke records but set the stage for generations to come.
Mary Vaux Walcott shared a passion for the outdoors and the vast landscapes of the Canadian Rockies with her brothers, who often accompanied her on expeditions. On July 1, 1900, Walcott ascended Mount Stephen in Yoho National Park, with a 3,199m summit, with one of her brothers and two mountain guides. Walcott was the first woman to accomplish a major ascent of a mountain in Canada.
An avid explorer, Walcott felt a strong connection with wild spaces. She was the first woman of European heritage to visit the Yoho Valley, doing so with a small group of fellow explorers from the Alpine Club of Canada. She was also a keen watercolour painter, and painted the wildflowers from her adventures wherever she went. In 1925, the Smithsonian published North American Wild Flowers, five volumes of work that contained 400 of Walcott's watercolours alongside brief descriptions of the plants. Walcott is also the namesake of Mount Mary Vaux, a peak on the shores of Maligne Lake in Jasper National Park. This peak was named by her long-time friend and fellow-explorer, Mary Shäffer.
"Sometimes I feel that I can hardly wait till the time comes to escape from city life, to the free air of the everlasting hills." – Mary Vaux Walcott
Caroline Hinman first fell in love with the Canadian Rockies in 1913 when she spent three weeks exploring Lake O'Hara and Mount Robson with the Alpine Club of Canada. She arranged and led her first trip in the Rockies in 1917, which was just the beginning of her adventurous career with her custom "Off the Beaten Track" tours. Hinman often guided young, wealthy teenage girls on backcountry wilderness adventures that covered everything from horseback riding to hunting, hiking and canoeing. In her later years, she also coordinated automobile tours. While Hinman organized tours all over the world, including places such as Northern Algeria, Tunisia, the Sahara, Sicily, Naples, Egypt, Sudan, Guatemala and more, she loved the Canadian Rockies for her summer tours. She was known to have an adventurous spirit, and she was always in search of a good view.
"As I look back over the past twenty-five years, I feel I have accomplished very little. I have no husband, I have no children, I have no home of my own, I have written no books, I have amassed no fortune, I have distinguished myself in no way whatsoever… but I have been extremely happy, extremely busy, utterly contented and absorbed in my job of taking people to out-of-the-way places in the world." – Caroline Hinman
Georgia Engelhard first visited in 1925, on a tour with the Trail Riders of the Canadian Rockies. She fell in love with the mountains and dedicated her life to getting to know them on a deeper, more connected level. She began climbing with her father at age 20, beginning with ascents in Washington State before summiting mountains near Lake Louise. She became an accomplished climber, and she made thirty-two first ascents in the Rocky Mountains and the neighbouring Purcells.
Engelhard became famous for her climbing speed and the number of climbs she completed. In 1929, she summited nine peaks in nine days, all of them over 3,000m. In 1931, she climbed Mount Victoria, a 3,464m peak, eight times. Her feats were celebrated in a biographical movie, She Climbs to Conquer (1932), which was used by Parks Canada to promote tourism.
"To me, there is nothing more stimulating, more interesting than to get to know such a big peak. This knowledge, personally, was gained by climbing it, by physically knowing its steep snow slopes and rocky, spine-like ridges, its sheer cliffs and corniced summit." – Georgia Engelhard
Sisters Agnes and Mona Harrigan were trailblazers, not only through their profession as horseback guides in the Canadian Rockies, but also as the first female guides to work in a Canadian National Park. Both sisters were passionate about horses and the outdoors, but when they applied to guiding outfits they always received the same response: "We don't hire women as guides."
Finally, in 1917, they accepted a job looking after a backcountry camp and cooking for guests. They saw this as an opportunity to hone their skills and immerse themselves in the wilderness they so craved. They did extra chores, such as wrangling horses at 3am, packing and helping out whenever they could. They were offered the same job the following year with their choice of camps, but they turned it down, saying they wouldn't come back if they couldn't guide. To their surprise, they were given their own trip.
The sisters worked hard and seldom had days off. But they loved their jobs and proved they could make it in the wilderness. They both guided for three years before pursuing other aspects of their wilderness careers.
"Guiding turned out to be a lot of trouble and hard work. But for me, it was worth it. Just to know I could do the job." – Mona Harrigan
Featured Image: On Mt. Resplendent : [Resplendent Mountain] - A. H. MacCarthy, Beth MacCarthy, Caroline Hinman, Conrad Kain and unidentified boy - Alpine Club of Canada camp at Mount Robson (1913), Byron Harmon/photographer, Whyte Museum of the Canadian Rockies, Byron Harmon fonds (V263/I/A/i/a/na-937)