Valentine's Day: Rocky Mountains Romance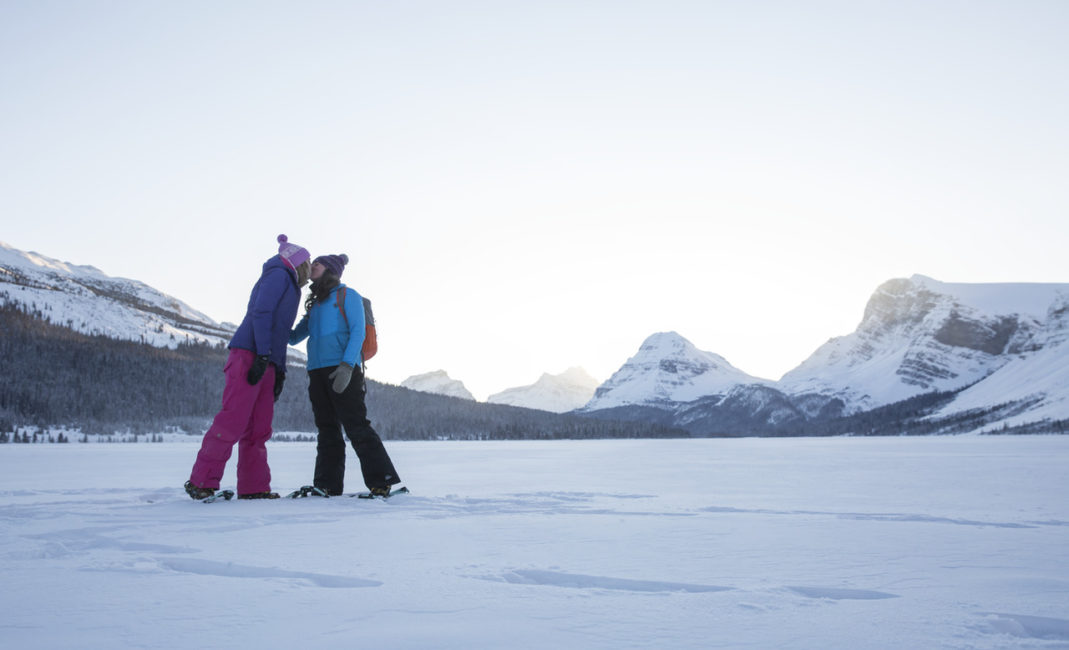 Photo by Banff Lake Louise Tourism / Noel Hendrickson
Whether you're deeply in love, on a first date, or flying solo, Valentine's Day comes creeping around the corner when we least suspect it. The Canadian Rockies are the perfect destination for a romantic getaway with your significant other, but they also provide some great spots to meet new people, or just hang out by yourself.
Whatever your relationship status, we've compiled a list of suggestions of how to treat yo'self, meet other singles or dive headfirst into Valentine's Day celebrations with your partner in the Rockies.
Hang Solo
Haven't locked down a date for February 14th? Who cares! Give yourself a little 'me-time' with some treats, self-care, pampering or a fun activity you can enjoy on your own.
Host a singles-only dinner party. You'll never be the only one who's single on Valentine's Day, so invite some friends over for a night of fun and celebrate the holiday of love together while honouring your independence!
Spend the evening with three Western Canadian artists at the Avens Gallery for the 'Three Stars with heART' event. Enjoy some wine and cheese as you chat to the artists and admire the new work in the gallery.
The mountains are home to a number of spa and wellness facilities, so why not indulge in a luxurious treatment on Valentine's Day. Unwind in the Willow Stream Spa at the Fairmont Banff Springs with some complimentary tea, coffee and cookies. Visit Banff's only holistic lounge at Cedar & Sage Co or relax with mountain views at Meadow Spa + Pools. In Lake Louise visit the Spa at Fairmont Chateau or the Temple Mountain Spa at the Post Hotel, and in Jasper rejuvenate at the Mountain Wellness Day Spa, Wild Orchid Spa or the Fairmont Jasper Park Lodge.
Get your good vibes going with a special class. Try Inferno Hot Pilates or Aerial Yoga at Canmore Hot Yoga, or a dance class at Dance for Joy Studio. Find inner peace with a meditation class, sensory deprivation tank at Float Canmore or crystal bowl sound bath in Banff. Try a creative workshop or enjoy a film at artsPlace or visit Crock A Doodle for Friday Fun Night with some friends for a fun 'crafternoon'.
While couples are canoodling, take advantage of the extra space on the slopes. Find the best spot on your local hill to take your skiing or boarding skills to the next level. Celebrate your love of powder and take the day to focus on your relationship between you and the mountain.
Meet n Mingle
Want to take advantage of all the love in the air? There are plenty of ways to put yourself out there this Valentine's Day in the Canadian Rockies.
Rockies Romance
The mountains are one of the best places for a romantic getaway for you and your significant other. With beautiful scenery, delicious food and exciting activities around every corner, the possibilities are endless.
 Take advantage of the winter wonderland this February with some snow-themed date ideas. Take your loved one for a sleigh ride under the stars with Brewster Adventures in Lake Louise, Warner Stables in Banff or Jasper Riding Stables in Jasper. Wander through frozen waterfalls during an Icewalk at Maligne Canyon, or book a Valentine's Snowshoe Under the Stars at Lake Louise Ski Resort for constellations, stories and s'mores.
Looking to save a few dollars? There are plenty of beautiful spots to impress your date with a stunning sunset, an impromptu picnic or a cozy fire if permitted. Go ice skating at Vermillion Lakes or Two Jack Lake in Banff, skate on the iconic Lake Louise or if you're in Jasper check out Lake Mildred and Pyramid Lake. Make sure to warm up with a hot chocolate (and Baileys) afterwards! To finish off your date-on-a-dime, have a soak in the Banff Hot Springs while you take in the incredible mountain views.
Go out for dinner! Try a Valentine's Day special at The Rimrock's Eden in Banff or a tasting plate at The Sensory in Canmore. Splash out on delicious fondue for two at The Waldhaus or Grizzly House in Banff, or a Rocky Mountain fondue experience at the Walliser Stube in Lake Louise. If you're in Jasper you've simply got to get in the mood on Valentine's Day with a sensuous 3-course 'Gastrodisiac' dinner by Jasper Food Tours, curated with ingredients to naturally stimulate desire and increase blood flow and fertility.
Whatever your relationship status, the Rocky Mountains have a lot to offer this Valentine's Day. Spectacular views at every turn, plenty of social events and tons of adventures to be had! You're guaranteed to find the perfect way to spend your day.