Tips for Visiting Jasper in Winter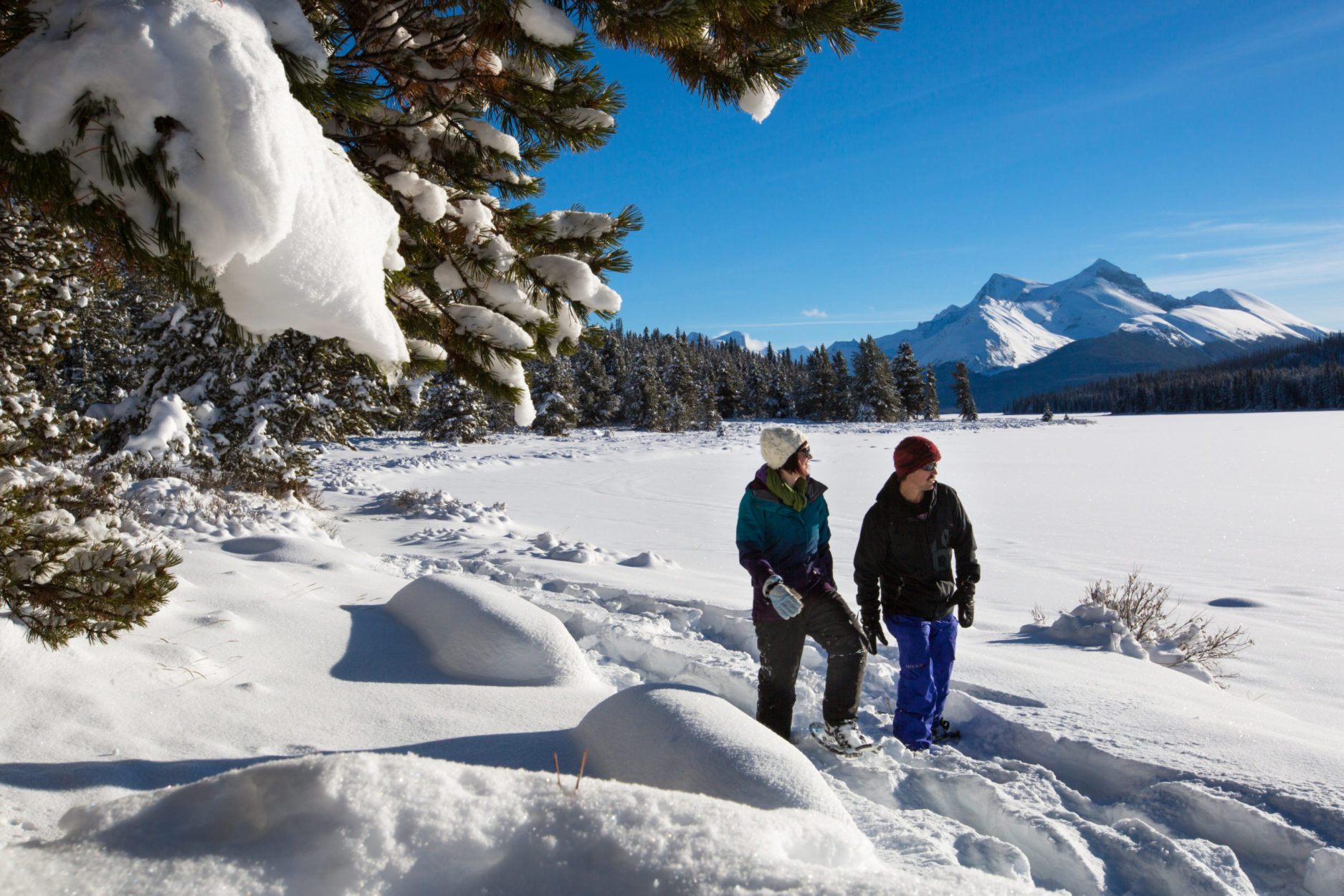 Photo Credit: Parks Canada / Adam Greenberg
During wintertime, the sleepy town of Jasper turns into a sparkling winter wonderland, where the waterfalls freeze into jaw-dropping pillars of ice, the alpine bowls are at their prime for skiing and boarding, and cozying up by a warm fireplace in a log cabin at the end of the day sounds like the best darn idea you've ever heard.
I headed to Jasper recently for a winter getaway and was blown away by how much the town had to offer. Though I arrived on one of the coldest mornings on record (due an extreme cold snap), Jasper still looked as beautiful as ever, with sunlight filtering through the tall pines and reflecting off the snowy landscape, making the mountains stand out against the clear blue skies. Winter is an amazing time to visit Jasper National Park, here are some tips to make the most out of the area this season.
Check the Weather
If you're like me and tend to dive into things without checking vital information (like, I don't know, say, the -43°C polar vortex sweeping through Jasper for example) let me just say this: the mountains are a place where being prepared makes life a lot easier. Mountain weather is often unpredictable, but you should still get an idea of the forecast, so you know what clothes and equipment to bring. If you're visiting Jasper in winter you might need cleats, thermals, winter boots and face warmers (if you've never experienced frozen eyelashes and nose hair, I can tell you it's about as enjoyable as it sounds). Other times of the year you may need raincoats, summer wear, hiking boots and sunscreen. Always come prepared for the weather and plan your activities with that in mind too.
Get Out in Nature
Don't be deterred by the frosty conditions, Jasper is just as stunning in winter as it is in summer; with statuesque ice formations, dazzling frozen lakes to skate on and snow-clad mountain peaks in every direction. You can still immerse yourself in nature with winter activities like snowshoeing, icewalks, ice climbing, dog sledding, ice skating, sleigh rides, ice fishing, fatbiking and more. Be sure to set aside time to watch the sunrise or sunset over the snowy landscape.
Explore the Area
Maligne Canyon, Maligne Lake and Medicine Lake are still accessible in winter and well worth a mini road trip from Jasper. If you have a car, there are many scenic places to stop along the Icefields Parkway (Hwy 93) and on the way to Hinton. Driving around Jasper is a great way to take in the scenery and explore the area, and you'll probably see loads of wildlife along the way!
Winter Wildlife
Though bears and smaller critters hibernate in winter, there's still plenty of iconic Canadian wildlife roaming around like moose, elk, caribou, bighorn sheep, coyotes, wolves, birds of prey and more. You can find them on your own or take a wildlife tour with the experts. Make sure you bring your camera to capture spectacular images of these magnificent beasts against a pristine, snowy background – but don't get too close! These wild animals can be very dangerous, so always follow the guidelines set by Parks Canada. Keep a safe distance, never feed them and when in doubt, stay in your vehicle.
 Hit the Town
Though the allure of the great outdoors is hard to beat, Jasper is home to a number of art galleries where you can find one-of-a-kind pieces from contemporary Canadian artists and Indigenous artisans. Check out Mountain Galleries at the Fairmont for stunning fine art, Jasper Artists Guild for work from local artists, and Our Native Land for something truly unique. Visit the Jasper Yellowhead Museum or go for a stroll through the quaint little mountain town and stop by for a hot beverage at a local café or bakery. Relax and unwind after a day in the snow at one of the luxury spas, or stargaze at Jasper Planetarium and spend the evening learning about constellations and exploring the world's largest dark sky preserve. If you're visiting in January, make sure you don't miss Jasper in January so you can celebrate the season with parties, skiing, live music, comfort food and cozy fires like a true local!