Banff's Battle of the Bands is just the beginning for Panic Station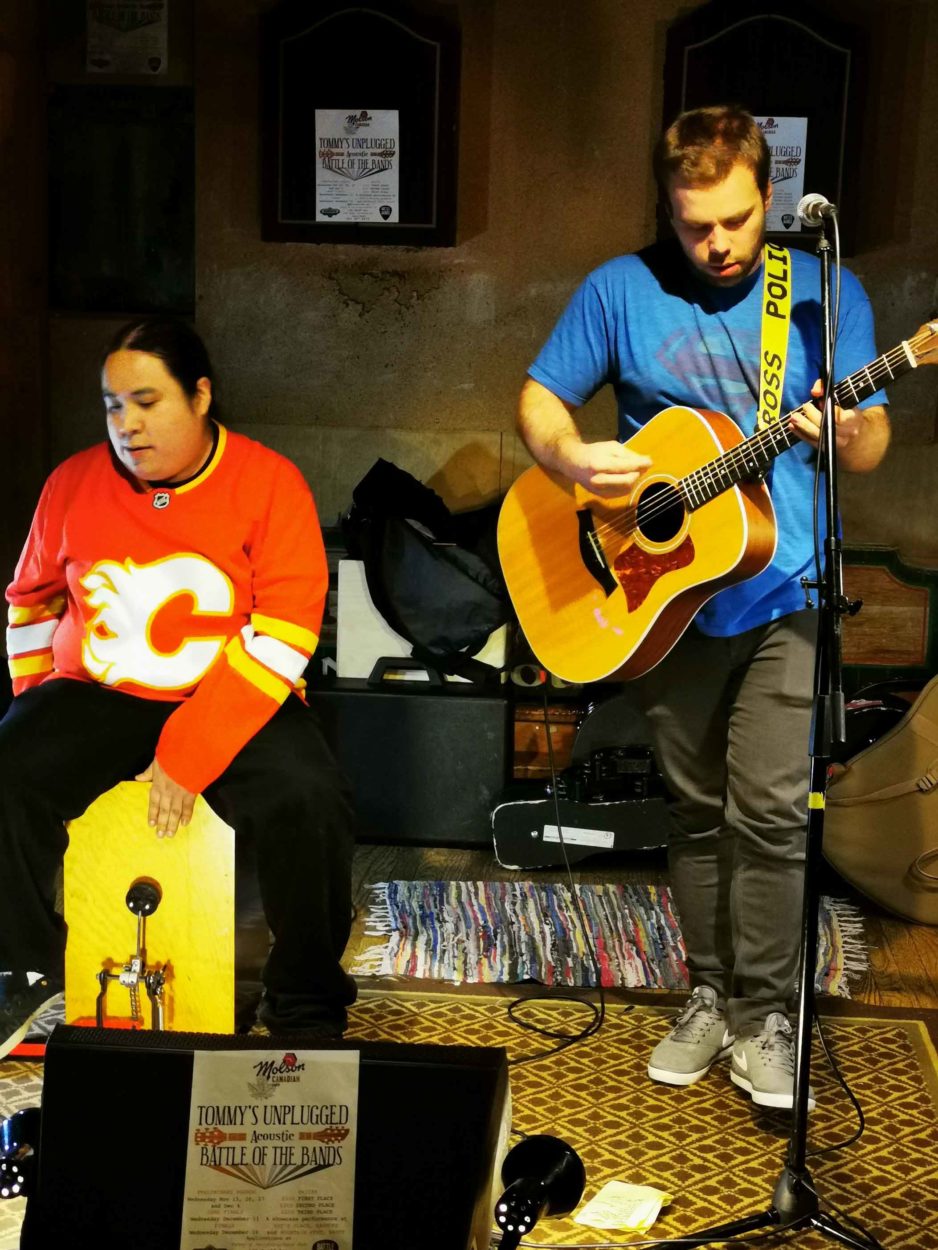 What started over 10 years ago as two high school friends learning their instruments and practicing together has grown into Panic Station: a local garage rock band consisting of Adam Bronsch on vocals and guitar, and Eli Twoyoungmen, who plays percussion. "We were really bad to start!" laughs Bronsch. Both artists played together and with other musicians to hone their talents. They played with Sam Bailey, former winner of Banff's Battle of the Bands, as well as other local artists. "Things got better," says Bronsch, "We got to the point where we are now."
Panic Station recently won the Unplugged Acoustic Battle of the Bands. This annual music competition is hosted by Tommy's Neighbourhood Pub in Banff and it takes place in late November and early December each year. The competition attracts local musicians who are eager to play their original music. The contest recently switched to an unplugged format, in order to test the musicians. This added an interesting challenge for Panic Station.
"Until this competition, we were basically a loud, garage rock band with drums and electric guitar," says Bronsch. They were curious about testing their music in an acoustic format and the competition provided the perfect excuse.
At first, the switch in sound felt strange to the band. "We didn't know if we could do this!" says Bronsch, "But then it just started clicking." Once they figured out their softer style, the band was excited to enter the competition and bring their music to an audience. "The competition is great because it's only original music," says Bronsch, "People are stoked to hear your original songs."
The band took the opportunity to learn new instruments for the competition, as well as stretch their creative talents to explore their songs in a new sound. "Just the experience of being able to play on the stage in this format – it gives us a whole new medium to play our music! We've always played loud before, so it was interesting to try something softer."
The guys are also humbled by their experience. "I couldn't believe we won because of the level of songwriting talent at the competition," says Bronsch, "There are so many good bands and original artists in town!"
Winning Banff's Battle of the Bands is just the beginning for this young band. They already have upcoming gigs booked at Wild Bill's, artsPlace and the Mountain Music Festival. They're looking to record more songs and they have plans to release their first EP. "We're trying to keep the ball rolling!"
To keep up-to-date with this up-and-coming local talent, follow Panic Station on Facebook and Instagram, or check out their Linktree for demos, upcoming concerts and more!