Freeride World Tour 2020: Interview with Michelle Locke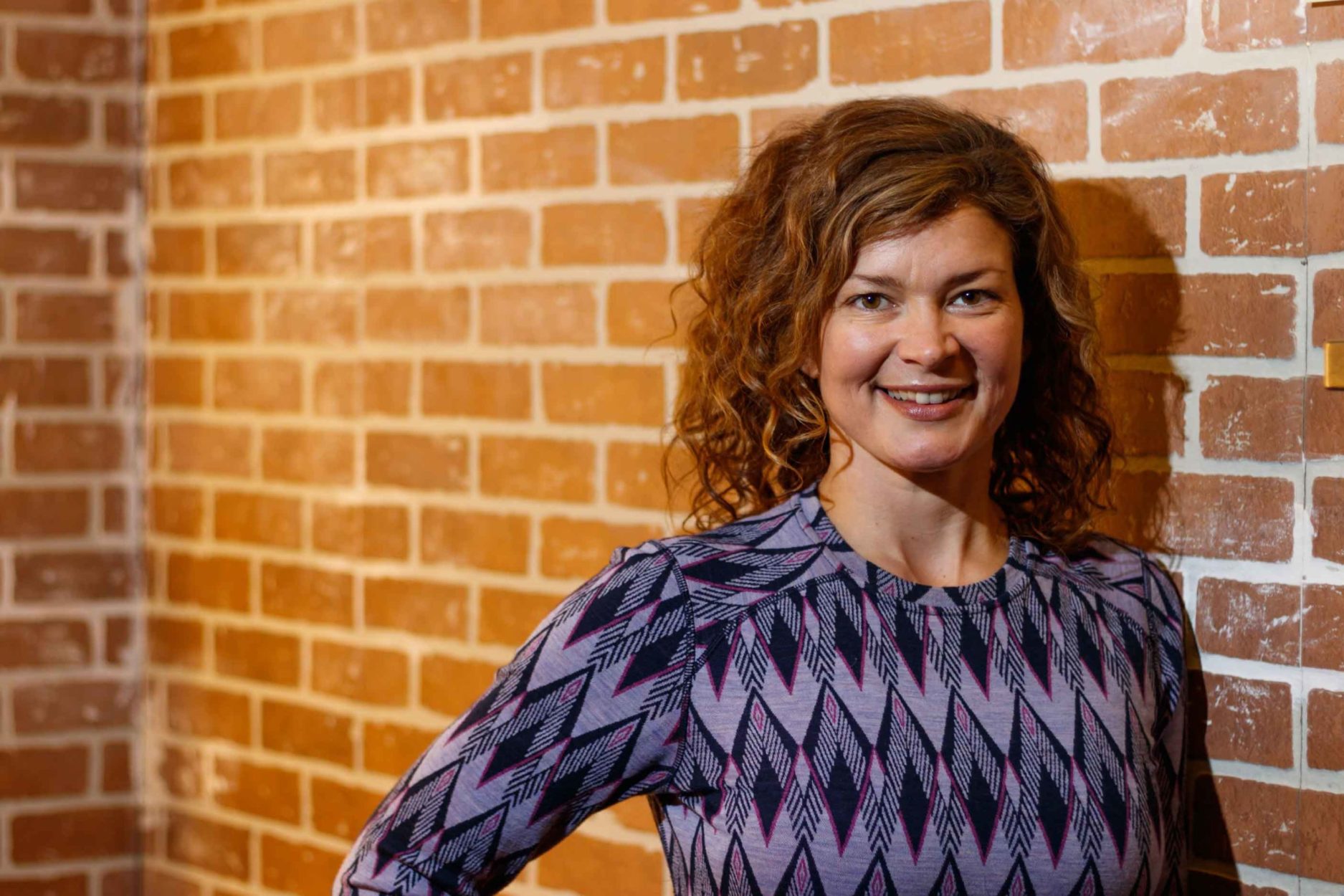 Photo by Chelsea Kemp/RMO
The first competition of the Freeride World Tour is just around the corner! We had a chance to chat with Banff's own Michelle Locke, who will be competing on the tour this year. This is Michelle's second time on the world tour, and she's ready to compete with the world's best.
How did you get into snowboarding?
Growing up in St. John's Newfoundland, we were very grassroots. When I started snowboarding 30 years ago nobody knew what it was. I was hanging out with a bunch of skateboarders and we didn't have a lot of money to do anything more than just skate around town.
One winter, someone came out with a snowboard and I thought, "What's that?" I'd never seen anything like it. Skiing wasn't even in our vocabulary because it was such an elite, expensive sport. I had to try it. I absolutely fell in love!
How did you get into freeriding? 
I moved to Banff to snowboard and follow my passion, but also to find a job. When I first got to Alberta, I lived in Calgary for a month. I visited the mountains and ran into a friend walking down Banff Ave. She told me to stay the night.
That was it, I've been here ever since!
When I moved to Banff, I was lucky enough to meet up with a group of professional skiers. I met Andrew Shephard, and we fell in love with freeriding in Revelstoke through snowmobile skiing. We would go out every weekend. I worked as a server and after my shift, we'd drive out at night and ski all day. That garnered my love for big mountain terrain. I loved the extreme lines, the added safety aspects and the constant progression in skills.
What made you want to compete?
When I first saw Freeride World Tour, I thought, I want to do that! It was a big thing in Europe. I lived in France in 2000 and I was exposed to the competition. I visited Verbier, Switzerland to see the world tour go off. It was a dream come true. That's what we wanted to do in Revelstoke: ride bigger faces and push ourselves to progress.
The desire to challenge myself made me want to compete. You're constantly learning, you're in nature, it's an expression and it's always different when you're riding big mountains. There's always something different, something new and something interesting. I wanted to compete and travel around with the world's best.
I also love seeing people come out of their shell at competitions. It's not a competition between each other, it's just a competition between you and the mountain. You're competing against yourself, your capabilities, your knowledge and your experience. You don't want to get injured, but you still need to send it. It's a mental game.
How did you get your spot on the Freeride World Tour?
I got my spot on the tour by qualifying first overall for the Americas. There are two regions: there's the Americas and there's Europea and Oceania. In the women's snowboard division, they take one girl from each region per year to join the world tour. There are four ladies who will stay on the tour from last year. It's a very finite number of people.
Being able to stay focused, train and compete is a combination of skills that have helped me qualify for the tour. It's not just one thing, it's a series of events that have taken a very long time to develop. The training regimen and the focus have allowed me to get on the tour twice and win the Overall Champion for the Americas four times.
What are the differences between the Freeride World Qualifiers and the Freeride World Tour?
On the qualifiers there's a lot of comradery. On the tour, it's very serious. I was not expecting the seriousness when I qualified in 2015. That difference gives it more of an edge when you're not expecting it. In the qualifiers, everyone is very supportive and everyone's in the same league. We're all just trying to make it. On the world tour, we're all going for the title. So everyone is focussed.
Do you have any advice for up-and-comers?
Have fun, go fast, be safe, be happy, be nice, be kind.
Do you have any advice for women looking to become professional athletes?
I heard a quote that said being a professional athlete is one part talent, one part hard work and one part business sense. You have to be business savvy. You need to educate yourself on how to do things like self-promotion and social media. You have to be your own business.
How much time do you spend training?
It's all training! I'm very lucky to have Banff as my training ground because everything is uphill from here! It definitely makes it easier to stay in shape and stay strong.
I do a lot of training in the gym in October and November. Throughout the rest of the season, I do yoga every day to keep my body flexible. In the off season, I hike, bike, practice yoga and lift weights. I typically tone it down during the season to maintain my body for competing.
What's your favourite mountain for boarding?
That's a hard one! I love Lake Louise, it's definitely my favourite in the Bow Valley. In the world, there are so many places I haven't been. I love Verbier, Switzerland. I've wanted to ride on the Freeride World Tour finals venue for decades. The terrain is insane! It's all alpine. It's steep, rocky, icy and nature just throws everything at you, which I love. It's the whole basis of freeriding.
What are the best features for freeriding?
Cliffs, rocks, ice, powder – everyone has a different approach to freeriding. My approach is to tackle the more steep, rocky terrain with great cuts. I've been riding this kind of terrain for so long and I love it. It's definitely better to have a well-rounded mix, so I'm trying to add more freestyle elements to my runs.
Who inspires you?
Anyone out there following their dreams and going for it. On a personal note, all the ladies pushing it and crushing.
I'm also inspired by the community of Banff. Beauty attracts beauty and there are so many beautiful people here. We all inspire and motivate each other, and we've done that for decades. If it wasn't for the amazing ladies I've had in my live, I would not have gone into athletics. I never would have known any of this without all the wonderful ladies pushing and crushing here. It's awesome.
Kicking Horse is the only Canadian stop on the tour. Can you tell me a bit about the mountain? 
Kicking Horse is killing it with their new terrain opening! The patrol there worked hard to get that terrain open and it's so big. There's so much hike-to terrain, it's amazing. Not a lot of places are opening up extreme terrain these days. Most are shutting it down. Kicking Horse is a leader in getting these runs open.
Can you tell me a bit about what you'll experience during the Freeride World Tour? 
I've never been to Hakuba, Japan. Apparently it's not as consecutively steep and long as some of the other mountains we'll be visiting. Kicking Horse is steep. It has big, wide open spaces to make big turns.
Then we go to Andorra, which is in the French Pyrenees. It'll be lots of rocks, steep sections, alpine and everything I love! And then Fieberbrunn Austria, which is only 3 days after. I've been to Austria and Andorra before. I'm glad I won't be a complete rookie this time around. It'll be nice to have some experience going into the competition!
The finals are in Switzerland. After the fourth event, they make a cut for the finals and whoever makes that cut will qualify for the tour the following year. It's my ultimate goal to get on the tour and stay on the tour. I need to make that cut. I don't want to fall off like I did last time.
I fell off the tour in 2016 after I missed the cut by one spot! It was cutthroat! There was 8 of us in that competition, and they only took the top 5. I finished 6th. Looking back, there were so many things I could have done differently!
It's hard being a rookie. Everything is different. There are helicopters flying around, you're wearing an avi bag that's 15 lbs, you're also wearing a back protector, a harness sometimes, a beacon, a helmet, a GoPro and it's all this extra stuff! Then you have to hike to the top of the venue which could be an hour trek.
Suddenly, you're standing on top of this thing! You've only seen the mountain face through binoculars. It's totally different looking at it from so far away than looking down on it before a run. It's all alpine, so there's not a lot of visual guides to gauge your takeoffs or landings. You just need to go and shred. You need to know where you're at, and you need to trust in your abilities.
Now I'm ready for it. I've been there, I've done it, so it's going to be so much easier this time around.
Any shoutouts or sponsors you'd like to mention? 
Shoutout to the community of Banff! I had a fundraiser the other night and so many people came out to say, "Good Luck". It was great to see everyone's faces. It's quite moving to see everyone show up and give support when you need it.
My sponsors are: The North Face Canada, Gnu Snowboards, Smith Optics, Banff Lodging Co, Ski Big 3, Lake Louise Mountain Resort, Olympic Bootworks, Smartwool Banff and Lolë Banff.