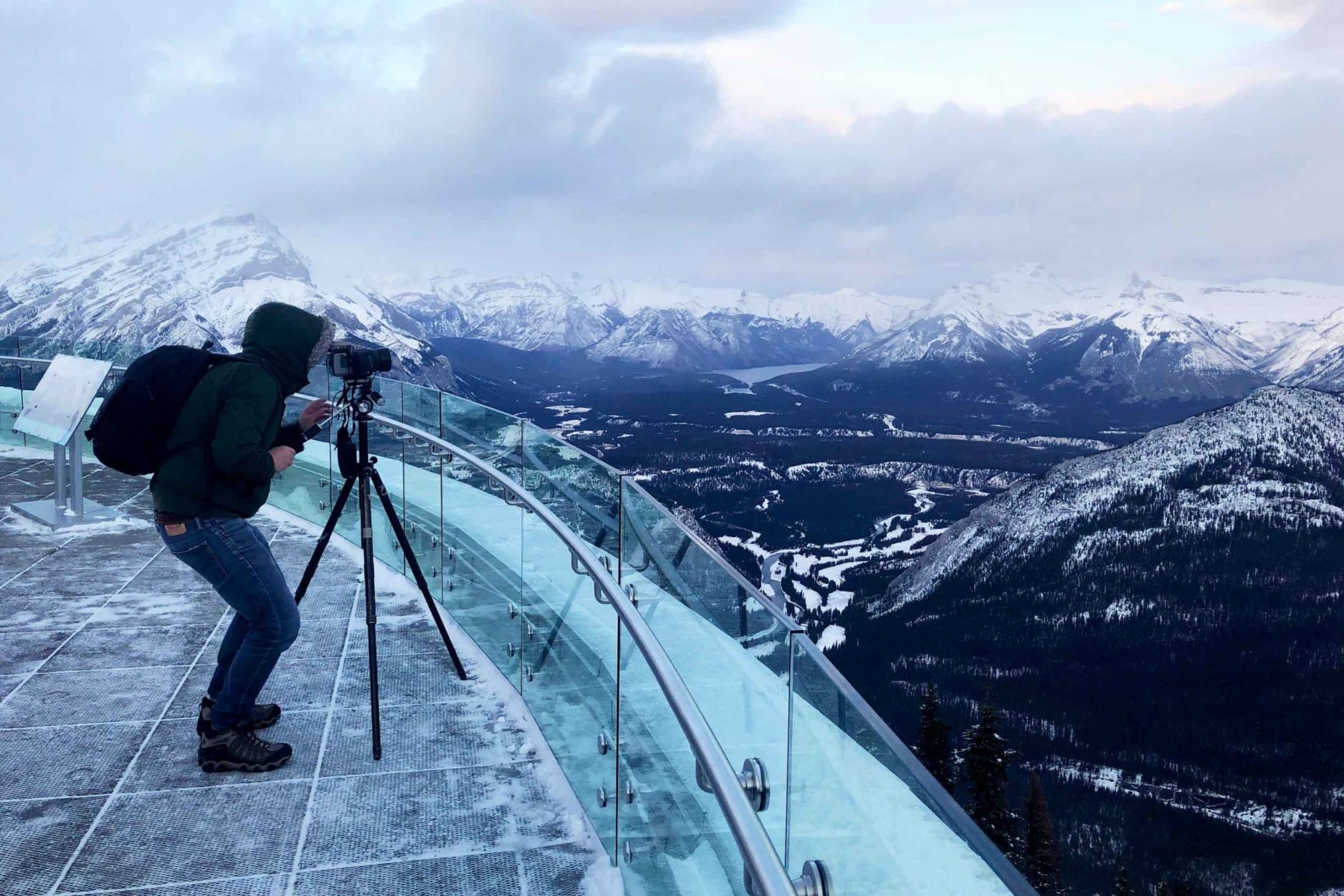 Photo by Veronika Pelanova
We arrived at the Banff Gondola base on a Sunday afternoon. I envisioned a spectacular sunset on Sulphur Mountain, captured by my favourite film camera. Sunrises and sunsets are the best times to be on the mountaintop. They can be spectacular. With my tripod in hand and good friend by my side, I could see the photo in my mind.
Getting there from Canmore was easy. Roam Transit's route #3 Canmore/Banff Regional runs on the hour, which then easily transfers to the #1 Sulphur Mountain route in Banff. Don't forget to ask for a transfer!
When we arrived at the base, customer service staff kindly welcomed us. We got our keepsake tickets before they guided us to the loading area. Our excitement grew; it was 15 minutes to golden hour and the weather looked like it might cooperate. The clouds were beginning to clear and sunlight started to peek through. I'd been anticipating this break in the weather all day. I was also ready to accept disappointment.
The boarding staff cheerfully greeted us. They asked where we're from and if we'd visited before. I knew what to expect, but my friend, a newbie, was full of excitement. They helped us get settled in the gondola, which can sit four comfortably, and up we went. The spectacular views stretch outward as you rise up, up and up.
As we continued higher, the wind created a gentle swing in the gondola car. I snapped away with my phone, trying to capture the everchanging beauty of the unfolding scenery. The clouds swallowed us back in, however, and it was looking like I might have to return another day to catch that perfect shot of the sunset on Sulphur Mountain. Nevertheless, I enjoyed my friend's growing excitement as we looked here, there and everywhere over the Banff townsite and valley below.
It took about 20 minutes to reach the top station and by that time we were ready to touch solid ground. At the upper terminal, we were again greeted by friendly staff. They slid open the doors and helped us exit the car. They asked if we enjoyed our trip up. With scenery like that, how could we not?
Nature waits for no one and the evening colours were beginning to hit the clouds as the sun slowly crept unseen towards the horizon. Tripod, camera and friend in hand, I set out to capture that perfect shot. My friend became an unwitting assistant as we travelled through the discovery centre and I managed to squeeze off a couple shots of the dying light and dramatic stormy clouds. I explored the observation deck, looking for some optimal locations. For anyone looking for great views, Pursuit goes above and beyond to make the experience cozy. The deck has open firepits for those who want the true outdoor experience. They also have an enclosed version of a Buckminster Fuller dome, which blocks the wind and stays warm with its own fire. You can also relax with a nice cup of cocoa from the café.
We followed the trail to the weather station at Sanson's Peak. The walk is about 15 minutes on a warm day, but we ran up as fast as possible to escape the biting winds and dropping temperature. At the top of Sanson's Peak I managed to capture a couple of scenic shots, but the beautiful sunset had disappeared into a grey winter storm.
We soon descended back to the platform and back into the warmth of the discovery centre. We enjoyed a snack at Sky Bistro, which I highly recommend. I was fortunate to share this adventure with good company and I look forward to returning on a bluebird day to capture that perfect mountain sunset on Sulphur Mountain.