Canadian Rockies Ski Guide: Unleash Your Potential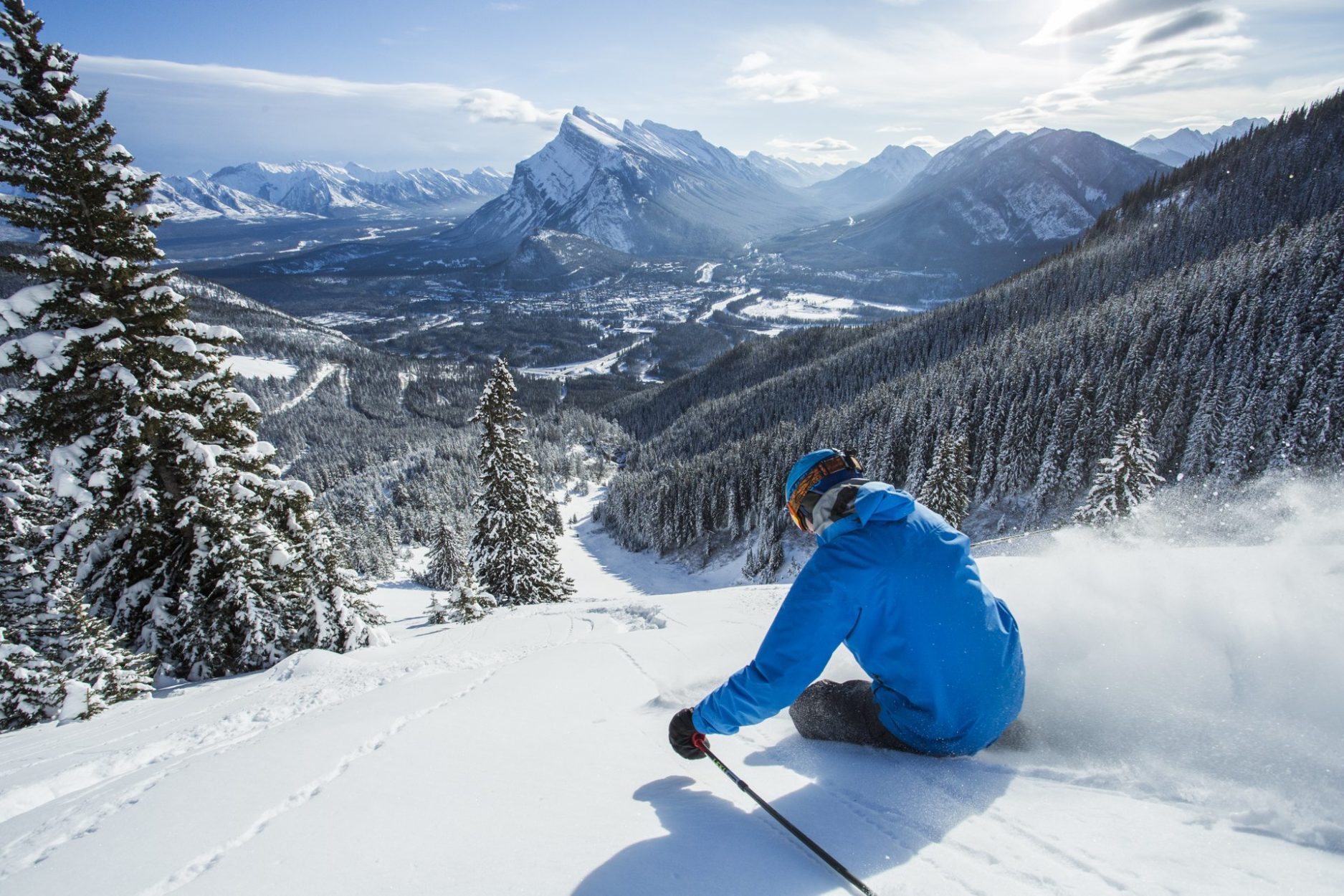 Mount Norquay: Photo by Dan Evans
Hitting the slopes? Let this Canadian Rockies Ski Guide help you plan the perfect vacation!
It's no secret that the Rockies offer a world-class ski experience like no other. The Canadian Rocky Mountains are home to two UNESCO World Heritage sites (Banff and Jasper) and neighbour both Kananaskis Country and the Purcell Mountains. Seven astonishing downhill ski areas offer deep alpine bowls, steep slopes, groomed runs and some of the most exciting terrain for experts and novices alike, making this area a dream come true for skiers and snowboarders. Which slope will you strike first?
BANFF NATIONAL PARK
Canada's original ski town, Banff, is home to the 'Big 3', consisting of Mount Norquay, Sunshine Village and Lake Louise. If you're looking for unbeatable views, pristine powder and impressive terrain, you've come to the right place.
Tri-area and multi-day lift passes with optional lessons can be purchased at the Banff Ski Hub. All three hills provide personalized guided excursions, including tips and advice for skiers or snowboarders, info about the hills and history of the area, and lift line priorities. All are accessible by car or free daily shuttles. Let loose and unleash your potential!
503m / 1,650ft vert. rise
6 lifts, 60 runs
Mt Norquay is the closest ski resort to the townsite of Banff and has a reputation for being the training ground for skiers of all ages and abilities, from first time skiers to Olympic medalists like Jan Hudec. The close proximity of the lodge and accessible parking lot makes it even easier for new skiers to get more intensive instruction on the best terrain. Experts can savor double black diamond runs like the Lone Pine, which remains one of the longest and steepest vertical pitches in North America. Locals will often take an afternoon off work and head to Norquay for some fantastic skiing located right at their doorstep! If world-class skiing during the day isn't enough, Norquay also offers night skiing on two of their downhill runs and their terrain park. You can also go tubing there! Check online for details. Try their carpool days for discounted skiing that supports local charities. One price per vehicle, so pack your friends for a great day on the slopes!
1,070m / 3,514ft vert. rise
12 lifts, 137 runs
Sunshine Village is Canada's highest ski resort with all-natural snow and the longest ski season in the Rockies. From the base, take the world's fastest eight-passenger gondola to the village and enjoy TeePee LX, the country's first covered chairlift with heated seats! Revel in the all-natural snow and dazzling mountain views from above treeline on many of their runs. Not a skier? Take in the views from the Standish or Angel Express Chairlift. Looking for a challenge? Tackle "Canada's most extreme off-piste" on Wild West and Delirium Dive, where proper avalanche training and equipment (a transceiver, probe and shovel) along with a minimum of 2 people are required. Guides are strongly recommended.
For the best sun, snow and scenery, try Standish in the morning and Goat's Eye and the Great Divide in the afternoon. Sunshine's Snow School offers high quality skiing and snowboarding programs with enthusiastic instructors for guests of all styles and ability levels.
991m / 3,250ft vert. rise
10 lifts, 145 marked runs
Lake Louise Ski Resort ranked in the top 3 in the World Ski Awards for World Best Ski Resort and World's Best Freestyle Resort. Enjoy the jaw-dropping views of ice-clad Mount Temple, iconic Lake Louise and Victoria Glacier on a total of 4,200 acres of fall-line skiing. Lake Louise is home to a comprehensive ski school for all ages and abilities and has beginner to advanced runs accessible from each lift. The Showtime Terrain Park has jumps, rails and boxes for novice to expert tricksters. This family-friendly resort offers discounted prices for children in order to provide families of all ages with skiing opportunities and encourage youth interest in winter sports. They host the annual World Cup Downhill races along with family friendly events to accompany the excitement. Kids ski free on these weekends by cheering "Go Canada Go". The Sunny Tube Park is a great way to spend the day with the family. For children too young to ski, they offer an unrivaled daycare that accommodates infants as young as 18 days old (reservations recommended).
JASPER NATIONAL PARK
914m / 3,000ft vert. rise
7 lifts, 91 runs
Marmot Basin is the sole ski area in Jasper National Park and provides breathtaking views of the Athabasca valley. Whether you are a beginner or an expert, you'll experience the feeling of being one with your skis or snowboard as you weave your way through the many varied trails and wide-open bowls of this magnificent ski area. Enjoy 1,720 acres of runs, bumps, chutes and bowls framed by impressive pinnacles and ridges. There are plenty of long, winding novice and intermediate runs and, for the experts, Marmot's newest terrain, Tres Hombres, will challenge even the most seasoned veterans. This huge, ungroomed, treeless slope boasts 45 acres of expert skiing and snowboarding terrain. Unlike many other ski areas, Marmot's slopes and lifts are typically crowd-free, so you'll spend more time on the slopes and less time waiting in line.
KANANASKIS COUNTRY
735m / 2,412ft vert. rise
6 lifts, 79 runs
Nakiska Ski Area was originally built to host the alpine events for the 1988 Calgary Olympic Winter Games. With 1,021 acres of skiable terrain, Nakiska features an Olympic grade snowmaking system with capabilities that cover 75% of the mountain, ensuring their long ski season, which lasts from early November to late April. Add a touch of glamour to your skiing stories, knowing that Leonardo DiCaprio, Ellen Page and Tom Hardy learned to ski at Nakiska in preparation for ski scenes in Inception. Build your skills in the Najlbska rail park, which is redesigned every season to provide exciting new experiences or try their tube park for family-friendly thrills. Nakiska also has an awesome Après Ski BBQ Pit with east-facing outdoor seating, designed to soak up every last ray of sunshine on short winter days in Alberta.
PURCELL MOUNTAINS
1,300m / 4,265ft vert. rise
10 lifts, 133 runs
Panorama provides skiers and riders with almost 3000 acres of varied trails and terrain including open fall-line, powder-filled tree skiing and steep bowl runs. Looking to test your skills? Try Taynton Bowl, 900 acres of double black diamond skiing formerly exclusive to heli-skiers. New expansions and the Monster X Snowcat mean that this backcountry-style experience is ready to thrill skiers with its hidden powder stashes. What's better than warming up and relaxing after a long day on the slopes? Panorama's Springs Pools are open to overnight resort guests and are Canada's largest slope-side hot pools, including a large warm pool and two hot tubs. On-mountain massages and spa access are also available to resort guests. Fuel up after a day in the snow at one of their restaurants including the 3 new restaurants open for winter 2019/20 or one of their Mountain Dining Huts on the slopes.
1,315m / 4,314 ft vert. rise
5 lifts, 128 numbered runs
Kicking Horse Mountain Resort boasts deep bowls, alpine ridges and plenty of all-natural snow for a long season. A single gondola ride will take you to the summit for access to runs, magnificent vistas and Eagle's Eye Restaurant – the highest dining experience in Canada! Indulge in 2,825 acres of terrain with stunning views and family-friendly runs in the mountain bowls. Originally used for the Freeride World Tour, Kicking Horse's exciting terrain expansion makes them the 5th highest vertical rise in North America. Runs including Rudi's Bowl, Ozone and Middle Ridge are located in terrain previously only available to heli-skiers. The new terrain is a must for skiers and snowboarders looking to challenge their skills in alpine conditions and limitless line options (available as conditions allow).
X-C SKIING
65 km / 40 mi of groomed trails
Originally built to host the ski events of the 1988 Olympic Winter Games, the Canmore Nordic Centre is a world-class facility with seemingly endless groomed trails and illuminated trails for night skiing. All are maintained for both classic and skate-ski techniques. Machine-made and natural snow are combined to ensure trails remain available for the whole season. Alongside fantastic cross-country ski trails, other winter recreation opportunities include biathlons, fatbiking, disc golf, ice skating, orienteering, tobogganing, and snowshoeing. Rentals, lessons and hot food are also available on-site.