Family Friendly Activities in Banff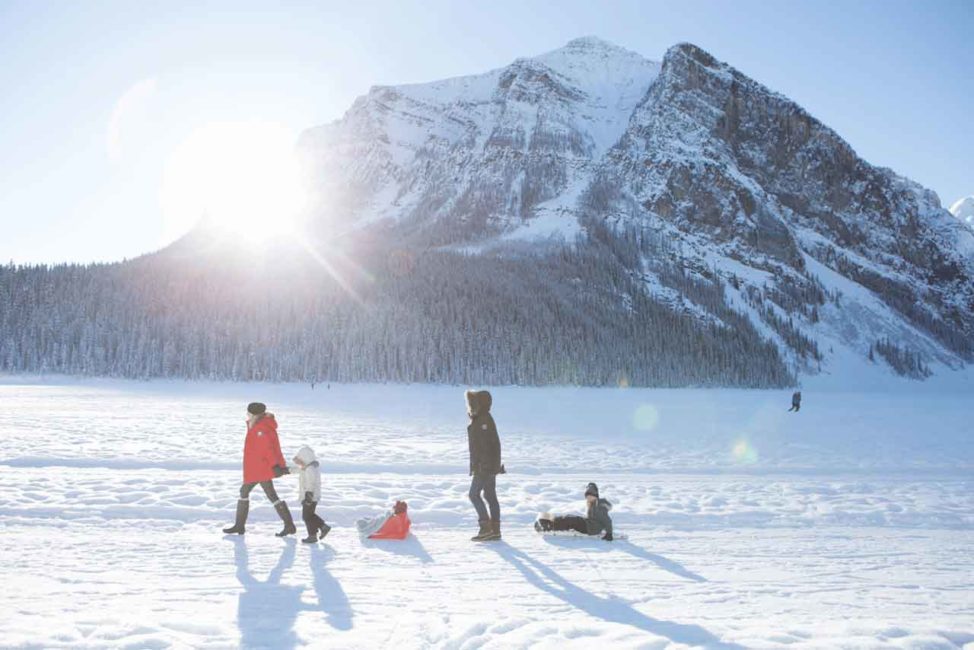 Travel Alberta / Scott Bakken
Taking the tots to the Rocky Mountains this winter? The mountains are a wonderful place to bring the whole family to explore, play and savor the breathtaking sights together. But it can be tricky finding activities that will please everyone; the thrill-seeking teen wants an action-packed adventure, but unfortunately Grandpa's not too keen on snowmobiling and ice climbing. Your mom needs a relaxing spa getaway, but great uncle Horace has already started packing his binoculars and camouflage pants. Luckily, we know that finding the best family activities in Banff that everyone will enjoy can be time consuming, so we've done it for you!
 ·     Voyage of Views: If skiing or snowboarding just isn't your thing – that's ok! You can still enjoy the jaw-dropping views at Sunshine Village on the Angel Express or Standish Chairlift. Grab a sightseeing ticket and immerse yourself in the 360-degree views of the surrounding Canadian Rockies.
·     Gondola Goals: The Banff Gondola is a short 8-minute ride through lush pine trees to the summit of Sulphur Mountain. At the top, you can dine at one of the two restaurants, explore the interpretive exhibits, check out the 360-degree observation deck or walk along the boardwalk to the historic Sanson's Peak. There's something for everyone.
·     Soak at the Springs: Nestled in the mountains, and conveniently located next to the Banff Gondola, Banff Hot Springs is a luxurious spot to take a dip in the steamy, natural mineral water and warm up. There's enough room for the kids to splash around while you relax or swim – making it a favourite destination for visitors of all ages.
·     Walk on the Wild Side: Wildlife tours from Discover Banff Tours have no age restrictions. Sit back and learn about the area with a skilled guide while you search for iconic Canadian wild animals like mountain goats, elk and coyotes. Make sure you bring your camera!
·     Teach the Tots: Hitting the slopes? There's plenty of family activities in Banff Sunshine Village with themed days and special events. Take the kids tubing at Mt Norquay or try ski lessons from Lake Louise Ski Resort for children as young as 3 years! Book their exceptional daycare services for infants to pre-schoolers.
·     Sleigh the Day Away: There's nothing quite as beautiful as a horse-drawn sleigh gliding through the pristine snow of the Canadian Rockies. Hoofprints in the snow, tuned bells and blankets – what more could you ask for on a classic winter sleigh ride? Sleigh rides are a family-friendly winter activity that people of all ages and abilities can enjoy. Bundle up under a blanket and enjoy the mountain scenery and tall tales from your guide with a sleigh ride from Banff Trail Riders in Banff or Brewster Adventures in Lake Louise.
·     Icy Escapades: Discover a world of sparkling ice in a majestic canyon with a Johnston Canyon Icewalk® from Discover Banff Tours, White Mountain Adventures and Banff Adventures. These walks take you through the canyon on specially secured catwalks with expert guides who can explain the geology and history of the area. Transportation from Banff, ice cleats, poles and hot chocolate with cookies are provided.
There's no shortage of fun, family activities in Banff National Park, we've got something for everyone. So why not bring the whole gang to embark on some new experiences and create loads of wonderful new memories on your family trip this winter.