Canadian Rockies Christmas Checklist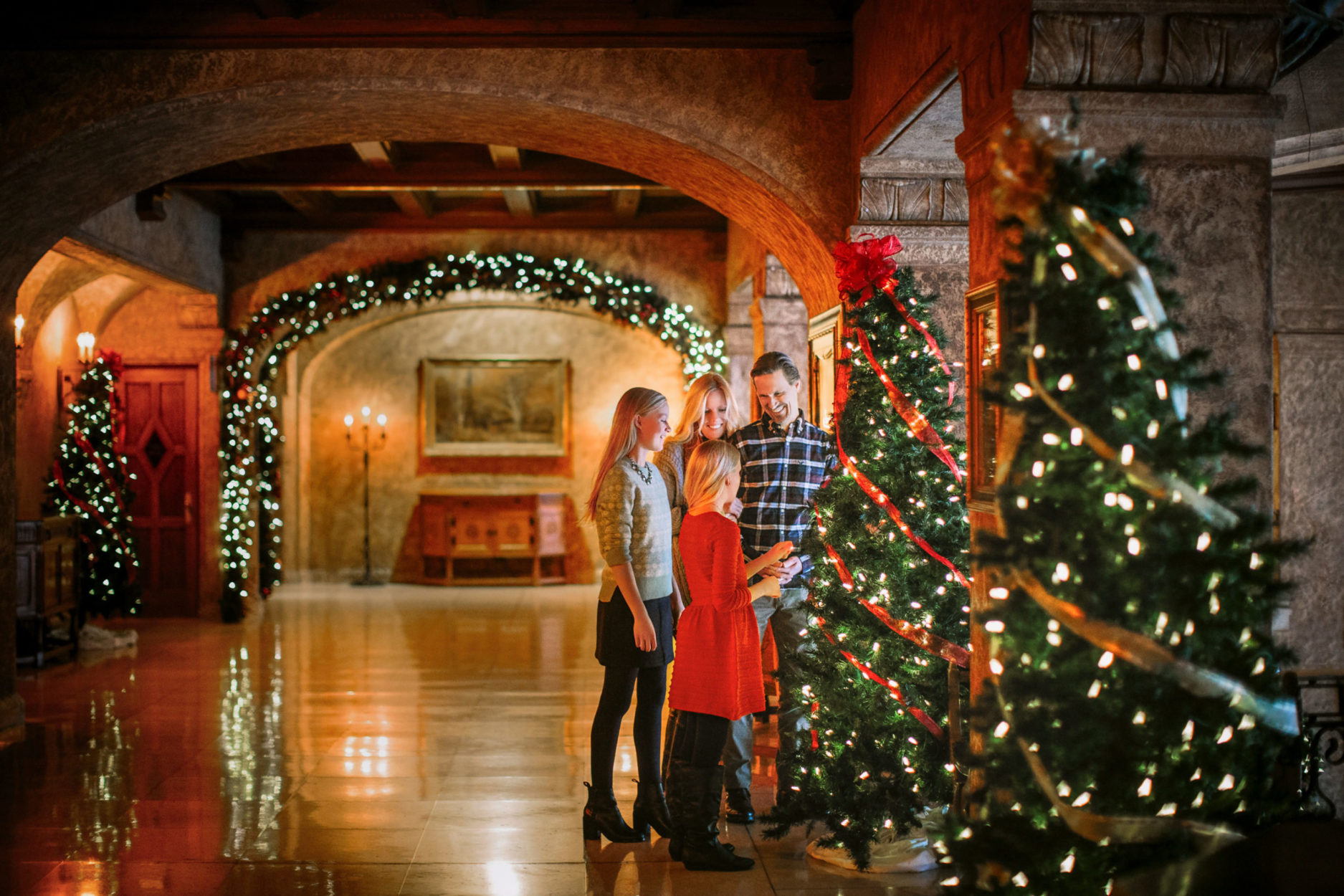 Fairmont Banff Springs
Christmas is a magical time of year filled with yuletide treats, gifts, festivities and decorations that seem to outdo themselves year after year. The Rocky Mountains are exceptionally enchanting during this time of year, with blankets of pristine snow transforming the mountains, forests and frozen lakes into a dazzling winter wonderland. If you're lucky enough to visit during the holiday season, make sure to check out our list of quintessential Christmassy encounters to ensure your Canadian Rockies Christmas is as festive as possible.
1.    Walkin' in a Winter Wonderland
Discover a world of sparkling ice in a majestic canyon with a Johnston Canyon Icewalk* from Discover Banff Tours, White Mountain Adventures and Banff Adventures. These walks take you through the canyon on specially secured catwalks with expert guides who can explain the geology and history of the area. Transportation from Banff, ice cleats, poles and hot chocolate with cookies are provided. In Jasper, Maligne Canyon measures up to 55 m/180 ft deep and 1.2 km/0.75 mi long. In winter, the frozen water creates beautiful, natural ice formations and frozen waterfalls. Experience the natural wonder of this canyon by walking the 5-Bridges trail or take a tour with Walks and Talks Jasper. For a unique winter experience, try an icewalk on the frozen creek with Sundog Tours or Pursuit.
2.    Santa at the Summit
Families are invited to celebrate the festivities at Santa's workshop on the summit of Sulphur Mountain with the Banff Gondola. Kids can decorate cookies at Santa's bakeshop and colour in ornaments to hang on their Christmas tree at home. After hanging out with Santa and his elves, grab a bite to eat at the Northern Lights Café or Sky Bistro before watching a Christmas Disney movie and making your descent through the snow covered pines.
3.    Christmas in the Castle
Experience the Christmas spirit within the historic castle halls of Fairmont Banff Springs hotel. The festive season is celebrated with indulgent Christmas dinners, guided wilderness walks, craft workshops, heartwarming tales, games, movies, campfires, gingerbread house making, Santa's Bar, ice skating and the grand New Years Eve Gala. Traditional sights and sounds of Christmas are blended with international flavours to make a truly magical festival within the Castle.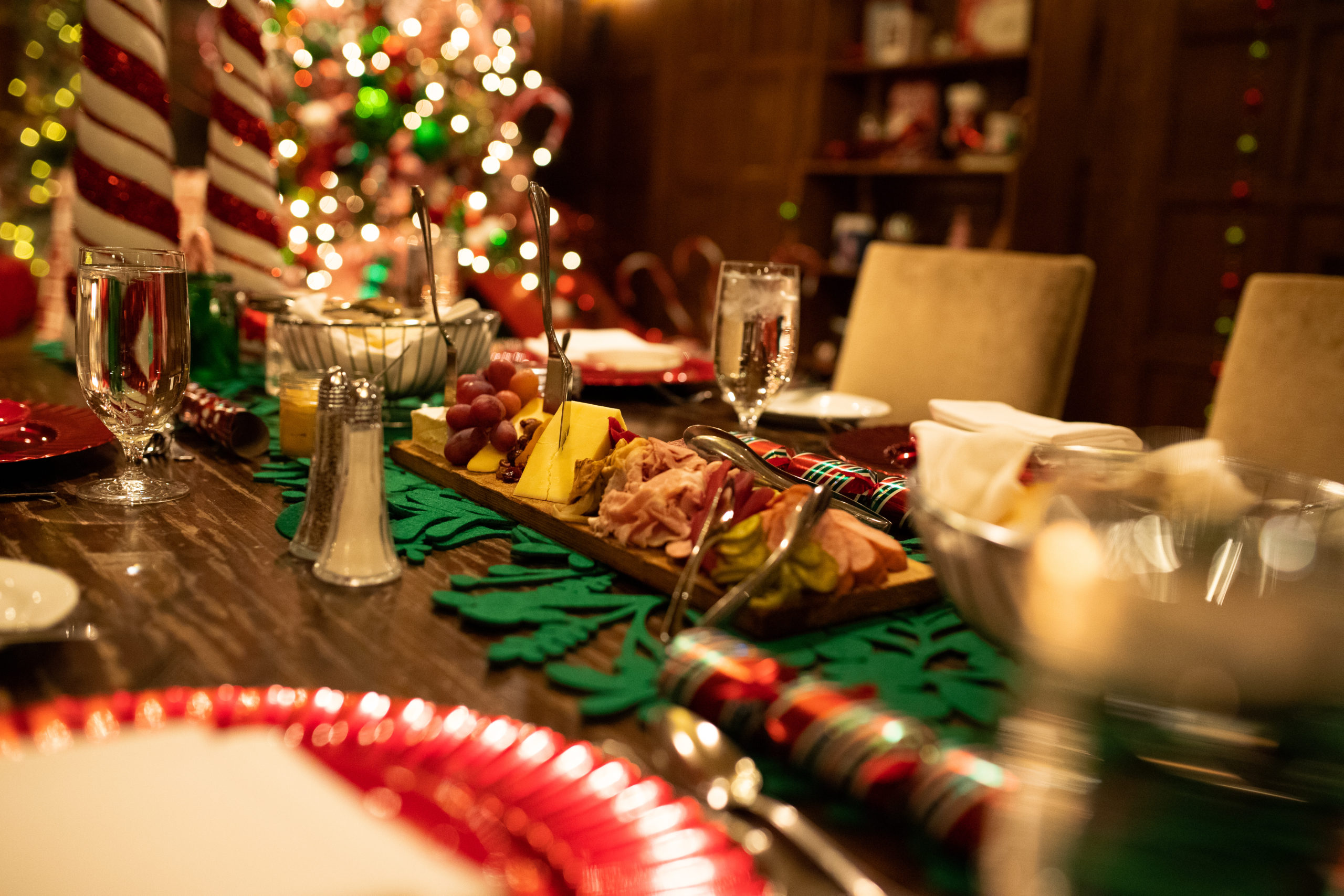 4.    Later, Skaters
There's no better place to ice skate than on a picturesque, frozen lake in the Canadian Rockies. In Banff, check out Vermillion Lakes and Two Jack Lake for some prime skating spots against a backdrop of snowy mountains, or visit the rink on Banff Avenue where the locals play hockey. Skate by day or night on the iconic Lake Louise by the colossal Victoria Glacier and ice-clad mountains, located right next to the Fairmont Chateau. Jasper Park Lodge clears a large oval on Lake Mildred and supplies benches, a bonfire and free hot chocolate to complete your perfect winter afternoon. Nearby, the beautiful Lac Beauvert boasts stunning scenery and a rectangular rink that becomes lit for night skating. Another popular spot in Jasper is Pyramid Lake.
5.    Shop Til You Drop
The natural winter wonderland landscape makes a Canadian Rockies Christmas that much more magical. Revel in the holiday joy by visiting the Banff Christmas Market at the Warner Stables or the Canmore Christmas Artisans' Market at the high school for speciality gifts, unique keepsakes, festive entertainment and treats. The Spirit of Christmas on Banff Avenue has all your seasonal and decorative needs year-round.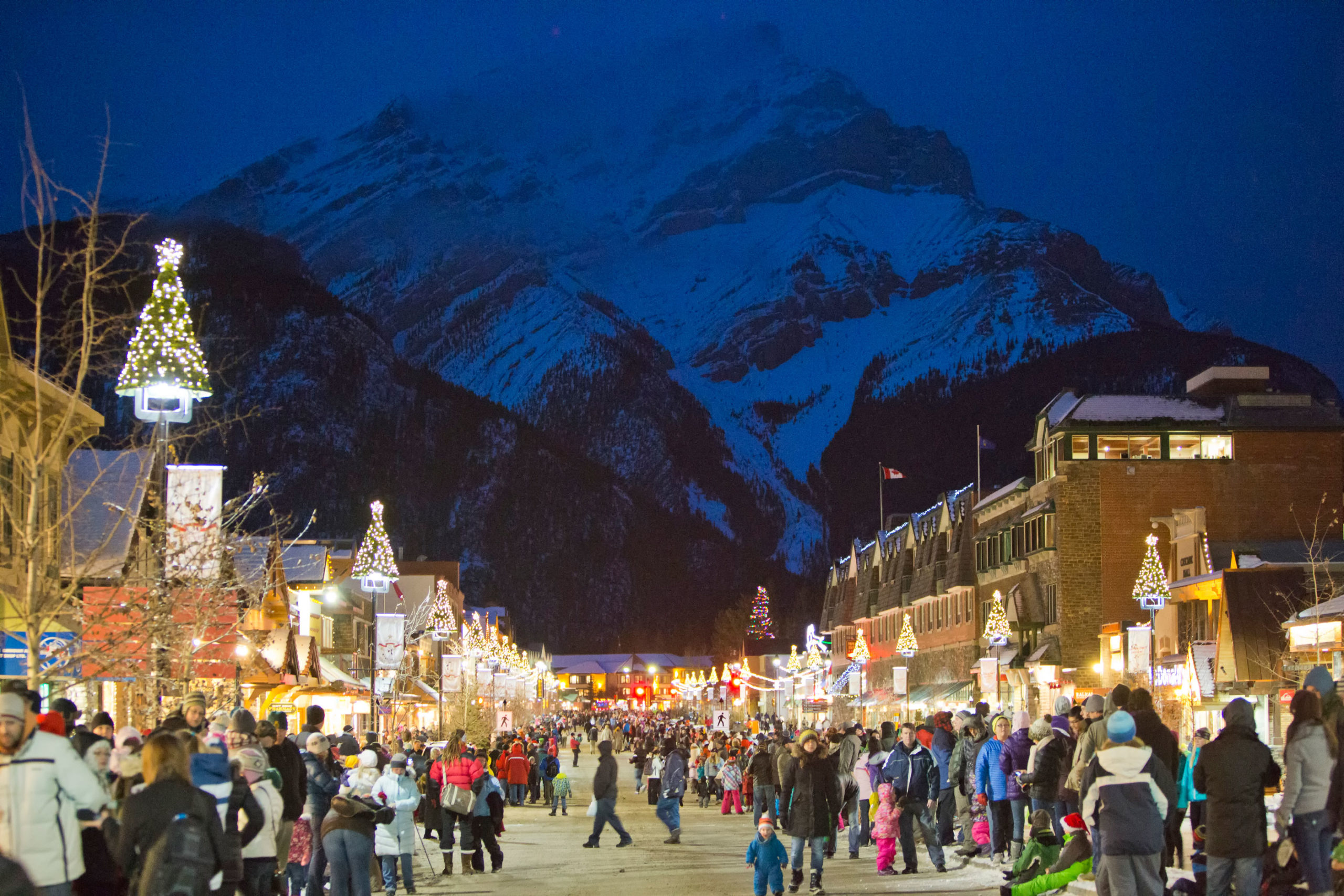 6.    Just Hear Those Sleigh Bells Jinglin'
There's nothing quite as beautiful as a horse-drawn sleigh gliding through the pristine snow of the Canadian Rockies. Hoofprints in the snow, tuned bells and blankets – what more could you ask for on a classic winter sleigh ride? Sleigh Rides are a family-friendly winter activity that people of all ages and abilities can enjoy. Bundle up under a blanket and enjoy the mountain scenery and tall tales from your guide with a sleigh ride from Banff Trail Riders in Banff or Brewster Adventures in Lake Louise.
Join Jasper Riding Stables for a 40-minute ride along the frozen shore of Pyramid Lake. Available during December, or if you can't make it during the Christmas holidays, they also run on weekends from January-March. Alternatively, go for a wagon ride along Lac Beauvert with Jasper Park Stables. Wagon Rides depart daily starting from December 21st from the Golf Clubhouse.
7.    Bark the Hairy Angels Sing
Dogsledding is an excellent way to get outside, connect with nature and make some new furry friends! Learn to drive the team or relax in the sled and enjoy the views. In Canmore, Snowy Owl Sled Dog Tours, Mad Dogs and Englishmen and Howling Dogs offer stunning tours along Spray Lakes. In Lake Louise, Kingmik Dogsled Tours offers a mushing experience inside the National Park. Reconnect with nature with Cold Fire Creek Dogsledding in Jasper as you silently mush through majestic landscapes.
Won't be here for the Christmas cheer? Have no fear! After Christmas you can still enjoy the spellbinding beauty of winter in the Rockies. In January, the cold temperatures provide artists and sculptors with the opportunity to create intricate snow and ice sculptures to put on display to the public. Artists flock from across the globe to show off their creative skills and attention to detail, turning huge cubes of ice and snow into stunning creations. Wander through a frozen land of ice statues, castles and ice-bars at the spectacular, world-class Ice Magic Festival in Lake Louise where artists compete with each other to be crowned winner of the International Ice Carving Competition. You can also check out the fantastic winter-themed art at SnowDays, an outdoor gallery of snow sculptures in the town of Banff. This annual festival takes place in mid-January and transforms Bear Street into a glittering winter wonderland of magic and creativity. It's free for the public and will run from January 15-26.