Family and Ice: Ice Fishing on Spray Lakes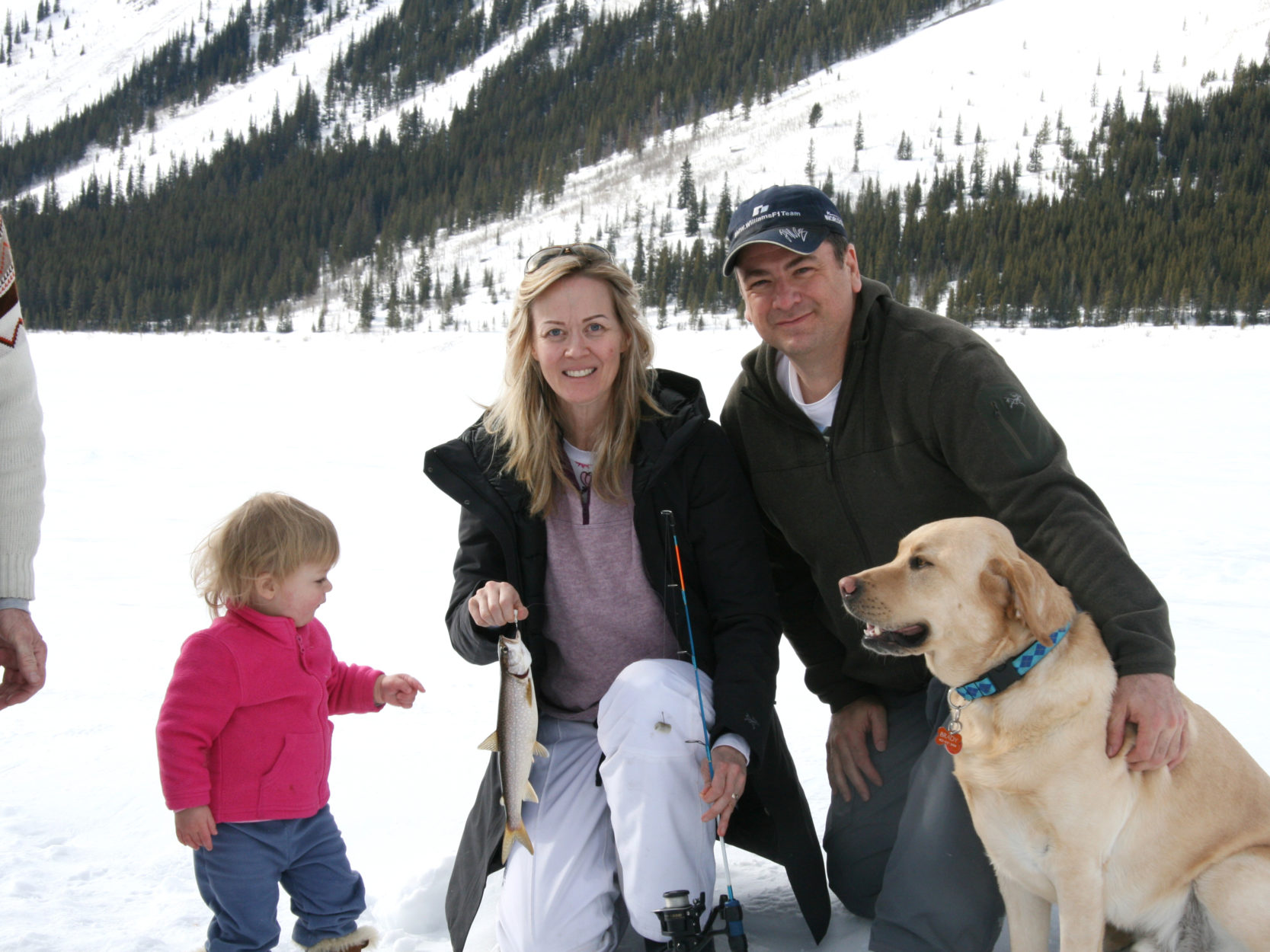 I met Andres, the owner of Banff Fishing Unlimited, in a Canmore coffee shop. We spent some time talking about fishing and, more specifically, about fishing in the Bow Valley. I've fished a lot in the Canadian Rockies, but I've never fished around Canmore and Banff. Living so close, I felt it was time to explore the great fishing opportunities in my own back yard.
Whenever I visit a new fishing spot, I always seek out the local fly shop for the best advice. A couple times a year, I try to get out with a top guide in a new spot. I find it accelerates my knowledge of the area and of fishing in general. The investment in an excellent guide always pays off. Not only do I get a great day on the water, but I gain knowledge that stays with me for a lifetime. This has improved my fishing beyond my years of experience.
A few minutes into our coffee, I knew Andres was the expert guide I was looking for. Had he fished all his life?  Check. Does he know every creek, river, lake and bath tub that has a fish in it from Golden to Calgary? Check. Is he a licensed guide in the National Park? Check. The best part? Andres owns the top-rated guide company in the Bow Valley! AND he had an opening in his busy schedule to take me ice fishing!
We arranged a time to go ice fishing on Spray Lakes. I've never ice fished before, so to say I was excited would be an understatement.  Since becoming a dad 19 months ago, the days I used to spend fishing have now been replaced with different (but no less important) activities.  Andres said he takes families of all ages and sizes, so he had plenty of room for my wife and daughter. I was even more excited because now my rusty skills could get a tune up and I could introduce my daughter, Cadence, to my passion for fishing.
The day for ice fishing finally came! We met Andres in Canmore. The weather report didn't look great, so he made sure we had the proper clothing and footwear. Our boots were not up to the task of mountain ice fishing. This wasn't a problem because Andres has a large supply of boots for his guests. After a quick check of our fishing licenses, we were on our way to Spray Lakes.
When we got to our parking spot, Andres produced a couple of toboggans to haul the gear and supplies. He even had one to help transport Cadence. Cadence had a huge smile on her face all the way down to the frozen lake. After a short but breathtaking walk, surrounded by trees and mountains, we trekked across the ice towards the huts.
The bad weather held off and it was shaping up to be a very nice day. Banff Fishing Unlimited has two huts on Spray Lakes. Andres made the wise decision to head to the hut over deeper water. He explained that fish will move that direction when it's sunny out. We drilled two new holes in the ice, which was a very safe 5-feet thick. Andres started the heater in the hut to keep us toasty warm before he rigged up the rods. Cheryl and Cadence were the first ones with hooks in the water. Principle rule of the hut: ladies first.
The hook was barely in the water for 30 seconds and Cheryl had a fish on. I guess Andres was bang on about the fish being deeper that day. The fish got off the hook and won the round, but it provided Andres an opportune teaching moment on the proper hook-set and retrieval. This came in handy because a few minutes later I was reeling in my first fish of the day.
The day was full of action, with many more catches and some near misses. Although the record-breaking laker eluded us, I found the great time that I was looking for. Andres continued to teach and entertain all of us throughout the day, and he was especially wonderful interacting with Cadence. He taught her new words and showed her how to fish.
Banff Fishing Unlimited provides exactly what its name says: unlimited fun and fishing. All of the guides are knowledgeable about the Banff area and promise an excellent trip. Book a day with this top-rated guide service and you will not be disappointed. Don't worry about being cold! The free-flowing hot chocolate warms you from the inside out. A delicious shore lunch with your fresh catch also keeps your belly full! Don't be surprised if you catch some nice memories at the same time.