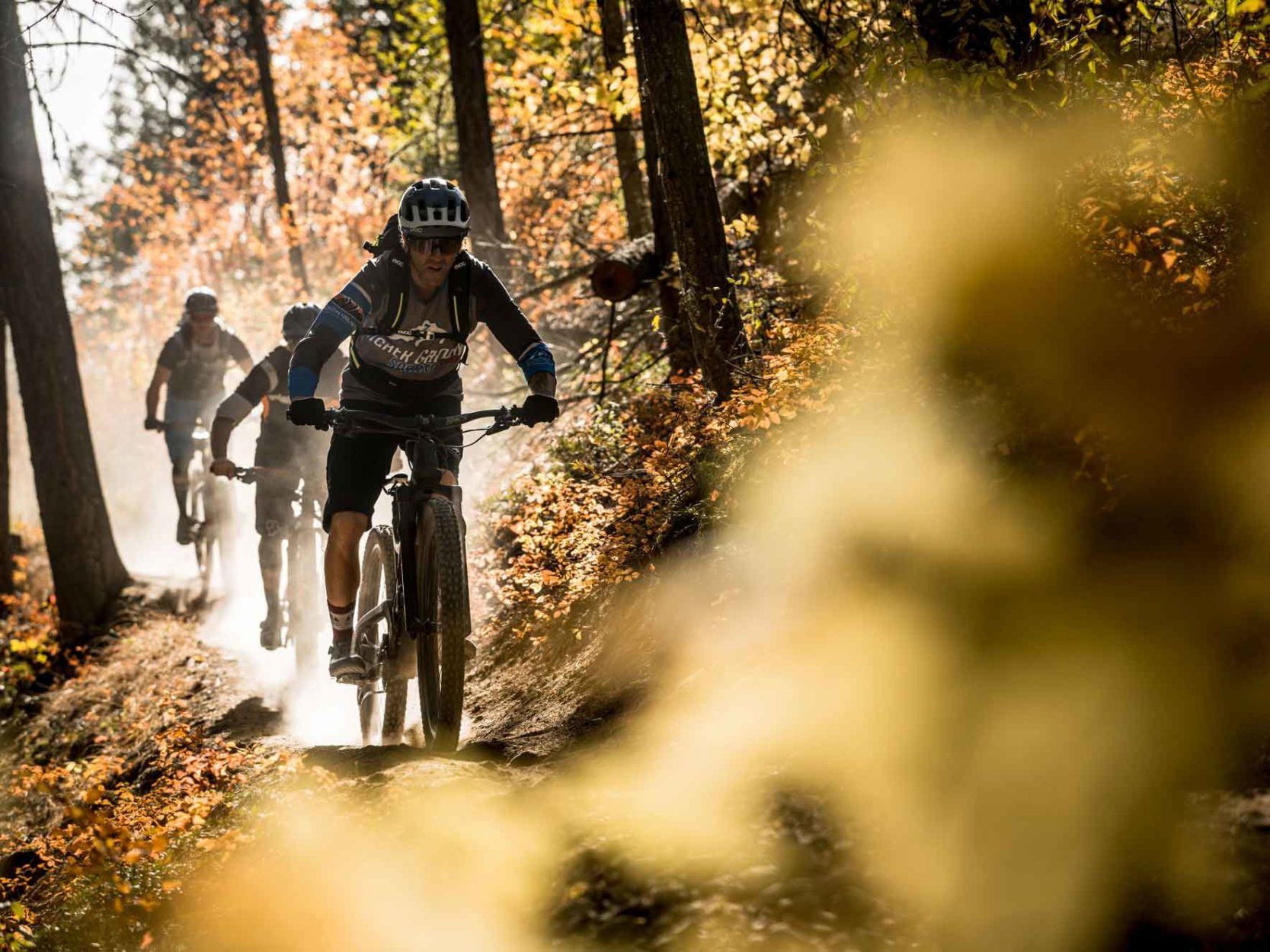 Photo provided by Tourism Golden / Robin Munshaw
It was my final day of what had been an amazing trip to Golden, filled with awesome hikes, unique adventures and stunning scenery. Fuelled with a latte from one of the amazing cafés in town, I found myself standing in front of David Gagnon, owner and operator of Higher Ground Sports, discussing my mountain biking abilities and my expectations for the day.
Full disclosure: My biking experience includes roads, paved pathways and wide trails that lead to smaller trailheads. I've biked through all seasons when I couldn't afford a car, but I'd never done true single track mountain biking before. My current bike is an older, hard tailed trail bike that I bought second hand for $100 from some guy's mom's basement…
I was totally ready.
David had that calm, collected wisdom that comes from years of experience on the trails. He teaches instructors from all over the country about mountain biking, and he's involved with teaching youth in the community. He was very patient with me as I tested out the rental bike and he showed me the extra workings – such as the seat and gear shifter. It wasn't too different from what I knew, and I felt naively confident. How bad can it be, right?
Higher Ground Sports provides bike rentals, service, advice on trails, lessons and shuttles. They're working on licensing to open a guided service, and they're excited to share this with Golden's growing tourism industry. David recommends people use their shuttle service to access the best trails and get the most out of a day of mountain biking.
"Golden is unique because it's one of the few towns with great trails starting right from downtown," he explained, "But they're steeper and harder than average. Most people want to start from town but get tired and have to turn around. With the shuttle, people can start high and just have fun."
That's exactly what we did. The shuttle took us along a nest of bumpy roads until we reached a seemingly nondescript area under the power lines. This would be our starting point.
"We'll start here," David said, "It's not too technical, but it's a great view and I think we'll have lots of fun."
A short bike along an access road brought us to Canyon Creek, a deep gorge cut out of the rock with stunning biking trails alongside it. We admired the view before taking to the trails. David was excellent with helping me learn this new bike and explaining the best ways to conquer the ups and downs of the trail.
He started by teaching me how to creep down a hill using the breaks, without skidding the tires. This helped with my balance as well as my understanding of the bike. After the first few downhills, I could take them with more confidence and speed, knowing what I needed to know about how the bike would react. As the day went on, David taught me other things as well, about the correct positions for balance, relaxing my forearms, optimizing my gears and regulating energy. By the halfway point, I was a completely different rider and I was gaining confidence by the second.
We took a break at Cedar Lake Campground, admiring the view while taking on some water. We had the option to end the ride here or continue into town. I've never been one to go halfway, so I was ready to complete the ride. Who needs to feel your legs anyway?
The rest of the trails were somewhat less intense in terms of their ups and downs. My confidence continued to improve, and David continued to teach me new skills in that calm, inspiring manner. Within the blink of an eye, we were back in town – peddling along the river to get back to the store.
The entirety of this adventure taught me two things. One: I really like mountain biking. This may be a new investment for next year. Two: Taking a biking lesson is amazing. I learned a lot and I was surprised by all the techniques I apparently didn't know. If you're looking to improve your experience, talk to David or any of the staff at Higher Ground Sports. You'll be glad you did.