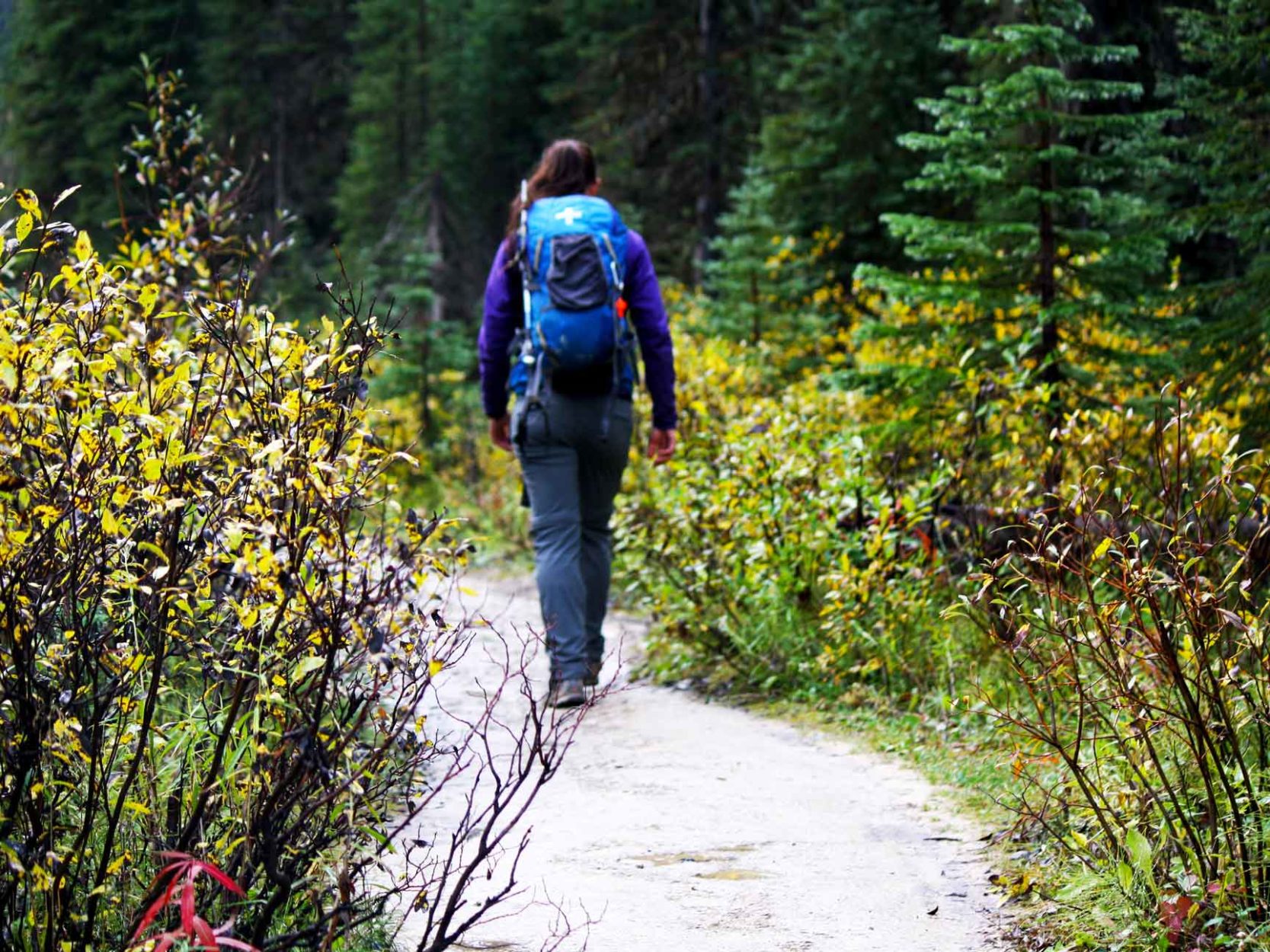 Laura made the guided hike an incredible experience.
There's something special about the morning of a big hike. I was about to take a guided hike with Self Propelled Adventures. I had a sense of excitement, anticipation and a fleeting moment of "Wait – what exactly did I sign up for?"
We met Laura Crombeen, owner and lead guide of Self Propelled Adventures, in town for breakfast before heading out on our guided hike. We had gone over plans the night before, so we were prepared for the full day of adventuring ahead of us.
Our day began with a drive, which brought us through Field and the Parks Canada interpretation centre. Just a bit further is the turn off for Takakkaw Falls, and the trailhead we would be exploring. After some photos and a look at the 3-D map of the area to confirm our hiking plans, it was time to head out on our day's adventure.
Laura is an excellent guide. Formerly an employee of Parks Canada, she is filled with information about the area, the mountain national parks, the fossil beds and pretty much everything that surrounded us. Her guiding focuses on exploring wild spaces in a sustainable manner. She is a wealth of knowledge and she explained the history of the area as well as the meanings of the Indigenous names around us.
"Takakkaw is a Cree word meaning splendor," she explained, "This is the second highest waterfall in Canada, the highest one you can easily access."
Takakkaw Falls is right beside the parking lot, accessed by a large, paved and graded trail. Our guided hike wasn't going to be quite so luxurious, and before long we were climbing seemingly endless switchbacks as we gained elevation through the trees. Every now and then, we would get a glimpse of the scenery around us, and the already-impressive Takakkaw Falls seemed so much more impressive from this high vantage point.
When we finally broke from the trees, we could see everything. The clouds rolled in and around the mountains, giving them a moody feel that you just don't get on a sunny summer's day. Everything was changing into fall colours, adding a vibrance to the landscape that stretched as far as the eye could see. It was a stunning vista, and we instantly forgot all that uphill climbing to reach this view.
We traversed along the edge of the alpine. Laura explained the importance of whitebark pines, and the threats that face these endangered subalpine trees. She discussed different birds that can be found in this area, as well as various plants we came across during our travels. She pointed out an area where a female grizzly and her cub were recently spotted, adding that we had bear spray for safety in case it came to that.
We gradually climbed higher on the trail, entering the rocky landscapes of the alpine. We turned a corner around an outcropping of rock and were suddenly faced with a line of glaciers, fragments of their former selves, reaching far into the distance. Laura explained the importance of these glaciers, and the effects of climate change on their dwindling size. It was impressive to be this close to such ancient sculptures of ice, and we enjoyed traversing along their lengths at the height of this trail. We were briefly pelted with hail, but the frozen moisture bounced off our rain gear and we escaped the weather relatively dry and only slightly chilled.
We had a break and some food before beginning our descent. After fueling up, the trail led us towards the treeline. This luscious line was clearly defined, and the difference between rocky landscapes and lush green forest was as stark as it was abrupt. It wasn't long before we were surrounded by the greenery of the trees as we continued our descent.
"On this side of the continental divide, there are microclimates that reflect vegetation you might see throughout the rest of BC or closer to the coast," Laura explained, "So there are some unique plants here that you just don't see in Banff or Jasper."
There were certainly magical sections of the forest – lush with old-growth trees, a mossy forest floor and secret lakes. We passed numerous waterfalls, including the impressive Laughing Falls, which brightened everyone's spirits after our long hike. We descended to the campground, where people can get a taste of backcountry camping without hiking a full day to access a spot.
"The trail is wide and graded here," Laura pointed out, "And people can get carts to help bring in their stuff. It's perfect for those just looking to start backcountry camping. It gives them a taste of what it's about without throwing them into the deep end."
It was only a short walk further to the vehicles. After six and a half hours of hiking, and 720 metres of elevation gain, we were feeling the wear of the day. It was time to return to Golden to enjoy what the town had to offer, and to prepare for our next unique adventure!
Next time you're looking to access the wild and wonderful adventures of the mountain parks, consider hiring a guide. The extra information, expert knowledge of the trails and years of experience take a fun day and elevate it to an amazing and memorable experience. I really enjoyed my guided hike with Laura from Self Propelled Adventures, and I would highly recommend dropping her a line before heading out on your next adventure.