Oktoberfest Celebration with Sheepdog Brewery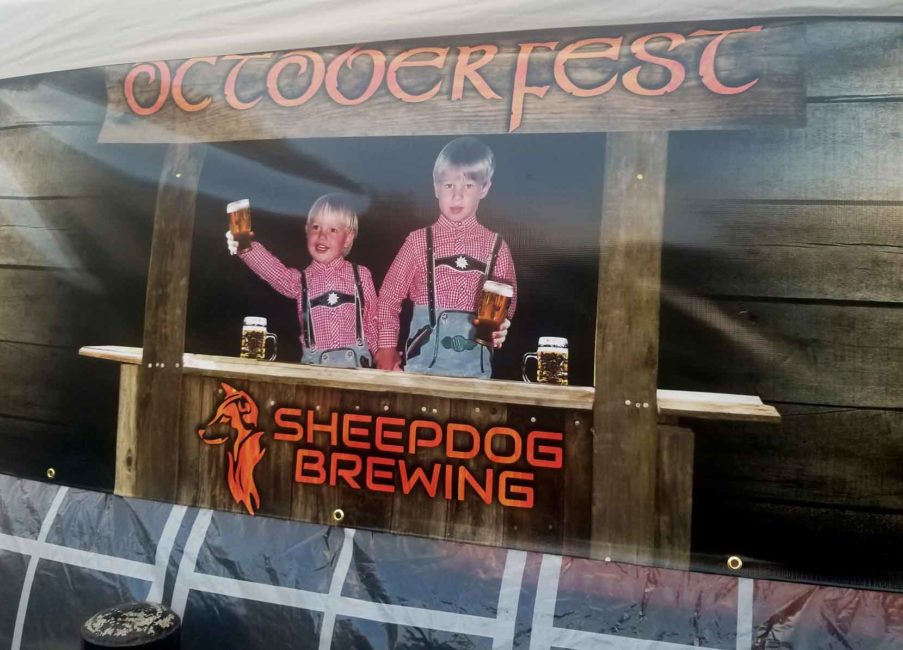 Let me start by saying, I had never been to an Oktoberfest celebration before. Trying it out at the new up n' coming Sheepdog Brewery, I was not disappointed. The Elk Run location was a perfect place to hold such an event.
Quick history of Oktoberfest: If you don't know, it all began with a love story in Munich. To celebrate the wedding of King Ludwig and Princess Therese of Sax-Hildburghausen on October 12, 1810, there was a huge party with all the citizens. They had horse races, a parade, drinking and the event lasted several days. Jump forward a couple years to 1819, it was decided to make the celebration an annual event. We now call it Oktoberfest.
Fast forward to present day and I'm in the Sheepdog Brewery for their Oktoberfest celebration. Now, to celebrate this event, people dress up in their best ol' lederhosen garb, and drink beer. I'm sure if you go to the fields in Munich and celebrate this event, it would be spectacular. For the Canadian Rockies version, I felt the staff at the Sheepdog had a good celebration.
As a dog friendly establishment, they have rules posted on the wall and doggy treats at the counter, if you should so choose to bring a furry friend. Unfortunately, there weren't any dogs at this event. I am sure it was only because it would have been a overwhelming for most doggie companions and the brewery didn't have much room to stand on two feet, never mind four!
Not only were the Brewery staff friendly and helpful with the craft beer choosing process, but they were genuinely interested in who was coming in and sharing their product. The space was quite full, and they had put up a tent outside for overflow. This also included some excellent Valbella Brats with sauerkraut and onions, as well as pretzels with mustard.
Back to the beer. Admittingly, I have had a pint or two in my life, but I don't consider myself a true connoisseur. For me, the tasting tray is everything. For the reasonable price of $2.50 a glass, you could fill this baby up and try all kinds of wonderfulness. I tried six different kinds of lighter beers. Every one of them was unique. I had a few favorites when I was done: the blonde, the Oktoberfest and the IPA. With actual pints ranging from $5 - $9 it was all very reasonable.
One of the most entertaining parts of the evening was the pint glass challenge. Someone holds a glass at a 90-degree angle from their body and for as long as possible. They had a men's and a women's time to beat. The men held a record of 5.09 minutes and the women stood at 5.42 minutes. The winner would receive a growler of their choice. Whenever someone would challenge, the bell would ring, and the building would roar. It was quite the entertainment. All the while people would drink and encourage each other on! Honestly the highlight of the night, in my opinion.
When I finally had to leave, the Sheepdog was still fairly full of patrons. I'm sure the celebration went on into the night. A wonderful end to my first Oktoberfest celebration and the first one for the Canmore's new up and coming Sheepdog Brewery.