Soaring with Valley Zipline Adventures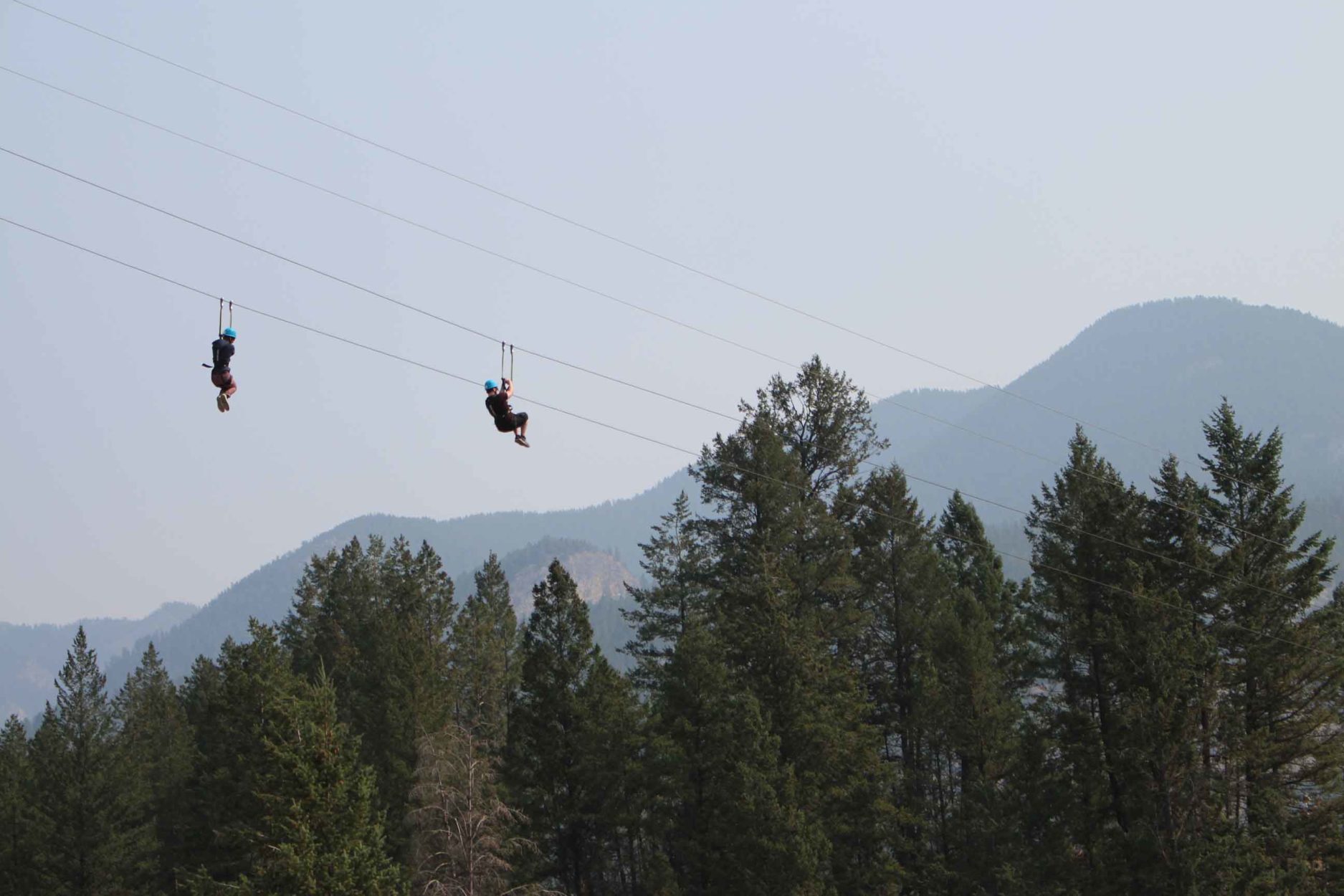 I was looking forward to trying the zipline course at Valley Zipline Adventures, just outside of the village of Radium Hot Springs. The course boasts 7 different ziplines for a 1.5-hour experience. I'd only ziplined once before, and I was excited to try it again!
Everything about Valley Zipline Adventures was crisp and professional. All guests weigh in during check-in and fill out a waiver, which can be done beforehand. You have a few minutes to hang out with the owner's dogs before getting geared up for ziplining. Adventure and dogs? Yes please.
Our tour guides were Sammy and Brandon. They were everything you'd want from someone guiding you through this experience! They were enthusiastic, professional and very knowledgeable. They gave us a thorough demonstration on how to put on the harness, and they made sure we were comfortable with all the components. Valley Zipline Adventures uses the Edelrid Smart Belay system, which guarantees the users are clipped into the system at all times while still allowing the guests to control their own movements.
The adventure begins with a training course. This course allows guests to watch how ziplining is done and to test their skills before heading out on the actual ziplines. It consists of several easy, short zips to get you started. The guides demonstrate the steps and teach guests essential skills such as how to use the Smart Belays, how to begin each zip and how to use the ramp at the end of each line. The course ends at the first true zipline of the adventure.
I thought this style of ziplining would be more of a traditional sitting experience while gliding over scenery. It can be that, but it can be so much more! You can go sideways, you can spin, you can lean back and relax, you can sit up, you can go upside down, and you can do any combination of these things! The guides show you how it's all done, and they make the experience fun by demonstrating different zipline techniques with each line.
The landing pads for each zipline also have interpretive information about the area, its resident wildlife and plants, and fun facts to enhance your experience. Sammy and Brandon were also full of information, and they happily answered all of our questions.
This experience was fun and exciting, but it was also very safe. Valley Zipline Adventures is certified by the Association of Challenge Course Technology. This association sets the standards for courses across North America, and the certification is above and beyond what is required to operate this kind of adventure. The guides go through extensive training to make sure you have the best time possible.
The hour and a half flew by – and before long we were taking off our gear and laughing about our experience. Next time you're by Radium Hot Springs, even if you're just passing through, make sure to stop by Valley Zipline Adventures!