Heli-Rafting with Glacier Raft Company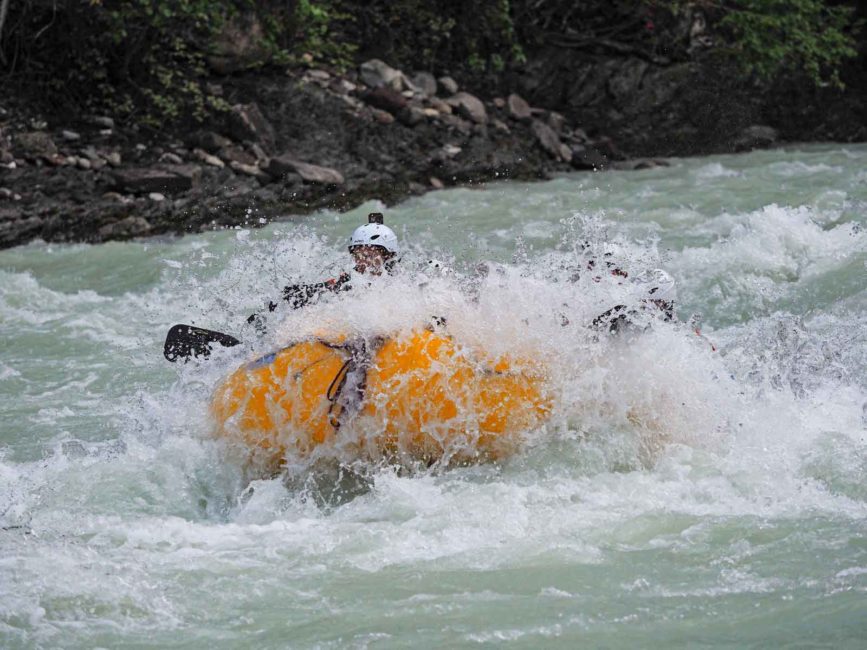 Can you see me in this photo?
I love being on the water. I spend my free time kayaking and I thoroughly enjoyed learning about Maligne Lake in Jasper with a boat cruise. So when the opportunity arose to go whitewater rafting with Glacier Raft Company in Golden, BC, I jumped at the chance. If rafting down the Kicking Horse River with Class 3 and 4 rapids wasn't exciting enough, Glacier does heli-rafting! They actually helicopter you and the raft to the lower section of the river so you can experience 4 km of continuous, uninterrupted, class 4 rapids. Do I need to say I was excited? I was SO excited!
I decided to do the half-day rafting, since I had to make the almost 2-hour drive from Canmore that morning. I met the crew at Glacier's headquarters. The large parking area has plenty of room for cars, huge change rooms and outdoor spaces for hanging out. After checking in, I hung out by the campfire for the introductions. We were instructed on all the gear we would need, and how to put it all on. Wetsuits, neoprene boots, splash jackets, life jackets and helmets. It's all provided! Glacier recommends you wear a bathing suit under the wetsuit so it can fit snugly.
Full disclosure: wetsuits are awkward to put on. And pretty much no one looks their best wearing a wetsuit. Lucky for us, this wasn't a fashion show, and the suit would be important in case we ended up in the water at any point in time.
Once we were ready, we loaded into the bus and set out on our rafting adventure! We met the guides at the lunch site, where people who spent the morning rafting the calmer upper section of the river were finishing their midday meal. Some of them would be continuing on with us today, while others were going back to town and on to their next adventure.
We got a safety rundown at the raft. No experience is required for these rafting trips, so the instruction and guidance is pretty thorough. Basically, listen to the guide! We would be busy paddling, holding on and ducking during the trip, so there was no time for taking pictures or fiddling with stuff. We were instructed to leave all that behind in our vehicles anyway. There are professional photographers and the guides carry GoPros, so recording the event was up to them! (Side note: all of the images in this blog were taken by Glacier Raft Company's photographer!)
Then it was time to hit the water. The first stretch of river was relatively calm, so we could practice paddling as a team, loading one side of the raft or the other, holding on, holding on tight and steering. We were pretty good! Well, we were good enough to likely not flip the raft in the rapids. Our guide, Mike, was an amazing mix of humour, good spirits and understanding of the water. We unequivocally trusted him to guide us through this experience.
Then we got to the rapids. There's a reason we were instructed to leave our cameras behind – we were getting SOAKED! Not to mention we were busy. Rafting isn't a sit-back-and-enjoy-the-scenery kind of activity, it's a full-on adventure where you are expected to actively participate in steering and propelling the raft. There are moments when you have to paddle forwards, paddle backwards, and hold on while waves completely engulf the raft. We were soaked, smiling and having the time of our lives!
This section of river is known as the middle canyon, and it boasts class 2, 3 and 4 rapids with names like "Man Eater" and "Rollercoaster". These rapids are mixed with sections of calm water. We bounced around, smiled for the cameras and somehow survived this stretch of the journey. We ended this section just before a stretch of intense, class 5+ rapids that wouldn't be safe to raft through. Busses were there to take most of the guests back to base, so they could change back into dry clothes and laugh about their wet and wild experience. For those of us who wanted to tackle the lower canyon, where the long stretch of class 4 rapids awaited, we had to portage the dangerous section of river.
That's where the helicopter comes in.
First, it picks up the rafts and transfers them to the lower canyon. Then it returns to pick up the guests. The ride is short, only a couple of minutes, but helicopters are always exciting, and everyone had a blast. This was by far the classiest portage I've ever experienced!
We didn't have a ton of time to get used to our new team before we hit the lower rapids. They came up fast! By this point, we had all been rafting for most of the day, so we fell in sync quickly enough.
Here's the thing about class 4 rapids: they're fast. The water is fast, the splashes are fast, and we had to make a lot of fast movements to keep the raft going relatively in the right direction. That 4 km of river? It flew past in the blink of an eye!
Our guide for this section of river was Darren, another experienced guide with a great sense of humour who led us through some very exciting water. Darren had tons of stories to tell about the river, about Golden and about the mountains. Some of them may have been true. He certainly kept us laughing the whole way downstream.
The rest of the trip was a calm float into the town of Golden. Darren kept us entertained, and there were options to jump in the river and have a swim or attempt to hang from a couple of low hanging bridges. Again, we couldn't stop smiling and laughing the whole way down the river.
Our day finished with a pickup in Golden, and then a drive back to the base where we could change out of our wetsuits and back into our street clothes. We were tired, wet, somewhat chilled but smiling from ear to ear. There was beer and chatting afterwards, and a chance to view the photographs taken that day.
If you love the water, or just cooling off on a hot summer day, or even if you have no experience whatsoever but you're curious about whitewater rafting, try heli-rafting with Glacier Rafting Company in Golden, BC. You'll be glad you did!