Take Flight on a White Mountain Adventures Heli-Hike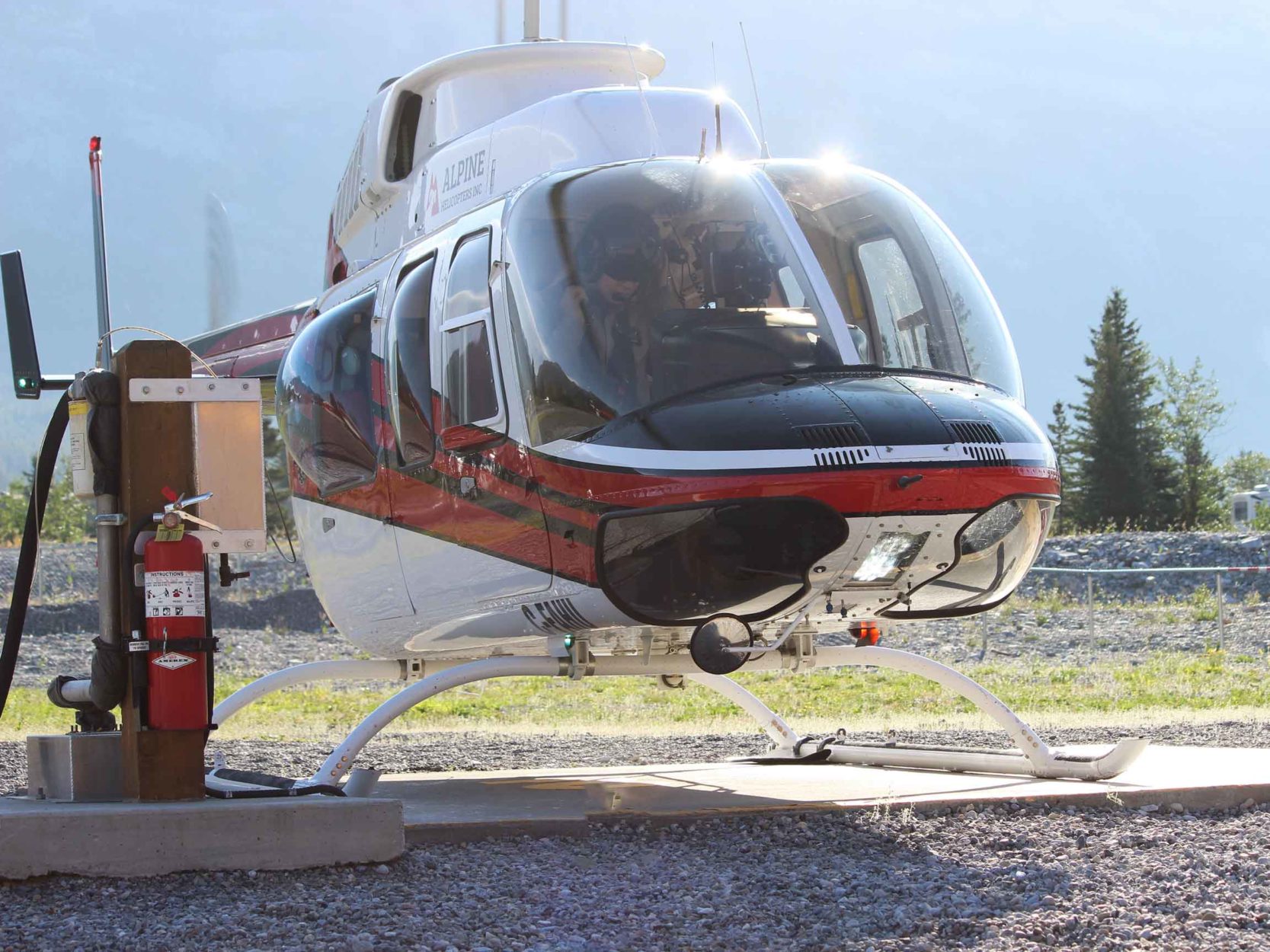 To say I was excited to try the White Mountain Adventures heli-hike would be an understatement. I was ecstatic! This would be my first time in a helicopter, and although I have done my fair share of hiking, including backcountry hiking and hiking up mountains, I'd never been flown to a backcountry hiking adventure. Too cool.
It was about 8:30 on a sunny Friday morning when I met with Gordon Stermann, President and General Manager of White Mountain Adventures. He was also our guide for the day. Despite years of guiding these trips, he still had a twinkle of excitement in his eye as he spoke about the upcoming adventure. This was going to be fun.
White Mountain Adventures provides the guided hiking while Alpine Helicopters provides the helicopter flight. They are located at the Canmore Heliport, just at the edge of town. Alpine Helicopters also offers sightseeing tours and charters to Assiniboine Lodge, so it was a busy place at this time of day!
We started with a quick safety video that outlined how to approach the helicopter, where to walk, where not to walk and what to do in case of an emergency. Did you know that helicopter rotors can reach all the way to the ground? It's safest to be right beside the helicopter, inside the span of the rotors. We were instructed to walk in a ducked position, with our heads up looking where we're going. Because it was going to be windy and loud by the chopper, we worked out our routine and our seating arrangements ahead of time.
Do I need to say the flight was fun? Because it was so much fun! We flew through some breathtaking mountain scenery and watched all the crags and canyons highlighted by the morning light. Wow. I've lived in the Canadian Rockies for years, but I've never seen them like this before! It was stunning.
The helicopter ride lasted about six minutes. We were dropped off at the best point considering the current weather conditions: sunny with some gusting wind. We watched the helicopter leave to pick up the second round of guests and otherwise enjoyed the scenery around us while we waited.
It was time to hike. Gordon adapts these hikes for the skills and experience of guests taking them. Don't want to hike uphill all day? He can accommodate that. Want to work hard to conquer the heights? He can accommodate that too. There is no set route! It's kinda like the "choose your own adventure" of hiking – complete with helicopters, an experienced guide and breathtaking views.
We crossed through the subalpine meadows, exploring the plant life hardy enough to survive at this elevation. With a 60-day growing cycle, only the toughest plants survive in this region! Gordon suggested we each take separate routes, so we don't create a trail. After 30 years of the White Mountain Adventures heli-hike in this area, they have not created a trail in the delicate ecosystem. It was pristine!
We crossed over rocky sections where Gordon stopped to point out fossils, explaining how the land used to be at the bottom of a shallow sea before being it was thrust into the sky with the creation of the mountains. We also saw wildlife: including ground squirrels and marmots. Fun fact: hoary marmots are only awake for about 3 months of the year. They spend their time eating, sunbathing and otherwise hanging out. They have very little fear, because they have so few natural predators at this elevation.
We also saw a large herd of bighorn sheep. These sheep seem to cling to the sheer cliff faces and have no fear of heights. In this particular valley, they can be hunted in the early fall. One valley over, they are protected by Banff National Park. So in late August or early September, the herd moves one valley over to escape the hunters. We were early enough in the season to get a chance to see these amazing creatures during our hike.
There were other cool things to see, including digging sites from bears searching for roots, rare plants that thrive in the harsh conditions of the subalpine and more stunning views than you could possibly absorb on one trip! We hiked to the top of a ridge and overlooked the untouched wilderness of Banff National Park. We climbed higher still to the Wedding Spot – a height of land with breathtaking views that is popular for heli-weddings. We descended into the valley for our final pickup and our return flight back to Canmore. Time flies when you're having fun, and that 3 hour hike just flew by.
During our helicopter briefing at the beginning of this adventure, we were told the safest place to be was close to the machine, well within the reach of the rotors. So when the helicopter returned to pick us up it essentially landed on top of us! The wind and the noise added to the excitement of the large machine coming down right beside us as we crouched by our bags.
The ride out was a bit rough with turbulence, but we were in the expert hands of our experienced pilot. Despite the bumpy ride, I knew we were surrounded by professionals who took our safety seriously.
The return to town left me feeling exhilarated. I couldn't wait to tell everyone about the awesome time I had and to encourage everyone to try this for themselves. If you're looking to take your adventure to the next level, or just live one of the most amazing mountain experiences, try a White Mountain Adventures heli-hike.