Why You Want to Rent a Scooter in Banff!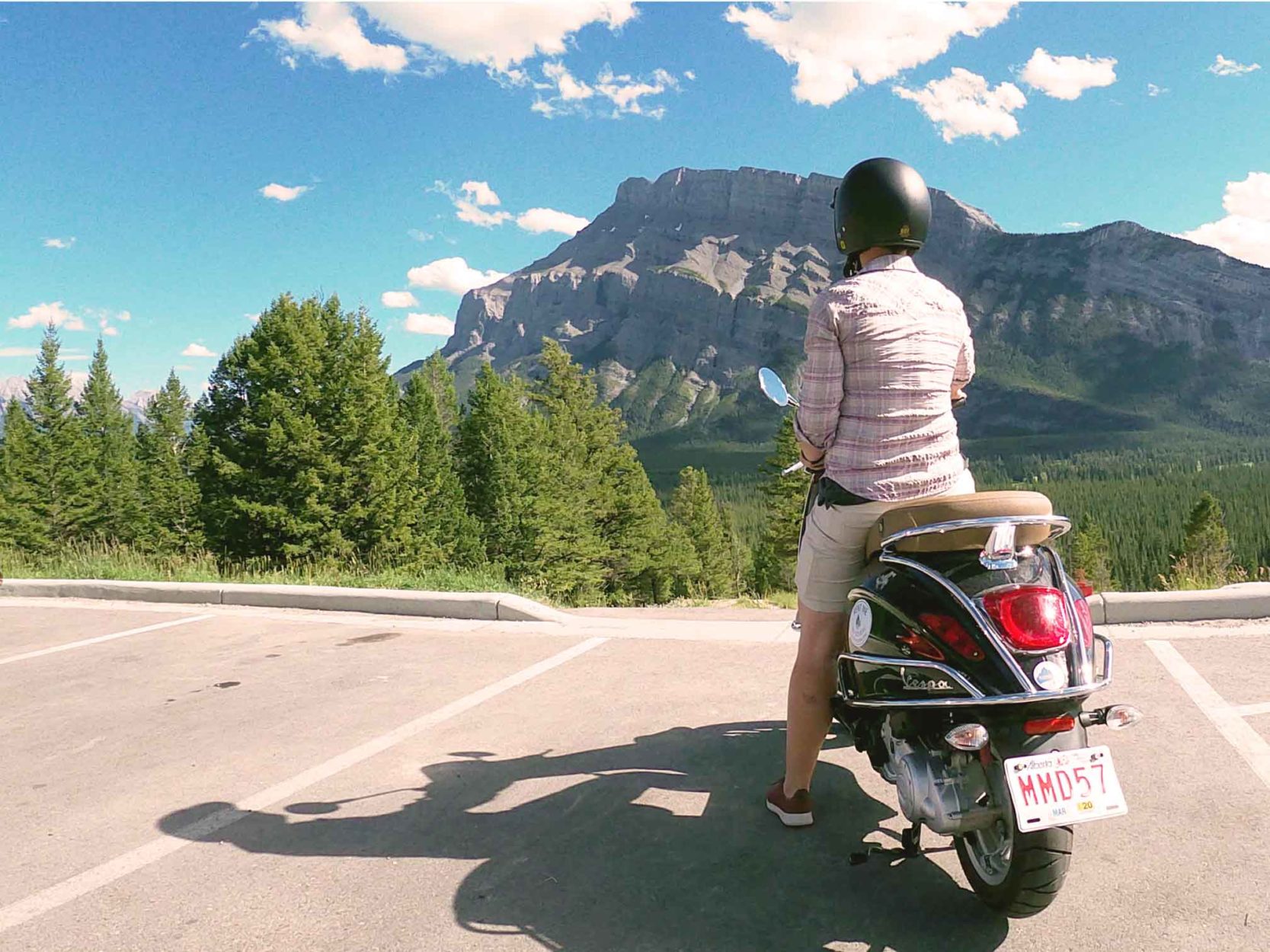 It was a drizzly and cool Friday afternoon when I first found myself standing outside the Inns of Banff, looking at the scooters for rent from Banff By Scooter. I had never been on a scooter before, and I had no idea how to drive such a thing! But I was up for an adventure and I figured I could handle the learning curve. How hard can it be? Right?
I was met by David, owner of Banff By Scooter, who was going to show me around for the afternoon. After being fitted with a helmet, David gave me a lesson on how to handle the scooter – beginning with how to access the storage compartment and turn the thing on and ending with balance and turns. Banff By Scooter is safety-conscious, and David made sure I was completely comfortable before heading out on the road.
To be honest: these things are super easy to ride. If you've ridden a bicycle before, you can do this! It wasn't long before we were scooting along the Lake Minnewanka loop, taking in the scenery on the drizzly afternoon aboard brand-new, top-of-the-line, Italian manufactured Piaggio Liberty scooters. What a dream! Despite the wind, the rain and the chilly temps, I had a huge smile on my face. THIS is the way to see Banff!
Due to the weather, we didn't explore much further. It was only an hour adventure and I wanted more, but I wasn't prepared with the right outdoor clothing to go all day! I decided to return the following week for another scooter ride. My excuse: I wanted to take some better pictures in the sunshine. My actual reason: I just wanted to scooter around Banff again!
I was looking forward to returning to Banff By Scooter all week. By Friday, the weather was sunny, warm and finally feeling like summer. Perfect!
This time, I took a Vespa. These brand-new, 2020 Vespa scooters are ultra-classy. They are beautiful machines that are impeccably maintained to provide the absolute best handling and performance. That means they are fun to drive. SO much fun to drive!
I met with David again and we were off to explore Banff. Lake Minnewanka, Cascade Pond, Tunnel Mountain, the Fairmont Banff Springs, Bow Falls, Main Street – there are so many places to see! Exploring the town of Banff and surrounding areas from a scooter was a new and exciting experience. The sunshine and breeze made this an outdoor adventure while the speed of the scooters meant we could see it ALL! What a rush.
Did I mention they are fun to drive?
So here's the nitty-gritty: the scooters at Banff By Scooter are 49cc, which means you do NOT need a motorcycle license to drive one. You DO need a valid driver's license, since you'll be on the roads. The scooters are fully automatic and can easily accommodate a driver plus a passenger. Scooter rentals include a helmet, a map, a lesson to make sure you're confident on the road and a full tank of gas, which is enough to last all day long! Wear good shoes and bring glasses for eye-protection. You can also buy sunglasses on-site, so don't worry of you forgot yours at home! Long pants and sleeves are recommended. The friendly and professional staff are on-hand to answer any questions you might have.
Be prepared to have a great time.
If you'd like to explore Banff's network of paved bike trails, Banff By Scooter also rents e-bikes! These machines are new, top of the line and easy to use. Like the scooters, e-bikes come with everything you need to enjoy the day: a helmet, a bike lock, a lesson and hours of fun. The best part? They are located at the head of the Legacy Trail, so you can access incredible biking without having to drive on the road or interact with traffic.
Whether you're looking for an hour of fun, a leisurely three-hour ride, or a full day rental to explore the wonders of Banff National Park that surround the townsite, rent a scooter or e-bike from Banff By Scooter! Their scooters and e-bikes are the perfect way to explore Banff and they will add a touch of class to any vacation!