There and Back Again: Fishing in Jasper National Park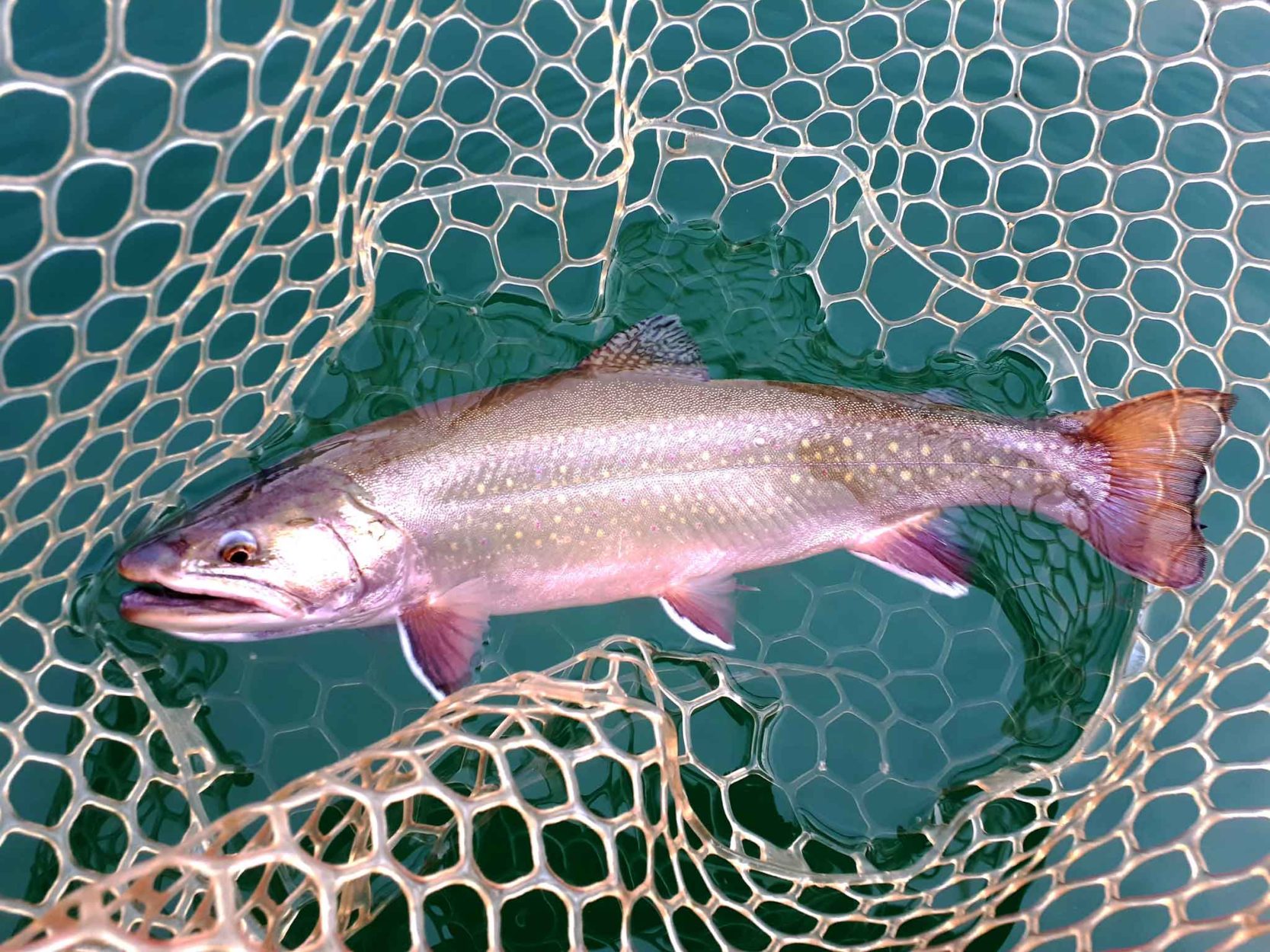 Fishing in Jasper National Park is one of the most rewarding experiences you'll ever have. Whether you are new to fishing, or a seasoned pro, Maligne Lake is one of the most accessible fisheries in the Canadian Rockies. With both rainbow trout and brook trout occurring naturally in the lake, you can always count on a great day on the water.
I first visited Jasper with my mom when I was 12 or so and I instantly fell in love with the Rocky Mountains. I remember sitting by a storefront and hanging out with some of the local kids, telling them that I was going to move to Jasper ASAP. I also remember walking into On-Line Sport and Tackle, the local fly-shop, and being bewildered by the circular towers of nymphs, streamers and chironomids that surrounded me. In the stacks that towered over my head, only a small section was dedicated to dry flies.
I grew up in Newfoundland, where I learned to fly fish from my father. On the island, we used big 8-9 weight fly rods with thick, 10lb test monofilament and a specific selection of dry flies because this setup was suited for large, hard-fighting Atlantic salmon. I only had one fly rod, so I used it for everything, including chasing brook trout in small streams. Lighter weight rods, streamers, nymphs, chironomids, indicators and light tippet weren't practical for ocean-bound fish, so we never used them.
My 12-year-old self was overwhelmed standing in On-Line Sport and Tackle, but the staff were great. They helped me pick some flies for the area, explained the purpose of lighter weight tippet in clear glacial waters and gave me some local advice about a spot to go fishing. They also set me up with a national park fishing permit, a document that is essential if you plan to fish in the Canadian National Parks. Although I didn't catch anything that day, I left Jasper with a memory I will have for the rest of my life and a strong desire to return.
Nearly 20 years later, I now live in the Rocky Mountain town of Canmore. It's a 4-hour drive to Jasper via the Icefields Parkway, one of the most beautiful drives on Earth. I also have a much better understanding of many different forms of fly-fishing that comes from years of experience. I guided for brook trout for years in Labrador and at Fortress Lake in Alberta. I was lucky enough to be on TV as a fly-fishing guide for The New Fly Fisher and Brotherhood Outdoors, as well as featured in fishing magazines. I even made it on the cover of a book: Orvis' From Lure to Fly by Dave Karczynski.
I was ready to return to the dream spot of my childhood.
I was lucky enough to visit Jasper again. But this time, I had a plan. After extensive research, I landed on Maligne Lake as some of the best accessible fishing in the area. Places called 4-Mile and 5-Mile kept coming up, and I read about the Maligne Ledge, chironomids, tandem shrimp, deep water and trolling.
So off I went.
Like most lakes in the Canadian National Parks, gas powered motors are not permitted, with the exception of tour boats during the day. Maligne Lake does allow electric motors, but I was a little disappointed by this restriction at first. Upon arriving in Jasper, I quickly realized this was actually a good thing. On the one hand, it means most of the boats around town are canoes and kayaks, which gives Jasper a certain vibe that's lost when there's big, honking, gas-powered boats around every corner. On the other hand, it also means the lake sees less pressure from fishing. Large trout are still eager to take a fly and the setting is a tranquil escape from the daily grind.
If you want to see the lake like not many others have, you need to rent a boat, a couple of batteries and an electric trolling motor. It was time to return to On-Line Sport and Tackle. The 12-year-old in me was excited for a trip down memory lane. Walking into the store, I was struck with nostalgia as it was very similar to how I remembered it. With outdoor clothing up front and fishing equipment in the back, I instantly knew where I needed to go. The guides and staff were as just as helpful and friendly as I remembered, and they once again set me up with flies, tippet and some local knowledge. They also had rentals, so I rented a boat, an electric motor and batteries so I would have the best chance at accessing the lake. The only difference? The circular towers covered with local flies were now at eye level.
I was ready. It was time to fish Maligne Lake.
The fishing was fantastic. Whether it was sight fishing for large brookies and rainbows on dry flies, casting to rings with a tandem shrimp on a fast sink tip or trolling as deep and slow I as I could, it didn't seem to matter. The fish were biting. Armed with my experience and advice from the local fly shop, I was able to really fish the lake properly my first time on it. First time, maybe, but certainly not the last. I already have plans to return to this majestic lake and indulge in the superior fishing it has to offer.
Though nearly 20 years had passed, Jasper and Maligne Lake still stole my heart. It's a place my partner and I intend to visit every year. Next year, we hope to paddle to one of the lake's 3 backcountry campgrounds and stay a couple of nights. I'm sure Jasper will be just as amazing as it always is.
I look forward to returning.