Summer Camping Checklist for the Canadian Rockies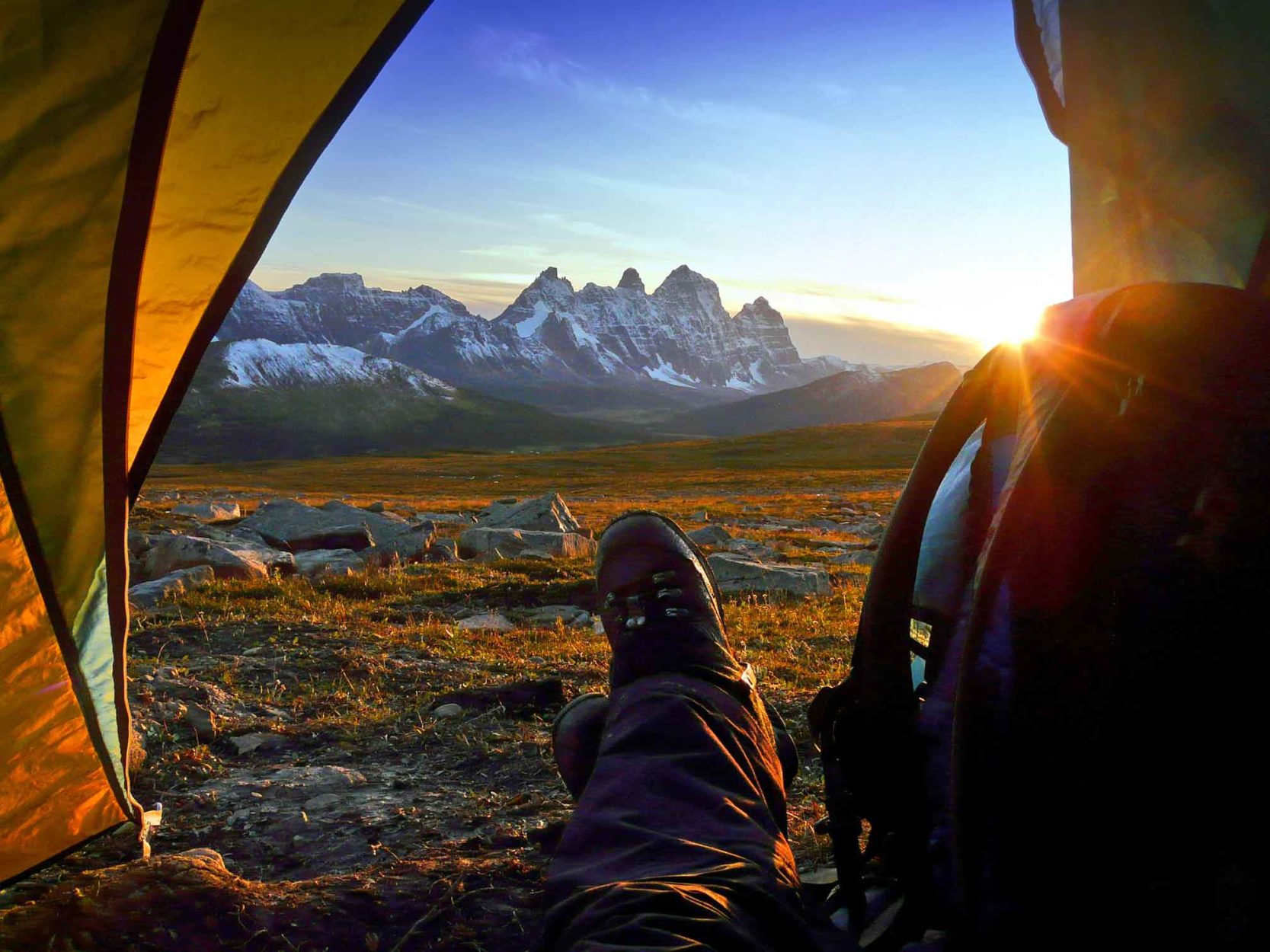 Photo by Parks Canada - L.Neufeld
Do you love a good camping trip? So do I. From growing up in a small, northern community to living on the shores of Newfoundland and finding my way to the Canadian Rockies, I can solidly say I have camped across this great country. In all conditions.
So what camping gear do you need to be successful? And what obstacles might be in your way? We came up with a camping checklist to get you started. Here's what we recommend:
1.    Bear Spray
For expert advice on how to coexist with the wildlife who call these valleys home, read this article by Adam Mertens at WildSmart. Bear spray is an essential item to carry on all your mountain adventures, and even in town. Make sure you know how to use it! Here's a video demonstration to show you the basics.
Even if you're camping in a front country campground, bear spray is an essential item to keep in your campsite. I've camped in many front country campgrounds with bear warnings. Always keep bear spray accessible – your backpack is not the place for this important wildlife deterrent!
2.    A Tent
Or a camper or an RV or whatever floats your boat. If you're planning on hiking, paddling or otherwise venturing into the backcountry, you'll obviously need a tent. The type of tent you bring will make all the difference in the world. Make sure it's waterproof and check it before your first excursion into the woods. Also, make sure it's light enough to carry. Lugging something from the store to the parking lot is not the same as carrying it 8 hours into the middle of nowhere.
If you're front-country camping, size and weight don't matter as much. Make sure your tent is large enough to be comfortable and to fit your air mattress or sleeping pad. A full fly – one that reaches all the way to the ground – is best for weatherproofing. Make sure you and all your equipment can fit in the tent without touching the walls. Equipment packed against the side of the tent will get wet!
It's not uncommon to be caught in summer snow storms in the Canadian Rockies, so consider a good 3-season or a 4-season tent that will hold up to wet summer snow.
3.    A Tarp
Again, if you're venturing into the backcountry, it might not be worth carrying the extra weight. But if you have space for it, I recommend it. A tarp over a tent will add that extra layer of weatherproofing and you can extend it over your campsite like an awning. This will keep you dry in the rain or shaded in the sun. If you're camping on the cold ground, especially in the spring or fall, you might want to place a tarp under your tent, or get a footprint designed specifically for your tent. You'll be amazed how much warmer and drier you'll be with one extra, seemingly-small layer between you and the earth.
4.    Layers…
… and layers and layers. Even in the middle of summer, nights in the mountains can be cold! I've always found the coldest time is at sunrise, when the warm rays of the sun hit the mountain tops and push all that cold air down into the valleys. Once the sunlight reaches all the way down, it warms up substantially. But that morning golden hour can be chilly!
Don't forget about waterproof layers. The Rockies can experience 4 seasons in one day – so that's warm sunshine, driving rain, a drop in temperature and maybe even snow. Then it will be warm and sunny again before nightfall. Are you ready for the changing seasons? I prefer a waterproof shell over thick mid-layers for summer camping. Make sure your shell is large enough to cover your bulkiest sweater.
When thinking about layers, also consider your footwear. Waterproof footwear is best, but don't forget the flops for those sunny days! If you're looking for quality clothing and footwear in the Canadian Rockies are the best places to go.
5.    A Toque
This could be in the previous point about layers, but it's so important it warrants its own category. In damp weather, a toque will add that extra bit of warmth to keep you comfortable. I wear a toque to sleep when camping during chilly nights, and the higher you get in elevation, the more you'll be glad you brought this important piece of clothing along.
In addition to a toque, consider mitts or gloves, even in the height of summer. They can keep your fingers warm when you're cooking breakfast during those chilly mountain mornings!
6.    Sleeping Pad
Unless you know there is going to be soft and level ground, sleeping pads make a world of difference. They add comfort and provide a layer of insulation between you and the cold ground.
If you're in the front country, an air mattress can make your camping experience stylish and comfortable. If you are going the air mattress route, make sure your tent is big enough to enclose you and the mattress. There's nothing worse than bringing equipment you can't even use! Check the mattress for holes before packing it. These things are notorious for sprouting tiny holes that can be easily fixed at home. Trying to find and fix a hole while setting up camp in the pouring rain? Not as much fun.
7.    Camp Kitchen
I always bring either a propane or white gas stove. It's nice to cook over a fire, but weather conditions and fire bans may not permit it. Fire bans are in place to protect the delicate, and often dry ecosystem during the summer months. Not sure if you can have a fire? Check here for the latest updates. Visitor Information Centres will also have up-to-date information about fire bans and restrictions.
For food: go big or go home. Diets don't count in the woods! In all seriousness, you burn more calories withstanding the elements and keeping warm than you do sitting at a comfy desk job, so make sure you have enough food to fuel your excursion. On extended backcountry trips, it doesn't hurt to carry an extra day's food, just in case you get delayed somewhere along the way!
8.    First-Aid Kit
This is an essential item to pack no matter where you are camping. There are pre-packed, relatively affordable options available at most outdoor and department stores. A First Aid training course will make sure you have the necessary knowledge to use the items in this kit. Planning a multi-day excursion? Wilderness First Aid is a valuable course that can make the difference between getting out safely and risking a serious injury.
A satellite-based communication device can help reach rescue personnel in an emergency, especially in the mountains, which rarely have cell coverage.
If you're travelling with animals, make sure you have first aid supplies for them as well as the knowledge and skills to apply them. For dogs, booties and a blanket can go a long way. For horses, I always bring a comprehensive kit, complete with farrier tools and extra shoes. Animals often try to hide injuries from their human friends, so make sure you check them over regularly to keep them in top shape!
Camping is a great way to get outside and connect with the natural beauty of the Canadian Rockies. Being prepared will help ensure you enjoy your time outside and allow you to focus on the things you really want to do, like planning some wild adventures or finding some fun and exciting activities.