15 Stores For Canadian Rockies Outdoor Clothing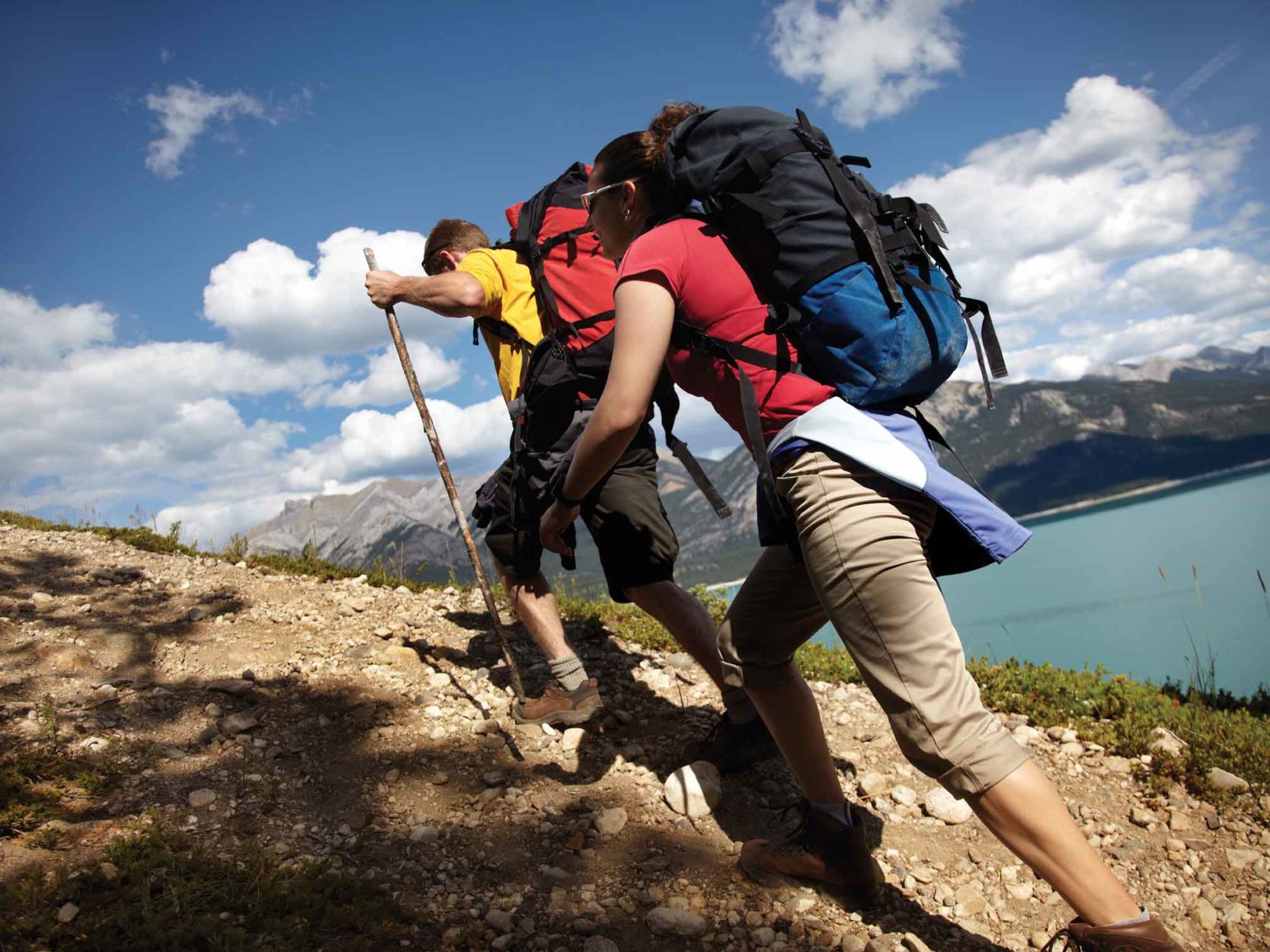 Photo by Travel Alberta / George Simhoni
Summertime in the Rocky Mountains means it's time to get outside! Just because it's summer doesn't mean the elements can be taken lightly. I was out camping in Golden British Columbia when our tent got unexpectedly crushed by snow… in June. So, to make sure you're prepared for outdoor adventure, here are 15 Canadian Rockies outdoor clothing and accessory stores, plus a couple of extra tips so you're prepared for your next Wild Adventure!
Banff
1. The North Face 
The North Face has outdoor clothing for men, women and children. Tested by extreme athletes, the North Face has every form of outdoor clothing to tackle anything mother nature throws at you. They have coats, pants and vests help you stay warm and dry in the rain, as well as activewear to keep you cool in the heat. In any season, dressing in layers is very important. The North Face also has great base layers for all outdoor activities! 
2. Helly Hansen 
Banff's signature Helly Hansen store offers everything you'll need to explore the outdoors this summer. They sell a wide variety of the highest quality technical outdoor clothing and casual mountain wear. Their accessories include hats, gloves, socks, bags and backpacks. Get a video tour of the Helly Hansen Banff store to see what they have to offer this summer!
3. Smartwool
Smartwool Banff is a fantastic place to get the outdoor clothing you need for any kind of adventure. All of their products are made from sustainable merino wool. This wool is a fantastically durable fibre that has amazing moisture wicking properties. Smartwool sells all your outdoor clothing needs including underwear, shorts, pants and shirts that are all designed to stand up to backcountry excursions.
4. Chateau Mountain Sports
Located at both the Fairmont Banff Springs and the Chateau Lake Louise, Chateau Mountain Sports offers all manner of technical outdoor clothing and accessories. They sell strong, weather resistant coats and vests from brands like Arc'Teryx as well as Tilly hats, durable pants and base layers. The Banff location also offers summertime bike rentals.
Lake Louise 
5. Wilson Mountain Sports
If you're out for an adventure in Lake Louise, you can rent your equipment at Wilson Mountain Sports. Get boots and hiking poles to conquer those mountain slopes, or rent helmets, harnesses and rock shoes for climbing. Bike rentals are also available to get you around a town and the surrounding trails. Ask the staff for great trail recommendations!
Canmore
6. Valhalla Pure
In Canmore, you can purchase high quality outdoor clothing including vests, sweaters and jackets at Valhalla Pure. They also sell apparel for swimming and surfing, if you plan on partaking in water-sports during your outdoor adventures. Find quality outdoor gear for camping including tents, sleeping bags, cordage, water bottles and hydration packs. 
7. Rent-A-Tent
Prepare for your wild adventure with top quality camping gear at Rent-A-Tent. They offer camping rentals based on group size with easy to set up equipment. Each package includes everything you'll need on a camping trip from wash basins and coolers to camp chairs. They also offer advice on the best hiking trails in Banff, Jasper and Yoho National Parks. 
8. Vertical Addiction 
This store sells all the necessities for climbers including harnesses, helmets and rope. Aside from climbing, they also sell equipment for hikers and trail runners. Vertical Addiction has plenty of technical gear, performance clothing and casual wear. You can also get accessories like headlamps, compasses and hats. 
9. Canadian Tire
This franchise guarantees you'll have everything you need for any outdoor adventure. They have all kinds of camping necessities including tents, air mattresses and tools. They also sell first aid kits for a reasonable price. Mark's Work Warehouse is located in the same building. This store specializes in tough and durable clothing and offers everything from merino wool socks to fleece jackets.
10. Switching Gear 
For the thrifty explorer, Switching Gear is a consignment shop offering a wide selection of apparel including hiking boots, shorts, shirts, windbreakers and waterproof outerwear. They also sell backpacks, camping supplies and used sporting goods. It's an amazing thrift store where you just might make a truly awesome find.  
11. Crossway Community Thrift 
This community thrift store has everything you could ever imagine for Canadian Rockies outdoor clothing! Check out their wide selection of clothing, equipment, accessories and used sporting goods. Crossway Thrift is a non-profit that supports the community through various initiatives including their back-to-school and jacket frost programs. 
Jasper
12. Totem Ski Shop 
This place may sound like a winter store, but Totem Ski Shop has summer rentals including hiking and camping gear. For outdoor clothing, they carry brands like The North Face, Salomon and Oakley. They also have one of the largest hiking boot selections in Jasper! They sell every kind of footwear from Garmont boots for backpacking to Birkenstocks for easy summer strolls. 
13.
Everest Outdoor Store 
Everest Outdoor Store sells a wide variety of Canadian Rockies outdoor clothing, footwear, backpacks and accessories for men, women and children. They carry brands like Keen, Smartwool, Fig and Buff. They also offer Ruffwear apparel, so your furry friend can partake in all your outdoor activities! 
14. Lolë 
Known for their athleisure and comfortable clothing for women, Lolë also provides clothing and accessories for men. Lolë has a reputation for making versatile, packable jackets that protect you from unexpected weather and are perfect for travel. They are also committed to wellbeing and offer all kinds of wellness events focused on the full mountain experience. Check out their Facebook Page for upcoming wellness events.
15. Wild Mountain Jasper
Manager of Wild Mountain, Dave MacDowell, says "The North Face has been our primary brand for 10 years". Wild Mountain prides itself on their selection of The North Face having "the broadest selections from infants right up to any age and activity." They also have a wide selection of lifestyle clothes that are suited to everything from "sitting around a fire to sitting around at Starbucks." So, come to Wild Mountain and check out some of their iconic pieces.
My Favourite Piece of Outdoor Clothing: The Buff
Personally, I love being out in the mountains in the summertime, but it does help to have good clothing to make your life easier. I highly recommend a Buff for your outdoor needs. I like these little tubes of stretchy fabric so much, I have a small collection of them. 
Buffs come in all kinds of eye-catching designs and they are great to wear them around your neck to keep warm or soaked in cold water to cool off. They can also be manipulated in hundreds of ways to keep your hair back or to keep the sweat out of your eyes. They're the perfect piece of Canadian Rockies outdoor clothing!
Don't Forget the Bear Spray! 
When you're outdoors always make sure to bring your bear spray. Bears are amazing creatures, and photos of them are the holy grail of any trip to the Rockies, but you definitely don't want to meet one up close!
You can rent bear spray from Wilson Mountain sports or either Chateau Mountain Sports locations. It can also be bought in stores like Monod Sports in Banff, Canadian Tire and Gear Up in Canmore and Totem Ski Shop in Jasper. Knowing how to use bear spray is just as important as the product itself. Always keep bear spray in an accessible location and watch this video for expert advice on using it. 
Footwear Makes all the Difference
Nothing makes an adventure in the Canadian Rockies less fun than a poor choice in footwear. Personally, I have a pair of Gore-Tex hikers by Garmont for tough weather as well as light pair of trail shoes by Wind River. 
You can read more about footwear selection during my editor's visit to Kumpfy Shoes in Canmore or read her gear feature in Where Canadian Rockies Magazine for suggestions!