Taking Flight with Alternative Adventures Zipline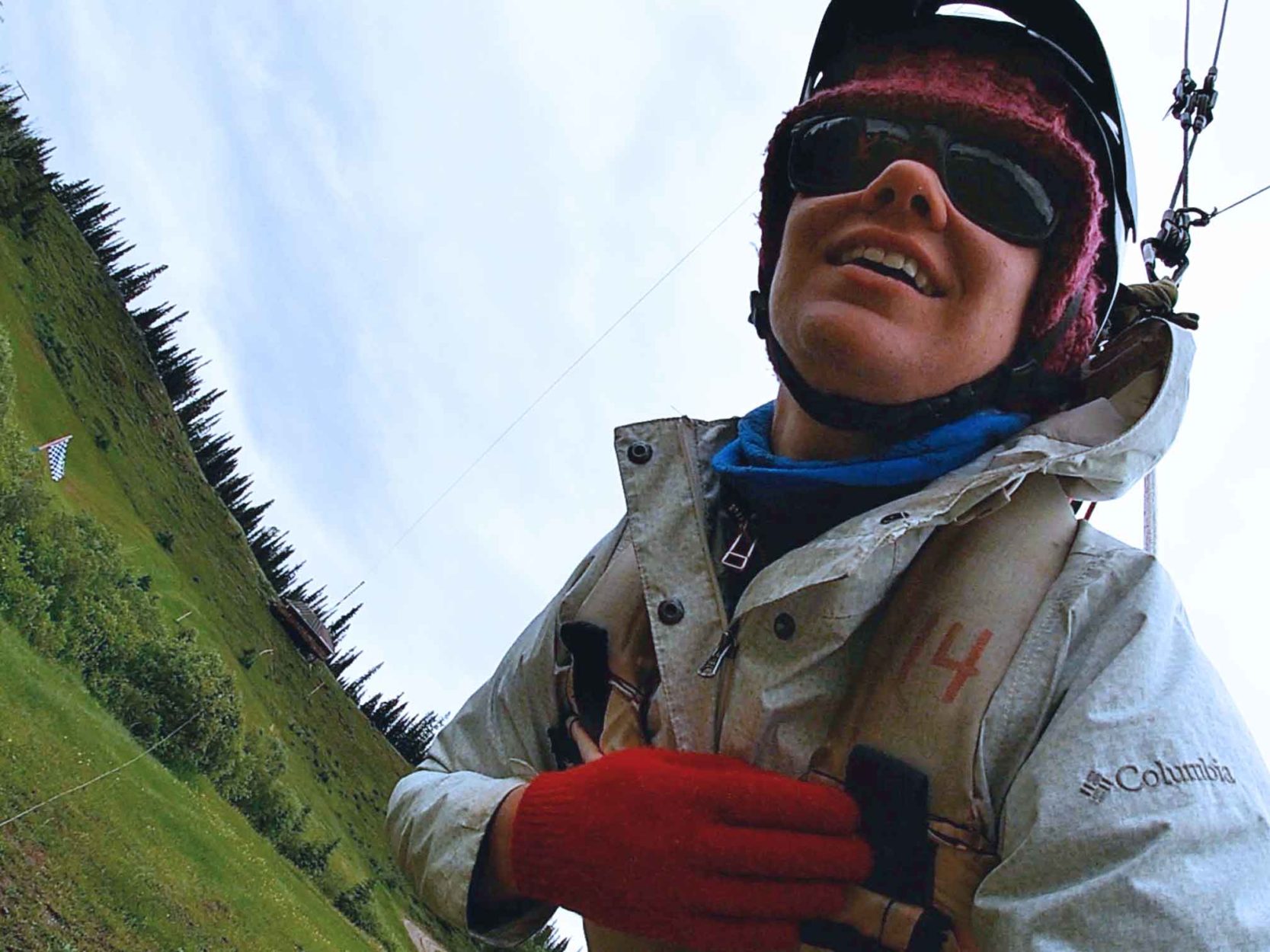 Alternative Adventures Zipline is located about an hour outside of Jasper, just west of the small adventure town of Hinton. They offer camping, access to RV trails, and an innovative zipline experience that allows you to "fly like a superhero". We were curious to check it out.
The drive from Jasper was stunning, even with the rainclouds that seemed to be following us. It was a brisk morning, but we were ready to try this simulated flight. Bring it on!
The system at Alternative Adventures is adapted from training systems developed for hang gliding: it suspends you under the line and you lie prone, soaring face-first into the wind. It's a unique take on the traditional zipline experience and it gives the user more control over the intensity of the adventure. If you're looking for a gentle ride, or if you're craving some more adventurous swings, you can get what you need from this system.
There are also no weight or age requirements, and both Terry and Darrel, operators of Alternative Adventures, encourage people from all walks to life to make the most of their time on this zipline.
So after gearing up and learning about the harness and the process, there we were: standing at the top of the launch pad, ready to fly. We were doing a tandem flight, meaning both my partner and I were standing together, holding on and ready to fly as a pair.
To boil it down, once you're ready to go, you run to the end of the launch pad and leap off – allowing the system to tilt you forward once you're airborne for the ultimate flying experience.
Darrel says a lot of people become scared at this point and want to turn back. He has developed a thorough explanation of the forces involved, both physically and psychologically, to help people through their fear so they can experience the thrill of the ride and the confidence that comes from overcoming your fears.
But here's the thing: it wasn't that scary. Once you're airborne, you occasionally feel the gentle support of the harness, but the reality is you feel totally unrestricted. Weightless. It was more serene than I was expecting and not the pressure-filled, super-intense ideas I had of lying prone in a harness, flying through the air suspended from a cable.
Even if you forget how to steer – or your cameras are pulling you out of sync in ways you didn't anticipate – you can't get in trouble on the system, suspended as you are. Worst case scenario, you'll spin around and face the wrong way. A superhero flying backwards, if you will. This can be corrected by moving your arms, and you'll figure it out when the time comes.
After our tandem flight it was time to ditch the extra weight and fly solo.
[wonderplugin_video videotype="mp4" mp4="https://whererockies.com/wp-content/uploads/2019/07/Alternative-Adventures-Big-Swing.mp4" webm="" poster="https://whererockies.com/wp-content/uploads/2019/07/Alternative-Adventures-Zipline.jpg" lightbox=0 lightboxsize=1 lightboxwidth=960 lightboxheight=540 autoopen=0 autoopendelay=0 autoclose=0 lightboxtitle="" lightboxgroup="" lightboxshownavigation=0 showimage="" lightboxoptions="" videowidth=600 videoheight=400 keepaspectratio=1 autoplay=0 loop=0 videocss="position:relative;display:block;background-color:#000;overflow:hidden;max-width:100%;margin:0 auto;" playbutton="https://whererockies.com/wp-content/plugins/wonderplugin-video-embed/engine/playvideo-64-64-0.png"]
I opted for the "big swing" flight, with the maximum amount of swing at play in the system. Some experience on the system is recommended, and even though I just took a flight, I found myself swinging backwards when trying to get some decent shots on my GoPro. Focus, Kate. Focus.
It was once again a serene experience of soaring through the air, feeling weightless like I imagine birds would feel when taking flight. You can't really see the system since most of it is behind you, so you just get to relax, enjoy the views and – fly.