A Very Brief History of Maligne Lake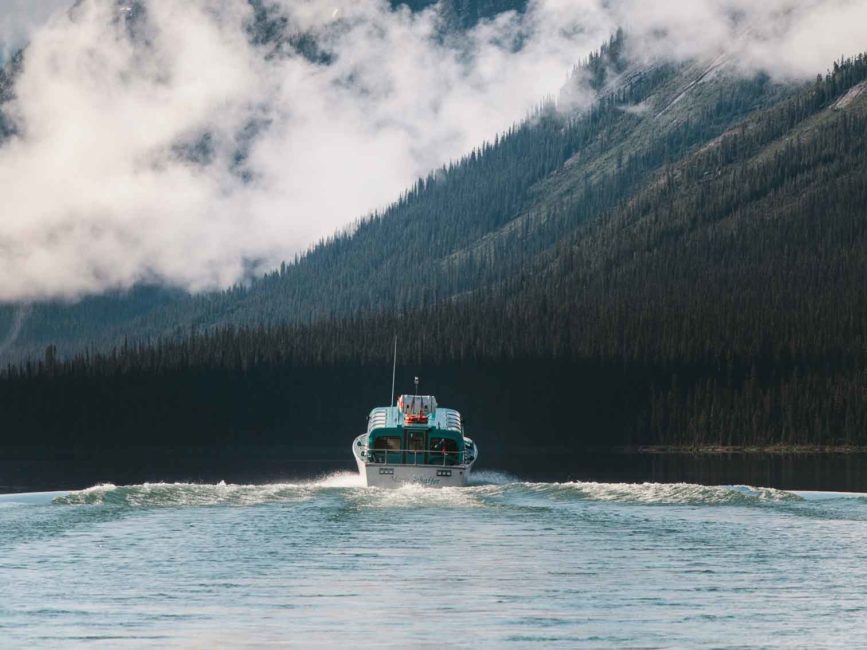 Photo courtesy of Pursuit, Mike Seehagel
The history of Maligne Lake, an iconic lake in Jasper National Park, goes back to the beginning of the Canadian Rockies themselves. About 185 million years ago, the area was under the Devonian Sea. This inland sea covered a large part of what is now the prairie lands of North America. During this time, sediments from various rocks settled on the bottom along with the shells and bodies of little sea creatures. This sediment would eventually compress into limestone and fossils.
When the North American and Pacific tectonic plates collided, the impact thrusting up this compressed limestone. It also pushed up newer-formed shale and slate, creating what we now call Rocky Mountains. Over time, these mountains slowly eroded due to the natural freeze-thaw cycles of cold winters and warm summers, as well as the ever-present force of gravity. The process of erosion often results in rock slides, which reduce the height of the mountains while adding to the valley floors. This process shrinks the distance between valley floor and mountain peak.
One such massive rock slide crossed a glacier-fed river and effectively damned it into a long and narrow lake. This lake is the largest, naturally formed, glacial fed lake in the Canadian Rockies. It is 22 km long and, on average, 35 m deep. At its deepest point, it reaches down to an impressive 97 m. It is known today as Maligne Lake.
The Indigenous Peoples of Canada were the first to discover this lake, and they often visited during the summer months to hunt and gather food. The lake was also a place of great spiritual significance. They named it both "Lake of Deep Waters" and "Lake of Healing". The isthmus known today as Spirit Island is a site still visited by First Nations people.
Notable explorer and mountain woman Mary Schäffer is credited with putting this lake on the map. In the early 1900s, Schäffer wanted to return to the Rockies, a place where she spent much of her childhood. She wanted to finish a botany book started by her late husband. She heard of a lake called Chaba Imne, "Beaver Lake", by the Stoney Nakoda First Nation people. They told her stories of its beauty that inspired her to try and find this remote lake.
On her first attempt, Schäffer came from the south and tried to cross the jagged peaks and glaciers between her and the lake. She was unsuccessful. She spoke with Stoney Nakoda guide Samson Beaver, who equipped with more knowledge. Beaver also drew a map to show her the route from Lake Louise.
Using this map and advice, Schäffer was able to reach the lake on her second attempt. She instantly fell in love with the lake and surrounding mountains and dedicated her time lobbying for protection for the area. In 1911, Schäffer returned to Maligne lake and began surveying the area. It was an extraordinarily unique circumstance in the early 1900's for a woman to be asked to survey the lake.
Schäffer named many of the mountains on her surveying journey. She named Mt Samson after Samson Beaver, Mt Leah for Leah Samson, Samson Beaver's wife, and Mt Paul after her nephew who travelled with her during the surveying expedition.
Commercial use of the lake began in 1927 with Fred Brewster, who built the chalet and guest house as part of his "Rocky Mountain Camps". Donald "Curly" Philips build the boathouse in 1928, and he guided and fished from this location.
Today, Maligne Lake still draws travellers with its stunning blue waters and its breathtaking scenery. You can still rent canoes and kayaks from Curly Philips' boathouse, enjoy some refreshments from Fred Brewster's chalet, or explore the lake with a guided boat cruise to Spirit Island. The stunning, natural beauty of Maligne Lake still calls people from far and wide to experience its jaw-dropping beauty.
*Special thanks to Jenn McCormack from Pursuit for her excellent guidance and historical commentary during our lake cruise to Spirit Island.