A Taste of Breweries and Distilleries in Canmore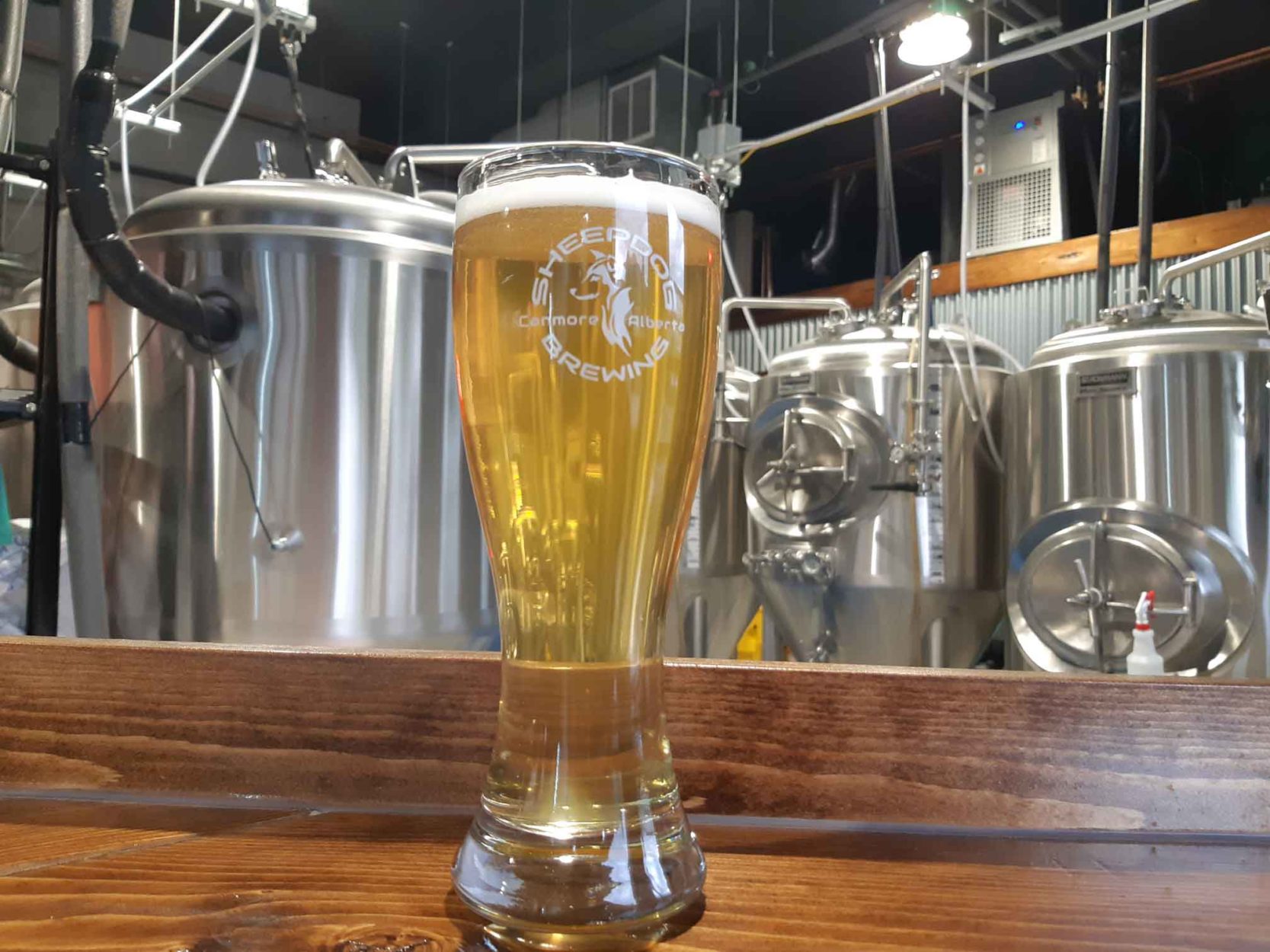 I love craft beer and fine spirits, as my trip to the Banff Craft Beer Festival would tell you. I decided to try Canmore's newest brewery, Sheepdog Brewing. I didn't expect my trip to Sheepdog would also bring me to full circle to Wild Life Distillery. This evening turned into a tour of breweries and distilleries in Canmore.
Breweries and Distilleries in Canmore #1: Sheepdog Brewing
It's very fortunate that Sheepdog Brewing opened in the same building as RMV Publications, so I could work up some anticipation for trying it out. On a whim I brought my good friend Max Koether, from Canmore Cave Tours, to try some beer with me. 
Based out of a warehouse on Bow Meadows Crescent, Sheepdog reminds me of having a weekend beer in a friend's kitted out garage. The brewery tanks are on full display with a nice wooden bar that fences them off. There's a community table on the lower floor with more seating upstairs and patio chairs for when the weather is nice. As the name suggests, they are dog friendly!
So let's talk beer: Sheepdog has been open for less than a month, but they already have six original, full-fledged beers. A flight of beers would have been a great way to try all of them, but I do love a good pint myself. Besides, what's the rush?
The first beer we tried was their Cascade Smash. This is THE quintessential summer beer. This glass of liquid gold was crystal clear and ice cold. It was crisp and light with just a mild taste of hops to give it some body. Max said, "It just begs for a patio and a view of the Rocky Mountains." I couldn't agree more.
Next up was the Cascadian Dark Ale. This one's reputation proceeded itself and for good reason: it's so delicious! It's not incredibly heavy despite being as dark as a pint of Guinness in a mineshaft. It's well balanced and easy drinking. It had a wonderful nutty taste with note of chocolate and a tiny kiss of hoppy bitterness to smooth it all out. Max absolutely adored it too.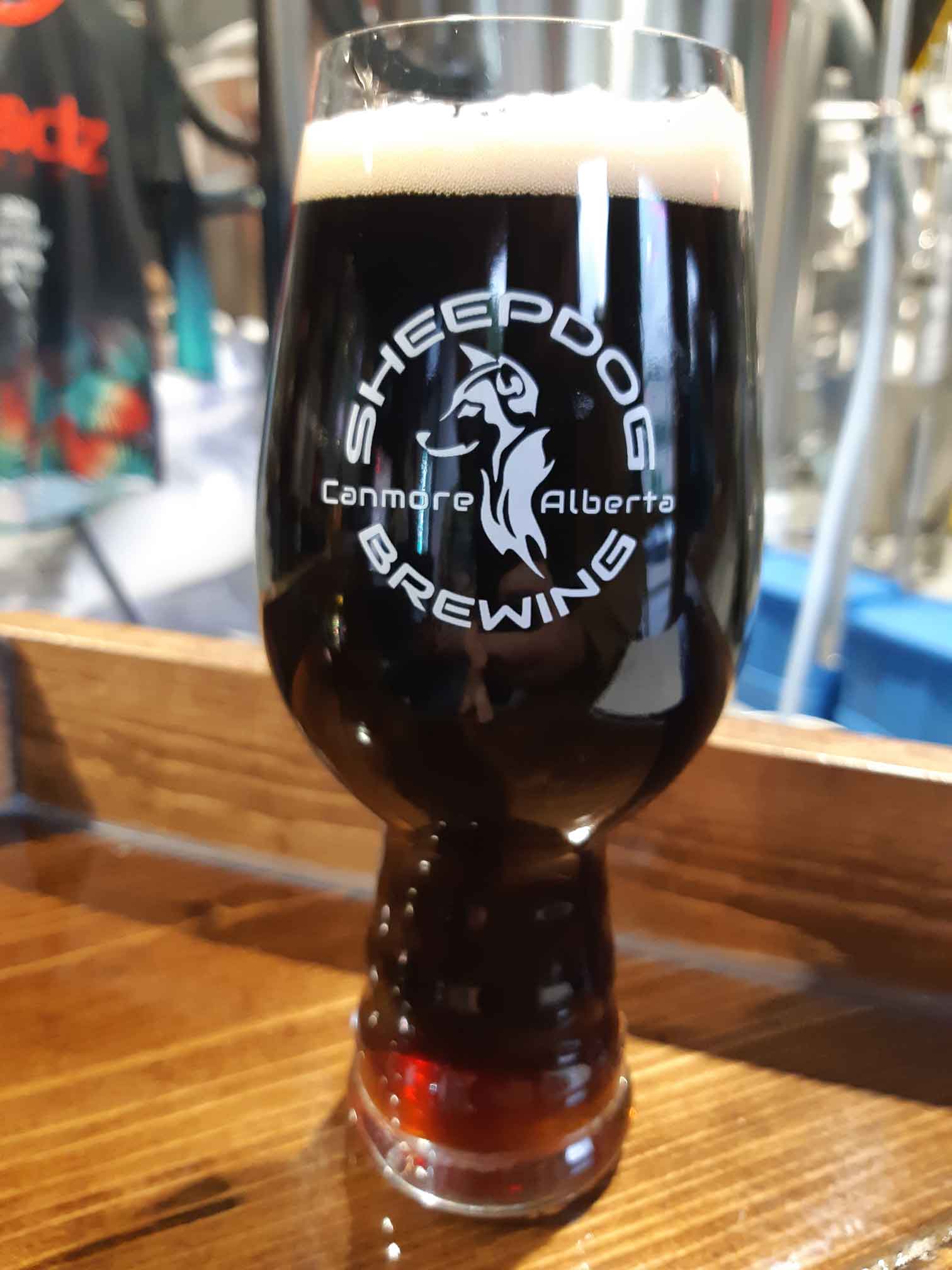 I'll definitely be back with a growler next time.
The night was not yet over though. Our conversations led me to mention that I had never tried a cocktail from Wild Life Distillery. Max gave me a wily grin and said, "Let's go to Wild Life then."  
Breweries and Distilleries in Canmore #2:

Wild Life Distillery 
Wild Life is a literal block away from Sheepdog Brewing, in a unit on the opposite side of the same building. I liked the subtle shift in tones between the two businesses. Both are undoubtedly friendly places, but the atmosphere at Wild Life is relaxed while maintaining an elegant cocktail lounge vibe without being pretentious.  
I've tried their vodka and dry gin, liking it enough to buy it as gifts for friends, but today I wanted to sample one of their delightful cocktails, and hopefully some of their 2018 botanical gin.  
Speaking of gin, Wild Life will be making their 2019 batch of renowned botanical gin this August with the release planned for September. All the ingredients in this small batch gin, from the botanical flavours to the wheat and barley, come from Alberta. The Wild Life team forages the ingredients with professional assistance from the Nature Conservancy of Canada.
Not surprisingly, they were sold out of their 2018 gin. I can't wait for the new one. 
On to cocktails: Max had been here before and he ordered the Moondance. Without looking at the menu, I followed suit. 
While we sat at the bar, I caught the amazing smells of lemon, cucumber and freshly bruised mint wafting from behind the bar. The bartender worked at a dizzying pace, grabbing all manner of bottles and carefully measuring out each ingredient with a jigger and a 5 ml bar spoon. I was a little shocked when she pulled up the bottle of absinthe. What did I get myself into?
She vigorously shook our drinks, with a shaker in each hand, and delicately poured them into two chilled glasses. Then she took lemon peel and wiped the glasses down with it. She pushed our drinks forward and bid we enjoy them.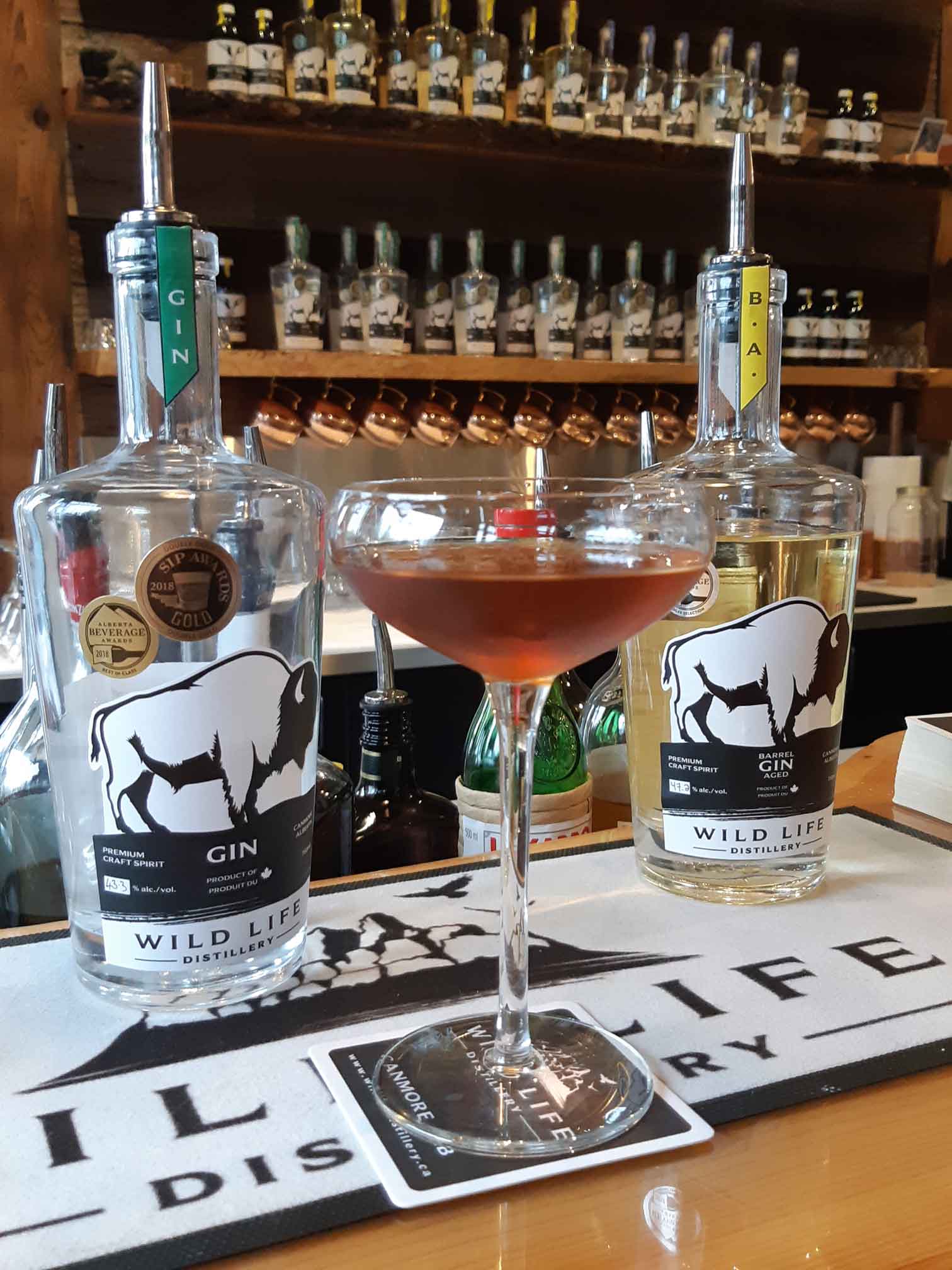 Before I even tried it, I could smell the heavenly lemon scent. The first sip was fantastic. So was each one after that. The absinthe gave it a nice taste of licorice. There was just a nip of booziness followed by some sweetness and fresh botanical flavours. It was the finest cocktail I've had in the Bow Valley. 
We had to stop at one, although I would have gladly had another, but we wanted to get some curry from Mad Dog Café, and it was getting close to closing time. 
The breweries and distilleries in Canmore are definitely worth the trip to the mountains, so come and sip on what the Rockies have to offer.